WordStream has announced that they'll be offering a free negative keyword tool. In PPC marketing, the ability to narrow down your keywords and have selective strings can mean the difference between wasteful and efficient spending. If you're used to using a traditional keyword suggestion tool, this will be no different- it gives you suggestions on negative keywords that you should add, that could ultimately affect your campaign.
This negative keyword tool will:
Export your negative keywords list in Google AdWords format for easy handling
Identify clusters of negative keywords- this is less time consuming then doing them individually
Be proactive with negative keywords to eliminate excessive and unnecessary spending
To give you a quick run down, this is a little preview of the interface and what it's like in action.
First, we enter a word/phrase in as a search term.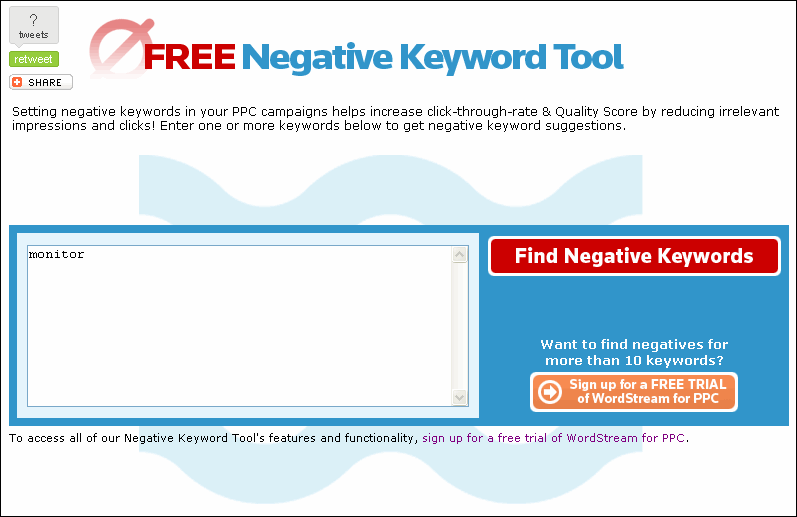 After you enter in the keyword that you are looking to find suggestions for, go ahead and click "find negative keywords". This will bring up a box similar to this: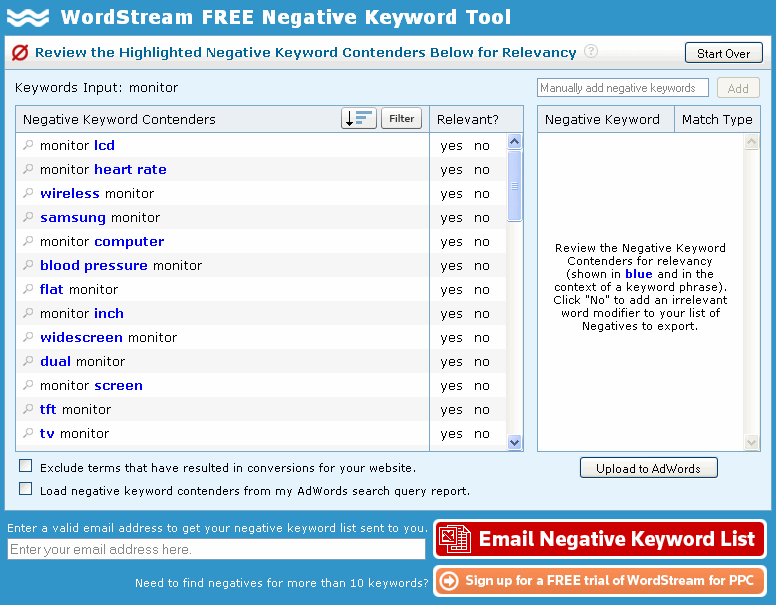 Once you look over the suggestions that you are given, you can click "yes" or "no" to dictate its relevancy. If you click "no" it will then be denoted as a negative keyword.
Notice that whatever you mark as "no" will move over to the right side.
If you're running a campaign for keywords that could easily have a lot of negatives- for instance, if you specialize in selling equestrian riding boots, you can use this tool to find keywords not directly related to riding boots- such as steel-toed boots, fashion boots, etc.
There's an extreme amount of features integrated in this tool- you'll have to go try them out to get the full effect. To give you a little taste:
As mentioned- the ability to export results directly into Google Adwords
Exclude terms that have had conversions as a result of use
Having the results emailed to you in a spreadsheet
Sort keywords by their estimated search volume
…and so much more. Wander over and take a peek. It's pretty impressive.