WordPress is one of the most usable and convenient platforms to run a blog. But besides actually publishing your thoughts to the web, WordPress might have another cool use: it is a handy way to store and manage the info you come across daily – it can be turned into your personal collection (either private or public) of topical links and resources organized by tags and categories.
Here are 3 tools that make bookmarking links to WordPress easy, fast and fun!
While the first two tools extract videos and images as well as the selected text allowing for easier and quicker blog posting, the third one looks a quicker and easier way to create and save a draft without ever going to your blog dashboard.
Install Clipmarks FireFox addon and restart your browser;
Navigate to the page you want to re-blog;
Click the green Clipmarks icon, highlight places in the page you want to copy to your blog page and select "Blog":
If you're doing this for the first time, you'll need to set up your blog first.
Choose "Wordpress" as your blog type (there are many more blog types supported by the way).
Provide your blog dashboard login and password;
Provide your blog URL;
Before hitting "Next" be sure to configure your own blog to allow automatic posting: go to your blog wp-admin, then to Settings -> Writing, then check the "Enable XMLRPC" checkbox and save your settings.
After that you'll be able to see your new post details ready to publication:
You can check which blogs to publish to (if there are many of them);
Add the post title and your remarks;
Customize the clipped text styles (you can remove link to the clipmarks service, customize the border, etc);
Publish to blog!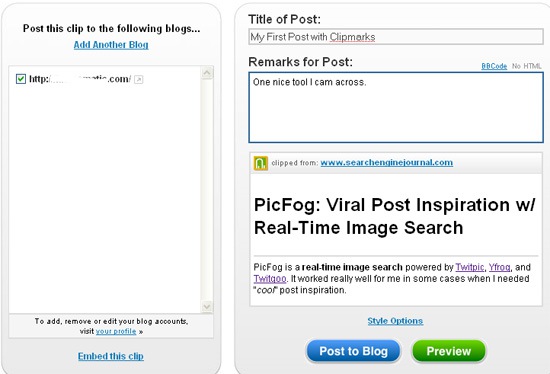 "Press This for WordPress" is a handy way to reblog content that you'd love to share on your blog. To install:
Log-in to your WordPress admin panel.
In your sidebar on the left, select "Tools".
Drag the "Press This" bookmarklet to your browser's toolbar.

Now, click the "Press This" bookmarklet to quickly login and update your blog. If you're already logged in, the bookmarklet will immediately pull up the blog editor to create a new post.
Unlike the Clipmarks tool, the "Press This" bookmarklet can only be used to update one blog (which is a disadvantage for me as I am running a number of blogs). On the other hand, the bookmarklet is quicker and easier to use, it doesn't use any extra styles to insert the retrieved abstract and is overall a more basic (which is often better) tool.
ScribeFire
ScribeFire (installed here) is a FireFox addon that integrates with your browser to let you easily post to your blog: you can drag and drop formatted text from pages you are browsing, take notes, and post to your blog.
The blog set-up is really quick and easy. The tool does pretty much everything, all you need id to specify your blog URL and dashboard login information.
When you land on a page you feel like saving or re-blogging, click the tool icon in the status bar. A panel appears where you can create the post, save it as draft, preview, edit – pretty much everything you can do in the WordPress editor.
What the addon doesn't do (unlike the above two tools) is extracting the selected content and media from the page (the feature I really like to be there).