Matt Mullenweg, founder of WordPress, announced that WordPress 5.0 will be released on December 6th, 2018. The WordPress community's response was not entirely positive.
Matt Mullenweg Announces WordPress 5.0
Here is Matt Mullenweg's reason why WordPress 5.0 is being released so soon:
"Based on the stability, testing, and reports on the release candidates for WordPress 5.0 so far, we are now targeting Thursday December 6th for public release…"
The first release candidate (RC1) was described as "nowhere close to stable."
The second test version of WordPress 5, release candidate 2, was released four days ago on Friday November 30, 2018.
With only a weekend of testing for the latest release candidate (literally Friday through Sunday), Matt Mullenweg cited "stability" and "testing" as reasons to move forward with the official release of WordPress 5.0.
WordPress Community Response
The response from the WordPress community was not particularly enthusiastic.
The leading complaints about WordPress 5:
Accessibility
Outstanding bugs
WordPress 5.0 Accessibility
Accessibility refers how the usability of a product for users with disabilities. WordPress 5.0 is does not conform to usability standards out of the box. Disabled users need to download and install a plugin in order to make it usable.
One user noted that accessibility is a civil right and explained how WordPress 5.0 should ideally function:
"If Gutenberg isn't going to be accessible then a common sense approach should be to include the classic editor along side Gutenberg as an option. Thus, not making it even more difficult for users with disabilities to use WordPress."
That's a reference to having to download a plugin instead of having the function already built in.

The announcement was unexpected because of so many outstanding issues needing to be resolved.
According to the most current WordPress documentation, there were 280 outstanding bugs to be fixed.
Is WordPress Release Timed for WordCamp?
There are many good reasons to wait until 2019 to release the newest version of WordPress. Aside from the numerous bugs and issues, the holiday season is upon us. Releasing a major version of anything at this time close to the holidays could be awkward for publishers, developers and businesses.
Some of the commenters on the official announcement speculated that the release date is timed more to coincide with Matt Mullenweg's keynote at WordCamp (a WordPress conference) and less because WordPress is ready.
The WordPress 5.0 release date is December 6th. WordCamp starts December 7th.

WordPress Community Reacts to Release Date
Typical comments:
One commenter said:
"This is reckless, and incredibly out of touch. … I'm a converted fan, but it still has serious usability problems. …I see why so many are disenchanted with the project feel it's been stuffed down their throats."
Another commenter posted feedback on the inconvenience of the timing:
"Matt, I've been trying to give you the benefit of the doubt, but this is entirely irresponsible. You're giving a release date with 3 days notice and while a huge amount of us who run WordPress-based businesses are traveling to WCUS and will be out-of-office."
WordPress Community on Twitter
The feedback on Twitter was similar to that on the official WordPress website. One WordCamp sponsor tweeted they were cancelling their trip to WordCamp so that they could update their Gutenberg videos:
Another person tweeted that their bug report was closed without resolution.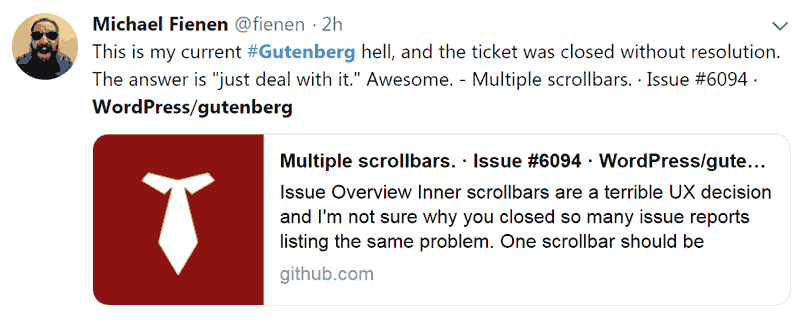 But not all feedback was negative. Some, like this commenter expressed enthusiasm (with reservations) for Gutenberg:
"I'm all for this. The only thing that's off is assuming that people will know that they would need to install the Classic Editor plugin."
Should You Upgrade to WordPress Gutenberg?
An auto mechanic once told me he avoided purchasing the first version of a new car model. He said they almost always developed unforeseen problems.
It was his opinion that he didn't see the benefit in paying for the privilege of being someone else's guinea pig.
That said, WordPress 5.0 is free.
Will you be upgrading?
Read the official WordPress 5.0 release announcement here
More Resources