Optimizing your web presence is no longer just a "nice to have" option. It's a necessity.
With millions of active users interacting across the Internet at the same time, getting lost in all the noise is inevitable unless you take steps to stay relevant.
And that's where search engine pptimization (SEO) comes into play.
SEO refers to the steps you take to ensure that your site or page are the first things to show up when a user enters a certain keyword.
The benefits of this are tremendous. You'll see a significant boost in engagement, generate more leads, make more sales, and improve your bottom line.
However, competition for the top spots in organic search results is fierce. Because of the low barrier to entry, anyone can create a site and optimize it to rank better on Google or Bing.
What separates the best from everyone else is the smart implementation of certain strategies, as well as using tools to help make optimization much more efficient.
In this article, you'll learn the best ways to optimize your WordPress site for SEO, including the tools that will make that journey substantially easier.
Pre-Requisites for WordPress SEO
Before diving into the wild and wonderful world of WordPress SEO tools, it's important to get the basics right first.
SEO plugins are features you add to an already well-thought-out and presented package. These plugins aren't magic, and they certainly won't create sensational results if the base they have to stand on isn't strong.
WordPress is widely regarded as a great site for SEO optimization as it has Content Management Systems (CMS) that make the entire process super easy and intuitive.
Take advantage of this user-friendliness and ensure that the content you post on your site is high quality and value-added.
Just keep in mind that no plug-in can help you if your page doesn't offer great information. Even if you get people to your site, they probably won't stay there for very long.
It's also important for you to use themes/templates that have clean code as that helps with SEO.
Another important thing to mention is that you absolutely don't need every single plugin from this list. These are just to give you an idea of the different options and what they have to offer.
Choosing just one from each of the categories is more than good enough, especially if you're new to optimization.
Don't get caught up in all the technology, since you could potentially reach the point of overwhelm, and experience analysis paralysis (a.k.a., you become so caught up with things that you never make any headway on what you're trying to achieve).
At the end of the day, always keep the basics in mind, regardless of whatever stage you're at right now.
WordPress General SEO Plugins
These tools are designed to help you turn your simple WordPress into an SEO machine. They will help you optimize your site, give you suggestions, and perform keyword searches.
1. Yoast SEO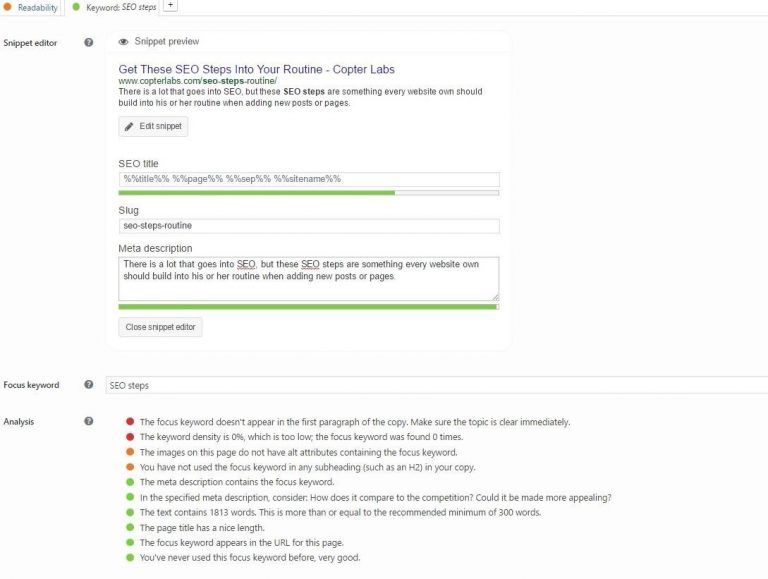 Yoast SEO is an industry favorite with thousands of glowing reviews. It's a premium plugin that offers an incredible number of powerful features while still being easy to use and understand.
Some of these features include:
Internal link suggestions.
Focused keyword reports.
A page and content analysis tool.
Built-in Redirect manager (for error 404 URLs).
The page analysis tool that Yoast offers is very useful as it provides an all-inclusive snapshot of how your page is doing.
The readability, the length of the content, alt attributes, keyword density, title tags, and meta description among others, are all analyzed to ensure you're on the right track.
2. All in One SEO Pack
As of the time of this writing, All in One SEO Pack has been downloaded more than 74 million times and has cemented itself as a super feature-rich WordPress plugin that's perfect for beginners and experts alike.
The plugin offers:
Google Accelerated Mobile Pages support.
XML Sitemap support.
Google Analytics support.
A built-in API.
A redirect manager.
Integration with ecommerce sites like Shopify.
Automatic blog title optimization.
Automatic meta tags.
More seasoned users can also create custom headlines, tags, meta descriptions, and keywords depending on their needs.
3. Premium SEO Pack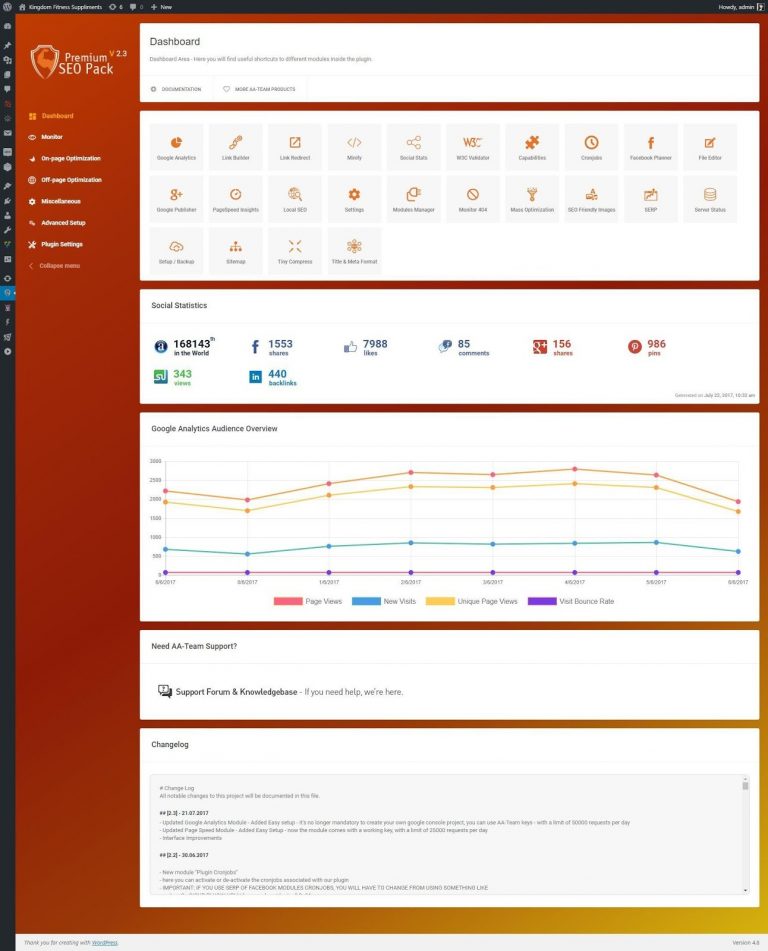 Premium SEO Pack offers several super useful modules for you to take advantage of in both the free and paid versions. For the regular license, a fairly reasonable $44 gets you:
Focus Keyword Analysis.
Custom permalinks.
Page SEO reports as well as scores.
Page Analysis and recommendations.
Keyword suggestions.
404 monitoring.
A W3C validator.
Mass optimization.
Local SEO.
A video sitemap.
The price tag might be higher than other services on this list, but the features and customizability Premium SEO Pack offers more than justify it.
It's a great choice for seasoned SEO professionals looking to take their WordPress site to the next level.
4. SEOPressor Connect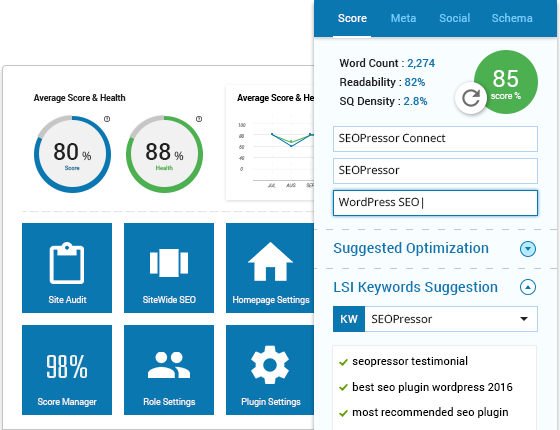 This plugin takes your most essential SEO data and lays it out in one intuitive dashboard. The dashboard gives you a glance at insights into your site's search engine visibility amongst other things.
The main selling point of SEOPressor however is their emphasis on contextual content instead of keywords.
A $9 monthly subscription gets you:
Automatic internal linking.
Readability scoring.
Over-optimization checking (irrelevant keywords, overstuffing, etc.).
XML sitemap generator.
Dynamic spider control.
The learning curve is steep, but this professional tool is a mainstay in advanced SEO processes.
5. Semrush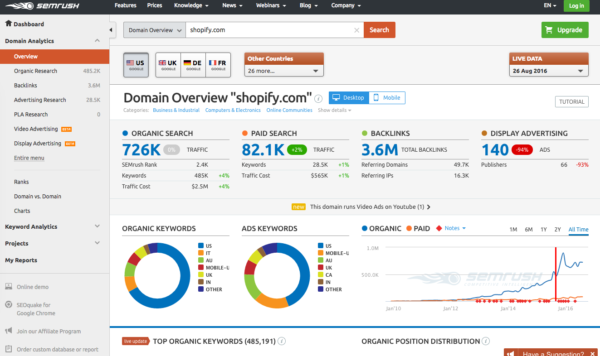 Semrush is an incredibly popular WordPress plugin that is adored by SEO experts, marketers, bloggers, and businesses of every size.
You can use Semrush to find organic keywords and terms to rank for and the plugin's competitive research functionality lets you compare your competitor's rankings and find new terms to gain a leg up on them.
Semrush's SEO Writing Assistant tool also improves your overall website content by helping you write more search-friendly content. It does this through tight integration with WordPress.
6. Squirrly SEO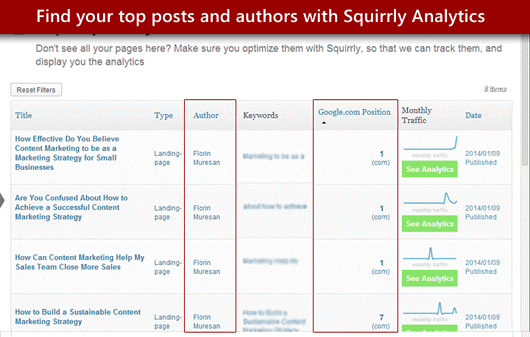 Squirrly SEO has over 3 million installs and consistently good reviews. It's not hard to see why. The WordPress plugin has over 200 features to help you optimize your content with updates keeping things fresh constantly.
Instead of listing down all the things the program offers, here's an incredibly detailed video that runs through everything from the developers themselves:
The app has subscription tiers starting from $20 for your first month and it goes up from there depending on your use case and requirements.
WordPress Site Speed Plugins
You've painstakingly optimized your site for keywords and search trends and now you have a steady stream of visitors flocking to your WordPress site. But your work is far from over. Nothing will put off new readers more than slow load times and unoptimized content.
Research shows that 53% of mobile users leave if the website takes more than 3 seconds to load while 87% of online shopping carts are abandoned if the load time exceeds 2 seconds.
This data proves that the speed of your site is an incredibly important part of the efficiency puzzle and not paying attention to it could leave a bad taste in your customer's mouths.
Thankfully though, the following WordPress plugins will help you keep your site snappy and well optimized for years to come.
1. W3 Super Cache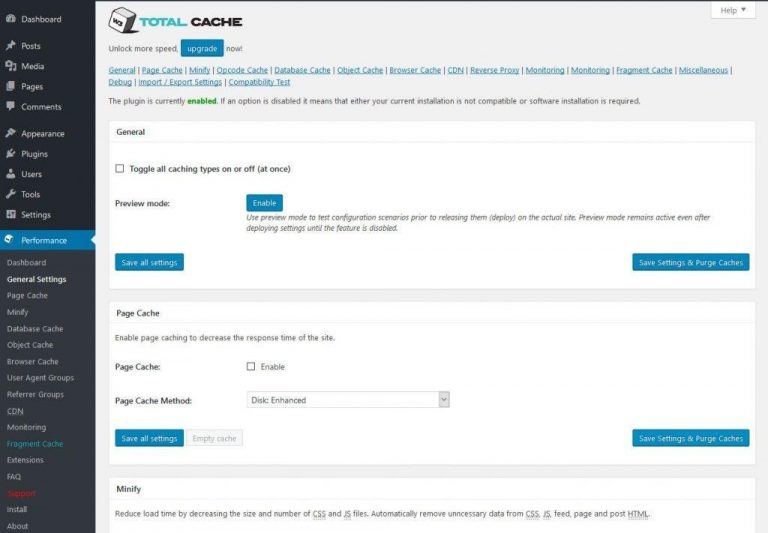 W3 Super Cache is a fantastic tool to help speed up your WordPress site. It's made by the company responsible for WordPress itself, so you know the quality is going to be exceptional.
The plugin manages your site's cache files to ensure that performance isn't affected. This improves site speed and allows the end-user to have a better experience.
Google also uses site speed and cache metrics in its ranking algorithm so this could be the difference between you ranking higher or lower.
Oh right, and this plugin is completely free to use.
2. Media File Renamer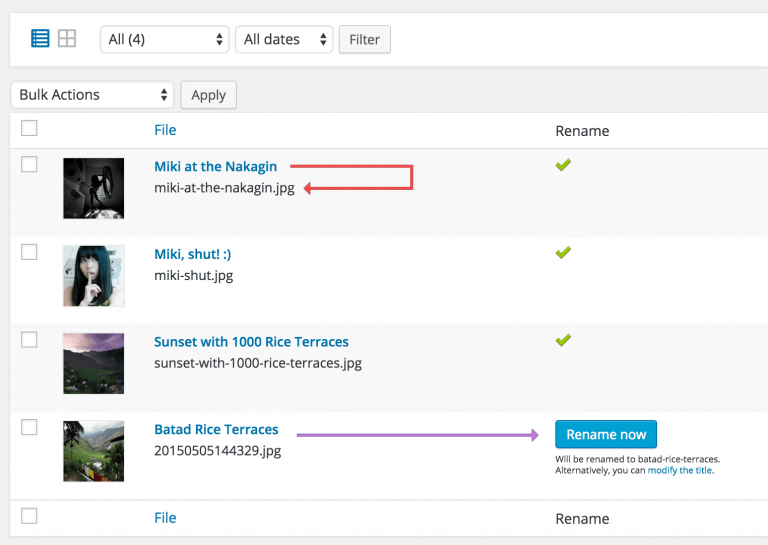 While this plugin might not help your site's speed, it certainly helps reduce the time it takes to optimize your images and files. Going back through large sites and sifting through file names and attributes is a huge hassle.
Media File Renamer solves this issue by renaming media files based on their image titles. When an image file is updated, the entire site is updated to include these references.
The free version of the plugin is an auto renamer so if you want manual control of your naming then you'll have to get the pro version which starts at $24 for an annual subscription.
3. WP Smush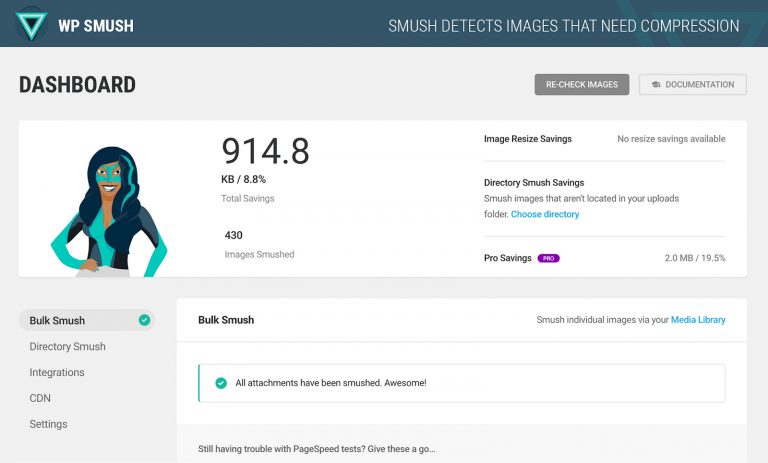 This simple plugin allows you to simply and intuitively reduce the image sizes on your site without compressing the integrity or quality of the overall image.
WP Smush supports all the common file formats including JPEG, GIF, and PNG. Besides this, it offers:
Removal of unused colors from images.
Compatibility with other plugins.
Removal of metadata from JPEG images.
Ability to handle more than 50 images at a time.
Ability to pinpoint what images are slowing down your site.
This video from the developer does a good job of walking you through the process.
4. WP-Optimize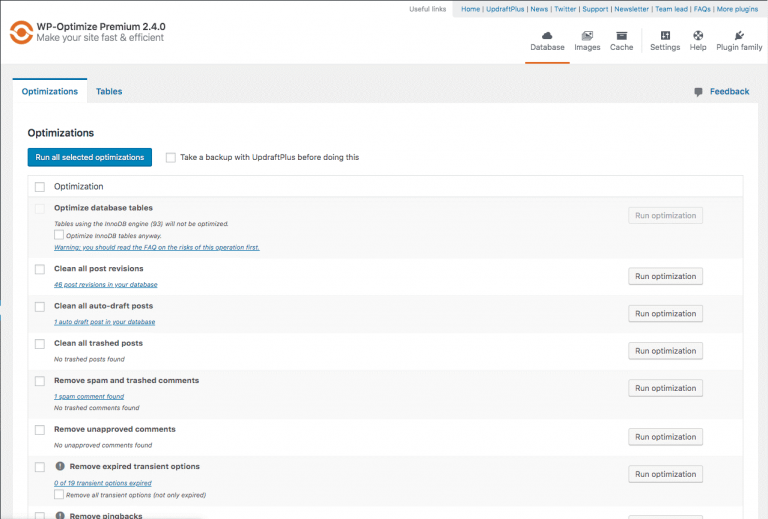 Another simple tool on the list, WP-Optimize lets you optimize and streamline your site's database. The plugin has over 17 million installs and a high rating so the quality is undeniably good.
Besides cleaning up and optimizing your databases so they run better, WP optimize also offers:
Scheduled automatic cleanups of revisions, spam comments, trashed content, etc.
Defragmentation of MySQL tables.
Database statistics overview.
Image compression.
Granular control over specific optimizations.
Mobile Optimization
The vast majority of content produced and consumed in the world is done on mobile devices like smartphones and tablets.
Not optimizing your site for mobile will be a huge deterrent to your long-term success. As previously mentioned, speed is important for sites to remain competitive, and being mobile-friendly is another essential part of the equation.
The following plugins will assist in making your site more mobile-friendly so visitors will have no reason not to stick around.
1. WP Touch Pro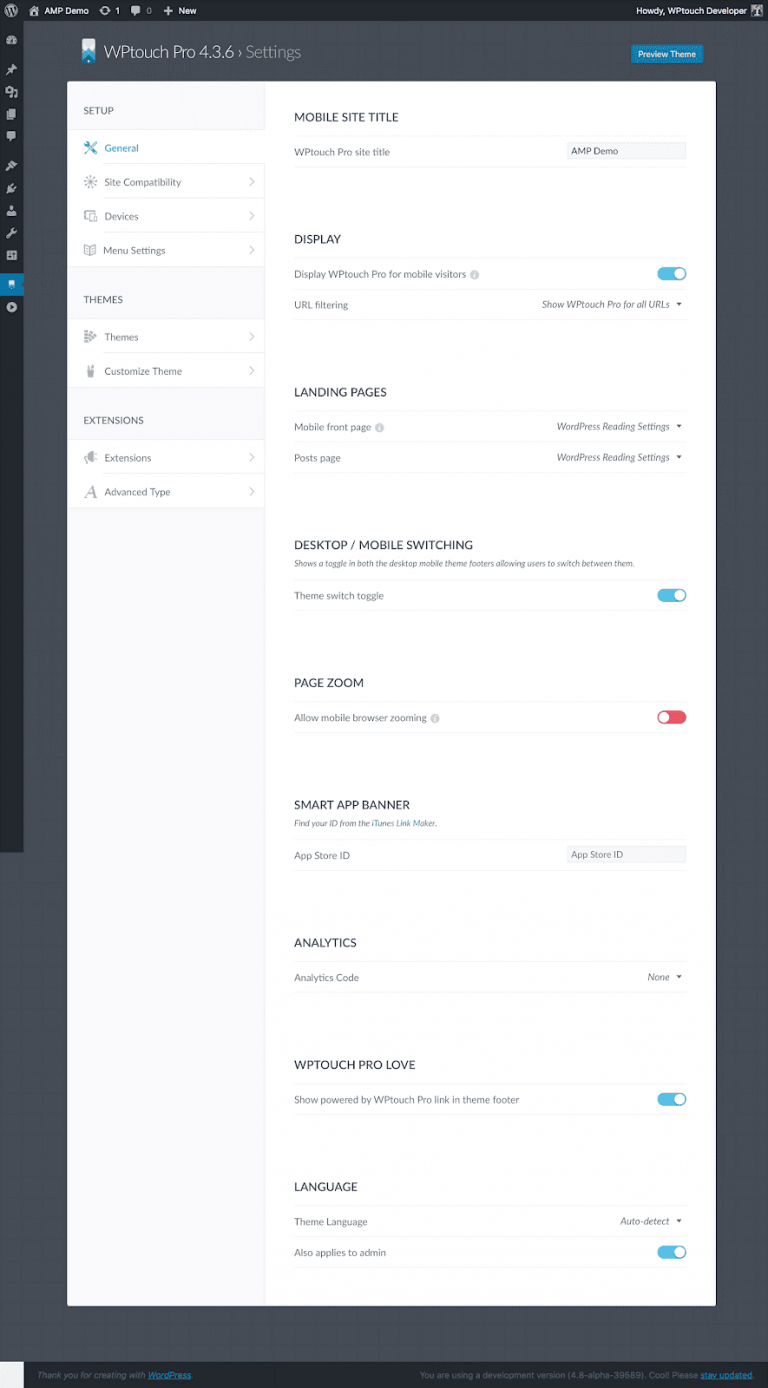 WP Touch Pro is an obvious first choice for this particular category of plugins. With over 13 million downloads, this tool has become a mainstay for almost everyone.
It replaces your site with a user-friendly, mobile-focused theme. This change enhances the site, making it easier and faster to read.
It overlays a mobile-friendly theme on your site without compromising your current theme. Your content and URL remain the same.
The plugin simply optimizes your content for different screen sizes. You can see just some of the customizable options the app offers in the screenshot above.
If you want more validation, WP Touch Pro is actually recommended by Google itself so implementing it could mean that your site performs more favorably in search rankings.
2. Autoptimize

Regardless of whether your site is hosted through companies like GoDaddy or simply through WordPress.com, Autoptimize is a fantastic plug-in that helps improve your site's overall web upload speeds.
It does this by optimizing your database, deleting your caches, and aggregating scripts. These changes can reduce your site loading times by up to 30%.
This is a huge improvement by any metric and ensures that your visitors don't leave your site because of slow load times.
The plugin is super easy to use with a myriad of pricing models to choose from.
WordPress Analytics Plugins
Knowledge is power and as a site owner, this statement should be at the forefront of everything that you do. Data never lies and will tell you the cold hard facts on how your site is doing and what improvements you need to be making.
Google Analytics is the best way to make sense of this and if used properly can help you craft effective strategies for your WordPress site experience. Plugins designed to optimize this data are therefore a great idea to use.
Knowing is half the battle and with these plugins, you'll be in good hands.
1. Monster Insights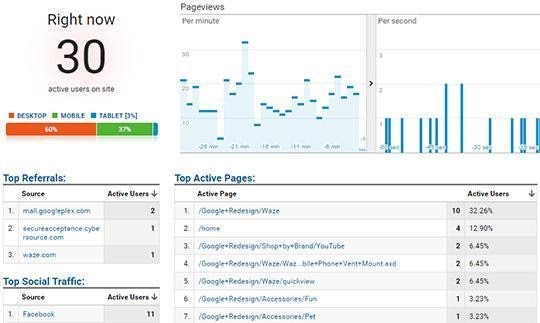 No list on Google Analytics plugins could be complete without MonsterInsights. The app has more than 85 million all-time installs and is hugely popular for good reasons.
A big advantage of MonsterInsights is that it is super easy to install and requires absolutely no coding knowledge.
Once you're up and running, the plugin tells you exactly how visitors came onto your WordPress site. The reasons could be referrals, keyword searches, or a backlink that led to you.
This data can help you pinpoint weaknesses or optimize trends to keep visitors flocking to your site. MonsterInsights also lets you get to know your visitors better. You can find out their age, their country, their gender, and even what browser they use.
This data comes from the MonsterInsights Website Audience Report and can be super useful when planning new campaigns and strategies.
You can also use MonsterInsights to see what kind of content the audiences are searching for and the volume based on their demographic.
These features are just the tip of the iceberg when it comes to the vast array of tools MonsterInsights offers. It's truly a must-have tool for anyone looking to gain more insight into their site and SEO processes.
2. Google Analytics Dashboard (Exact Metrics)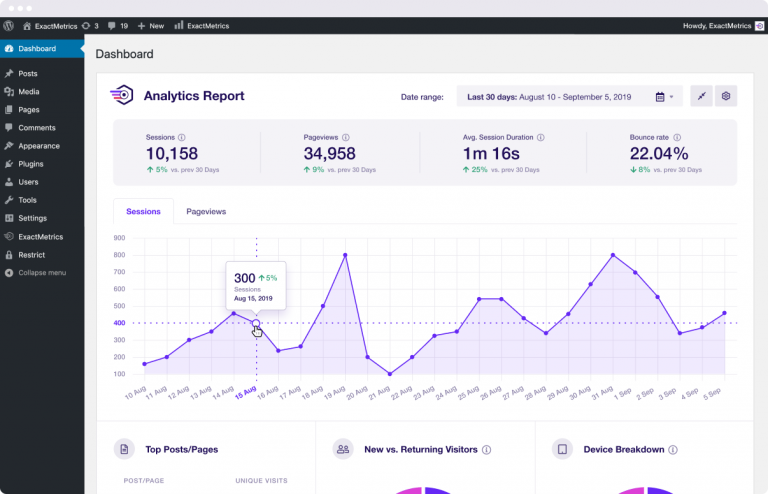 29 million installs later, Google Analytics Dashboard is a no-brainer choice for a high-quality Google Analytics plugin. The brainchild of Exact Metrics, this powerful tool intuitively displays your data right in your WordPress dashboard.
Installing the plugin is a bit more complicated than other options but the effort is well worth it.
This plugin not only shows you your site's bounce rates, views, keywords, etc. but also gives useful, real-time statistics. You can monitor your visitors and traffic as they happen.
Google Analytics Dashboard by Exact Metrics is also compatible with multisite installs and multiple Google Analytics accounts as well.
3. Analytify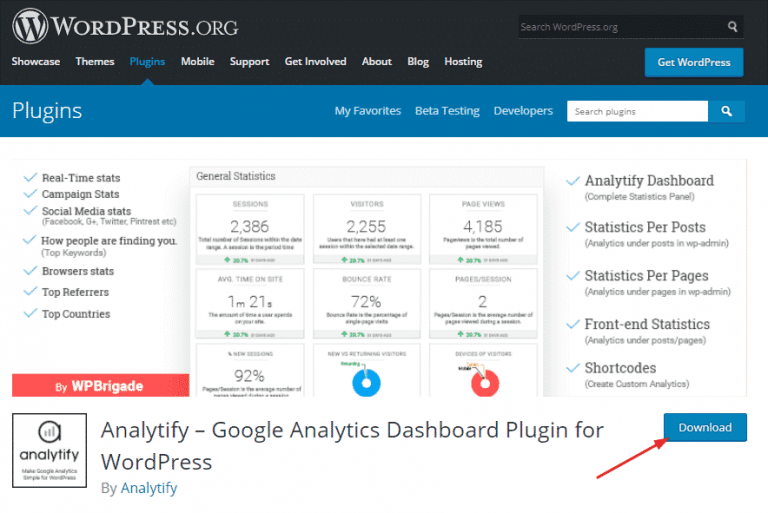 What if you want an option that is just as useful as the others but is much simpler and easier to understand? Well, that's where Analytify comes in.
This popular WordPress plugin simplifies Google Analytics data so that you can get a better overall grasp of what's happening with your WordPress site with just a quick glance.
The ease of use starts with the installation which just requires a simple one-click authentication process. As soon as you're up and running, the app will display your analytics data right in your WordPress dashboard.
Analytify, like its contemporaries, helps improve your site traffic and SEO by giving you insights on how you can make certain improvements.
You can learn more about your audience, their likes, and dislikes, your retention rates, the engagement, and the list goes on and on. Knowing all of this helps you craft better more tailored marketing strategies.
Analytify will also give you automated email reports of all these metrics, too.
Taking Your SEO Efforts to the Next Level
These plugins won't work unless you do. They're tools, designed to help make your job easier but they can never replace the groundwork that has to be laid down for them to have any effect at all.
Don't get confused by the options and always keep your business or personal objectives at the forefront of everything you do.
Use your unique requirements to dictate what plugin is the best choice for you and utilize them to do what they're designed to do.
Optimizing any process takes time and your site is no different. But with these tools and the knowledge you already have, you'll be one step closer to making your most ambitious WordPress SEO goals a reality.

---
Image Credits: Paulo Bobita