My rule of thumb as to keyword research tools is: the more the better. Various tools have different algorithms and metrics to compare and when united, you may end up with many more keyword ideas and much more inspiration than when using just one utility.
This is why I never grow tired of finding and sharing new (alternative) keyword research tools, both widely popular and known to just a few. Among such new and less-known keyword suggestion utilities were free Wordstream tools and Actual Keywords – both reviewed by me last year.
Today I am sharing another little keyword suggestion utility: WordPot
The most widely advertised features of the tool were actually not the reason why I added it to my list of tools for brainstorming content ideas:
"Keyword trend" tool seems extra (Google Trends seem more reliable to me since it relies on Google);
Keyword projects may be helpful but I prefer Excel for grouping my keywords into projects.
What I actually liked about the tool was the set of other, least prominent features:
1. The comparison metrics
We've seen quite a few tools that use various metrics to let you compare the keywords and choose the ones for your needs: be it Adwords competition numbers, search volume or number of search results for the given terms used in the title of the page.
WordPot has quite a unique comparison algorithm: "Exact daily" versus "Total daily" where:
"Exact" indicates the number of daily searches done with that specific word on the internet.
"Total" stands for the number of searches including ALL searches done daily that word in them (i.e. including phrases).
From their own words:
You can use these numbers to see which words are more general terms than others. For example since golf has only 6938 exact searches but 696364 total searches then that makes golf a general term. So if you are trying to advertise for "used golf clubs", you should stay away from the term "golf" in your campaign.
What it basically means in my understanding is that if "total daily" is MUCH higher than "Exact" daily, the term has higher chances to occur in the word combination and you don't want to use that standalone term. You'd better stick with some keyword combination.
A good example for that is "diet for" term which according to the tool is searched 7 times a day but occurs in almost 3K search phrases daily: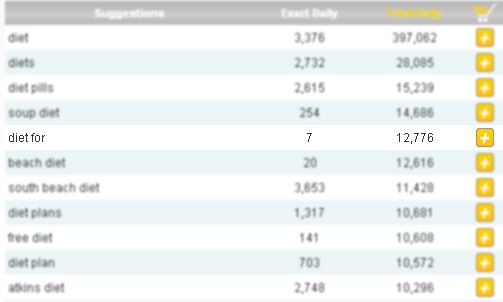 2. The base word info
Another handy option offered by the tool is the ability to see each word thesaurus info:
Definition;
Synonyms;
Related Words;
Associated Words.
3. The "Freemium"
Unlike many other keyword research tools, this one offers quite an advanced free plan, so you may never need to pay and use the free plan (like myself). So just bookmark the tool and use it randomly when you are stuck and need some inspiration.
Some useful info on the tool:
Data source? According to the site, they rely on "meta search engines (like Metacrawler and Dogpile) and results published by Google (zeitgeist), Yahoo and Msn" (I guess they really mean Bing).
Tools? They have a very handy FireFox search engine that may make keyword searching much easier.