Our great friend Joe Hall has shared some exciting news about his service WhosTalkin, a social media search engine that searches real-time conversations from around 60 different social media gateways.
WhosTalkin has integrated Facebook's new API, giving the search tool unrepresented reach; the tool is also launching a new aggregation engine, a new real time metric, and the ability to export results directly from the search tool.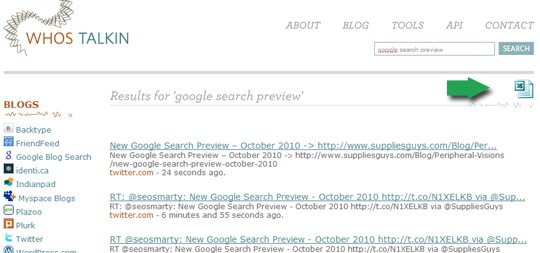 The tools is also introducing – TalkRank – a new metric that "gives a very accurate picture of the level of conversations in social media".
How does TalkRank work?
On an hourly basis we run analysis on a "seed set" of popular terms in social media. Then we run an individual analysis on each query that goes through our system. With this analysis we monitor the number of updates or postings to Twitter, Facebook and blogs in the past hour. We then use these results to compare to our static seed set to form TalkRank. All of this happens in a matter of seconds using our powerful aggregation engine.