This is a sponsored post.
I enjoy doing reviews on sites and products that can help my Internet Marketing clients. This past week, I was able to put WebMeUp.com to the test with a website owned by my new client. It needed an SEO health checkup, so to speak, and WebMeUp.com gave me a clear and easy to understand overview that showed exactly where I have my work cut out for me.
Upon signing in, you'll see the ability to update your profile, upload a profile picture and opportunities to share WebMeUp.com. Every time you complete one of these tasks, you are given points. You can then trade these points in for an extended trial period. I've filled my profile out, and I already added 15 more days which is a good thing since I'm liking the features inside. Let me show you what they offer.
Once you click on "go to software," I'm asked to put in a project URL. Step 2 brings up keywords from the site. I'm able to see immediately that the site is not optimized for the words the client would like to rank for. So I simply add focused keywords to the list to begin targeting the keywords progress and to see where the site ranks for those words.
Once all the keywords are entered and search engines are chosen, WebMeUp starts compiling lists of useful data. I can see the PR, Alexa Rank, pages in Google, and backlinks. The software also provides a visibility score, which I'm not sure what their calculations are based on, but am assuming that my new client's score of 0 percent with a red box is not a desirable outcome. So there is work to be done. What can WebMeUp help me on?
When I click on my project URL, the reports compiled are easily laid out on screen. The area I find the most benefit is the Structure and Content-Related Issues. Missing Titles, meta descriptions, and duplicate titles are color coded in the site's warning colors of red, yellow and green.
Although there is no description of these meanings, I can only guess that red is telling me I better pay urgent attention and yellow let's me know I better attend to this issue in a near future. Since I see Missing Titles and the number 0 in green I have the feeling I want to see more green than red.
In the left sidebar, I have a few options to choose from, such as Ranking Factors, Keywords & Rankings, Pages, Competitors, and Backlinks. A few of the options go deeper into the reports that are found in the dashboard and do give really useful information. The two I'd like to focus on is Competitors and Backlinks.
The competitor panel allows you to add URL's of—yep, you guessed it—your competition. What this basically does is run the same type of report that is done to your main site. What this also does is pull every one of their backlinks along with the PR of each, anchor text and if they are a "nofollow" link.
Simply click on the link and you can see exactly where the backlink is coming from. This really narrows down on the sites you may want to follow up with to secure a backlink for your site as well.
The backlinks section for your own site will list everything I mentioned above. The other aspect I wanted to point out was the management section. Here you can add sites you have contacted about backlinks. Let's say you have a guest post scheduled. Enter the URL in the management section, and it monitors the progress of that link. This is just a great area to keep track of all the links you are currently working on.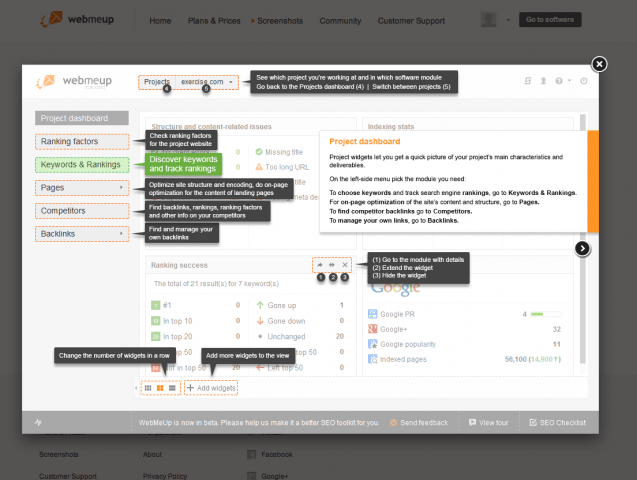 An interesting feature you don't see many times with a product is the community participation aspect. WebMeUp.com offers a forum where users can interact with each other. Some of the topics discussed are SEO Help, Online Marketing, Social Media, and an area for Site Reviews. WebMeUp.com also shows where you rank in points compared to other members and allows you to see who is at the top.
All in all, I like the community feel with WebMeUp.com. The point system is an excellent idea on their part, especially when it comes to sharing the site to earn points. I have enough points to extend my time with the program in which I'm hoping to use the competitors reports to find some excellent backlink opportunities. For now, I need to take care of the duplicate titles so I can see more color coded green results and get out of the red.