As Internet marketer I often have to deal with various hosting providers and packages. I find it not easy at all to compare various services and make a good choice (and I doubt I have ever made a really good choice so far).
Therefore I found this tool really promising: HostMonk is an "impartial" hosting comparison tool that can come quite in handy both if you search for a cheap shared hosting for your small niche site or a reliable dedicated hosting provider for a huge project.
The site currently compares 2518 packages. The home page is divided into two sections: dedicated and VPS hosting – each of them is further divided into: Linux servers, Windows servers, High bandwidth servers, affordable Linux servers, Managed and Unmanaged servers.
What I liked about the tool was the table-like interface that contain all important information in a very handy way. You can sort the table by price, provider or platform. You can also refine results by monthly price, platform, disk space, guaranteed memory, bandwidth and management: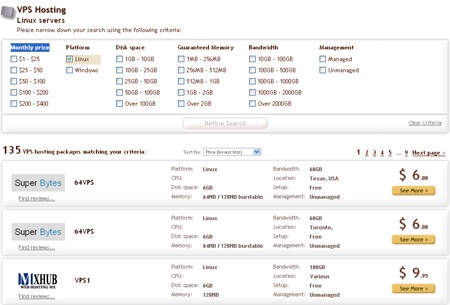 Each listing also contains a link to the provider's reviews – this is basically the collection of related forum discussions. Besides, according to the developer, all the pricing is up-to-date as they have developed crawling technology that goes out and updates the price on a regular basis. They are also using providers' data feeds when provided.
A handy, little time-saver, what do you think?
The tool was reviewed under SEJ disclosure.