It's March Madness! Sweet Sixteen Baby! Maryland and Georgetown are out, but the Tourney is still on! Office workers around the US are looking at their watches, waiting to get off work and head to the local sports bar or someone's house to kick back, toss back a few cold ones, and see who makes it through the weekend to advance, and who gets sent home.
The East Coast may be getting out in time to catch tonight's games, but the West Coasters are going to have to find more inventive ways of catching today & tomorrow's NCAA March Madness games. If you failed to reserve your seat, can't get out of work on time, or are not in front of a TV, your best bet is to watch March Madness online. Here are some of the online sites where you can watch March Madness online.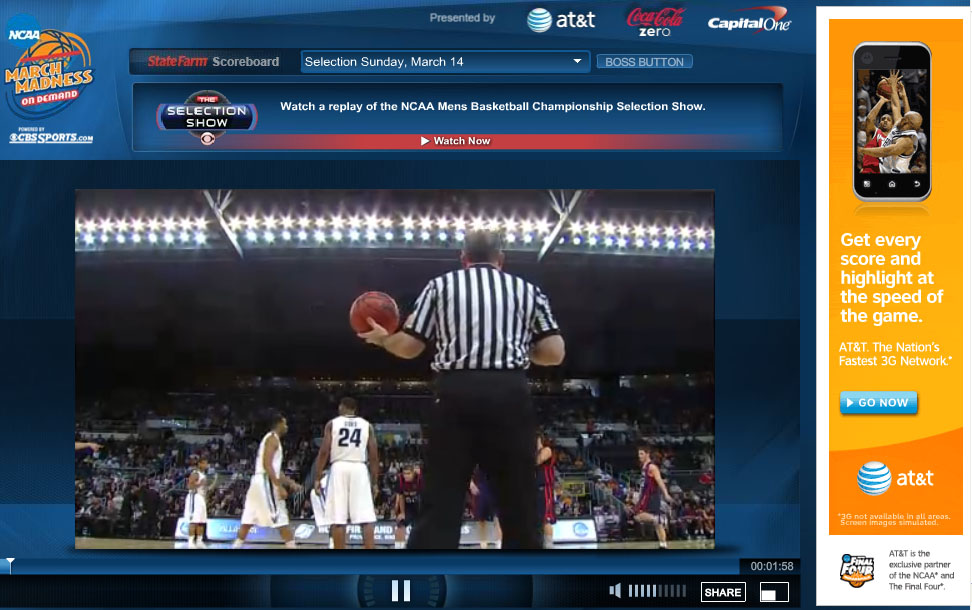 The Official NCAA March Madness Online Site – offers free live streaming of the NCAA Championship Finals, that is if you don't mind the ads splattered all over the site.
ESPN TV – Live coverage of ongoing March Madness games. The site says you need to refresh you browser if the video won't load. I don't have that much luck yet though.
World Wide TV On PC – Subscription is need to watch live streaming of the NCAA March Madness games. Name and Email registration is required.
CBS Sports is also offering live streaming video of March Madness, and offering it on Facebook, Myspace and other social media widgets.
As for search, neither YouTube (Google), Bing or Yahoo Video have live streaming of the games, but you can catch all kins of highlights and action.