Visual search technology is continually improving, while visual search usage is expanding across various platforms.
With new, intelligent, visual search technology being incorporated into branded apps and websites as well as improved visual search functionality being built into platforms such as Pinterest, Bing, and Google, visual search is changing the search marketing landscape as we know it.
Pinterest's CEO Ben Silbermann has previously said that "the future of search will be about pictures rather than keywords."
Indeed, recent advancements in visual search technology from the likes of Pinterest, Target, and ASOS are already making it much easier for users to snap an image and either buy the product captured or search for similar items.
It's the time saving and convenience that this technology brings that represents a hugely exciting opportunity for ecommerce retailers in particular.
This post details everything search marketers need to know about how the emergence of visual search technology could shape search habits over the next few years and what brands can do to adapt and compete.
The Growth of Visual Search
Visual search technology is much more complex than text-based search, as with visual search the image itself is the query.
Search engines are getting better at understanding the components of images, resulting in more reliable results and heightened usage.
While voice search usage has been increasing over the last few years, so has visual search. We can now search based on part of an image, search with our cameras, and search via augmented reality applications.
A 2017 report by Jumpshot and Moz confirms that visual search is on the rise, with 27 percent of all searches across 10 major properties being for images.
Pinterest has reported that their users carried out more than 600 million combined monthly searches using their Lens technology in February 2018 and there are now more image results than ever being returned by Google.
Clearly, visual search is growing rapidly.
Let's explore how people are using visual search, what the technology is capable of, and how it might develop in the future.
How Are Users Engaging with Visual Search?
Pinterest Lens' (visual search technology) top search data from 2017 provides interesting insight into the most popular forms of visual search based on the categories the images used in a search are classified within: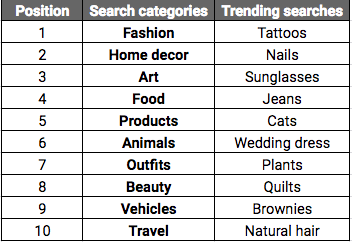 Based on these usage statistics, it would seem that brands operating in the fashion and home decor industries are those with the biggest opportunity to capitalize on visual search demand right now.
Fashion brands such as ASOS have already been implementing proprietary technology into their web properties, thus allowing shoppers to snap an item they like in a shop and find similar items on Asos.com.
It's convenient use cases like this that are driving the growth of visual search across the web.
Notable Visual Search Platforms
With a growing number of visual searches taking place, let's now take a look at the top visual search platforms available today and the technology behind them.
Pinterest
Pinterest has allowed its users to highlight specific sections of Pins to find visually similar Pins to a selected area since 2014, two years ahead of Bing, who only introduced that functionality to its mobile image search in July 2016.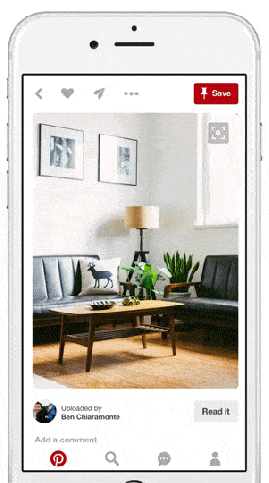 Pinterest has since rolled out a search function that aims to match discovery to images, not words. Pinterest Lens "lets you use the camera in your Pinterest app to discover ideas inspired by objects you see out in the real world."
Naturally, I wanted to give this a try and I actually found the technology worked quite well.
I firstly snapped an image of this water bottle using the Pinterest app: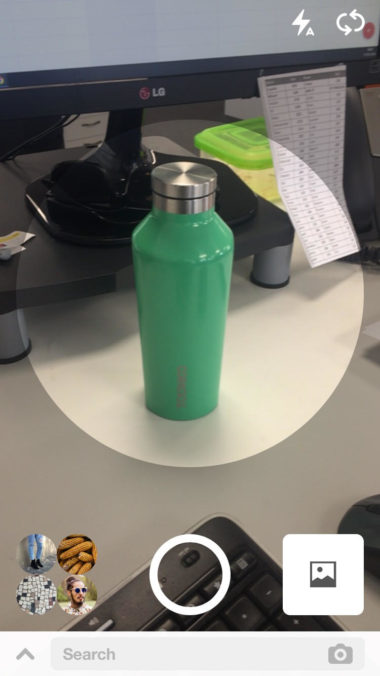 Despite the pixelated image, Pinterest managed to recognise the brand and model of the bottle in question: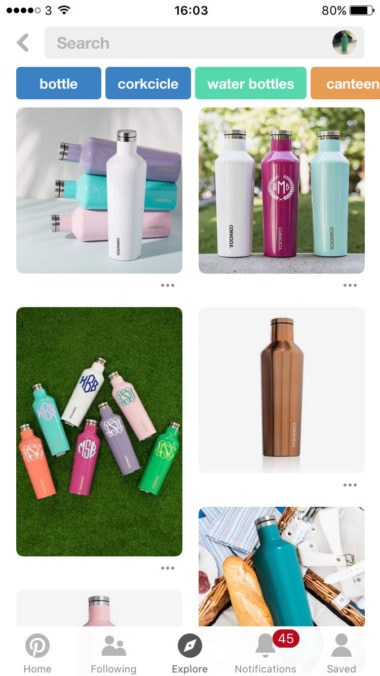 I was then able to browse through the list, and although a lot of items didn't have the ability to buy, I was quickly able to find the exact bottle I snapped with the ability to shop directly from the brand in question: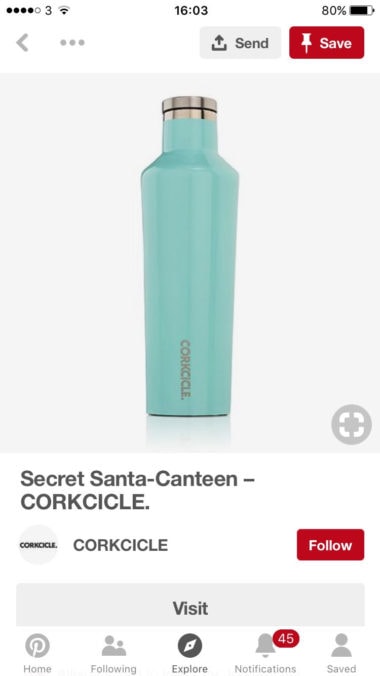 Pinterest is using this technology to help build its user base and thus boost its ability to make more money as an advertising platform.
A recent report showed 90 percent of weekly Pinterest users' purchase decisions are influenced by things they've encountered on Pinterest.
To capitalize on this demand, Pinterest has released 'Shop the look' pins for advertisers to list fashion and home décor Pins, which users can find by selecting specific parts of an image and 'shopping the look'.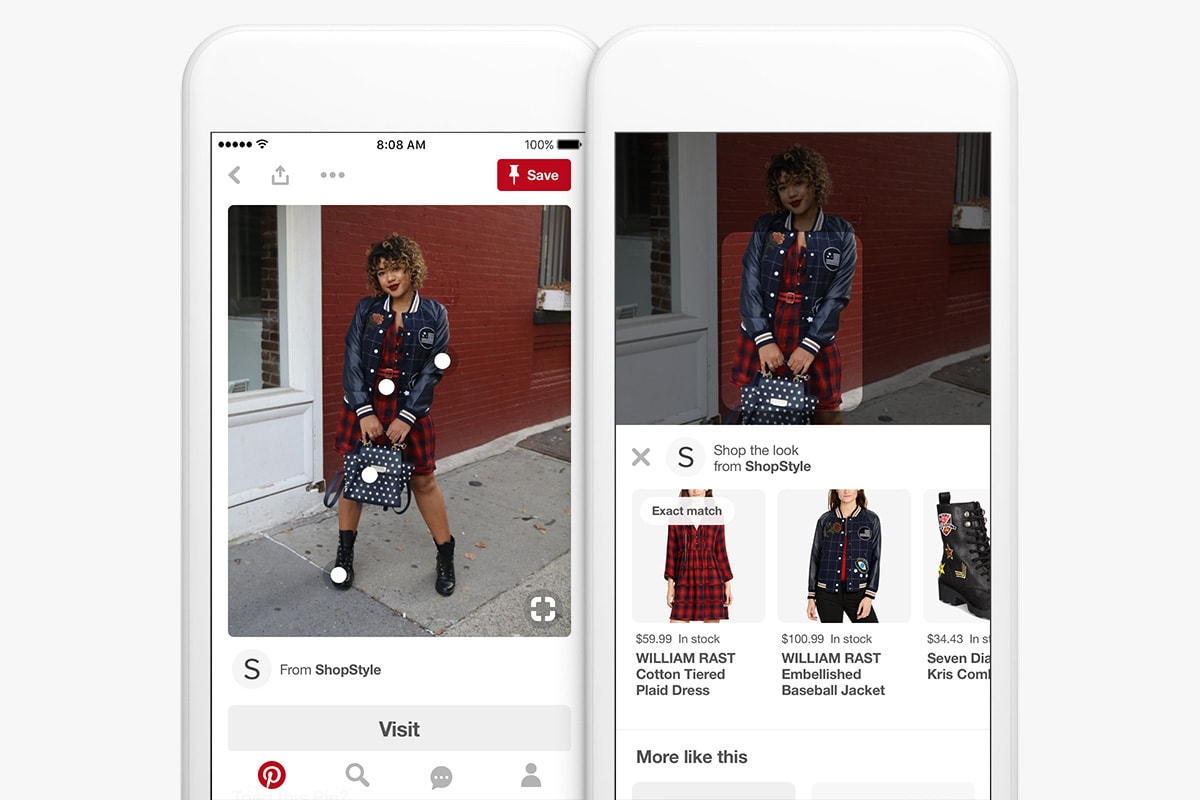 Unlike Google which has a variety of different search products and features to maintain, Pinterest is able to focus 100 percent of its effort on the development (and monetization) of its visual search engine.
Bing
Like Pinterest, Bing has developed smart web-based image search and image search based on photos taken by your camera.
While not revolutionary, Bing's visual search is still a useful tool that has significantly enhanced their image search offering over the past couple of years compared to Google's current offering.
Bing now allows users to select portions of images and focus in on specific items to further refine their search. For example, a search for "dining room ideas" returns this image: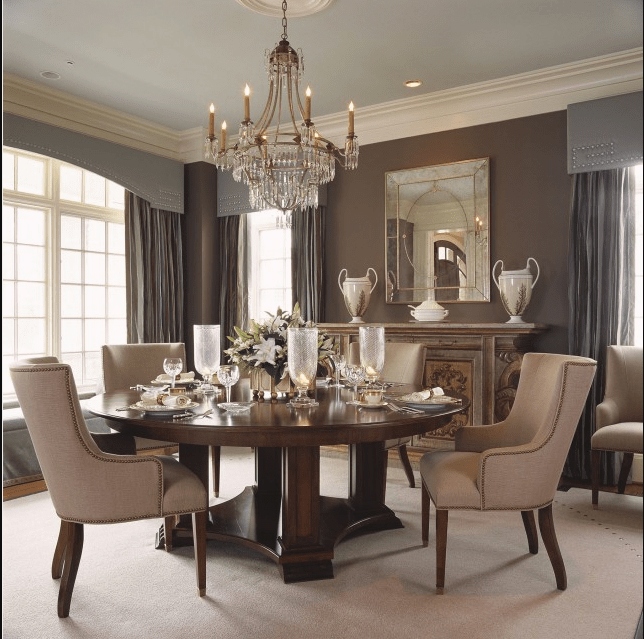 When selecting a specific portion of this image Bing presented me with related images: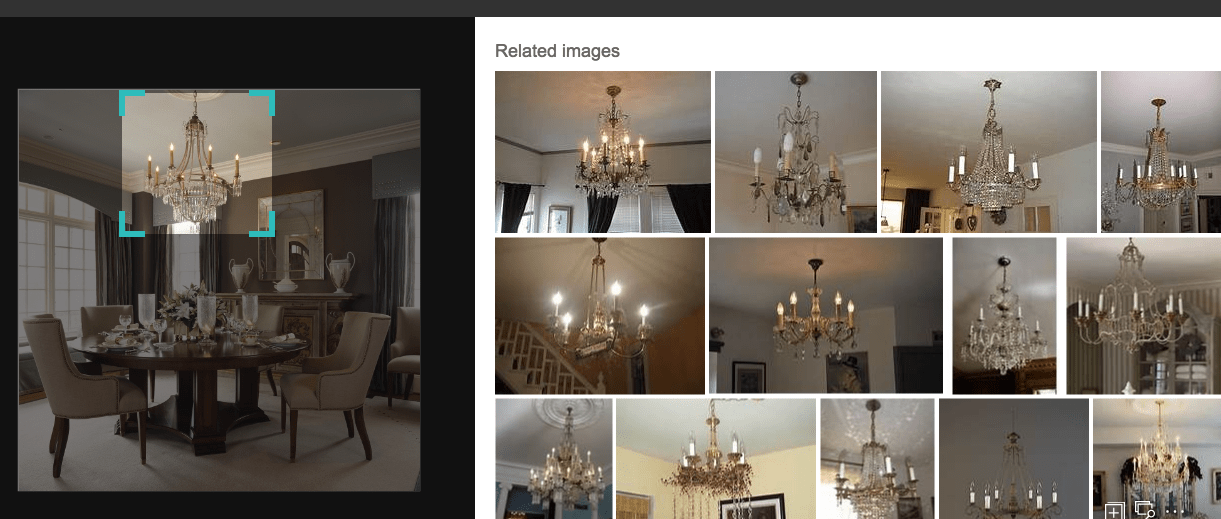 Bing also claim that when shopping intent is detected behind a query they provide related products with pricing information, however having tested this feature extensively I've still not managed to trigger the option to buy an item I've selected!
Using Bing's example, the product listings feature would appear like the following image: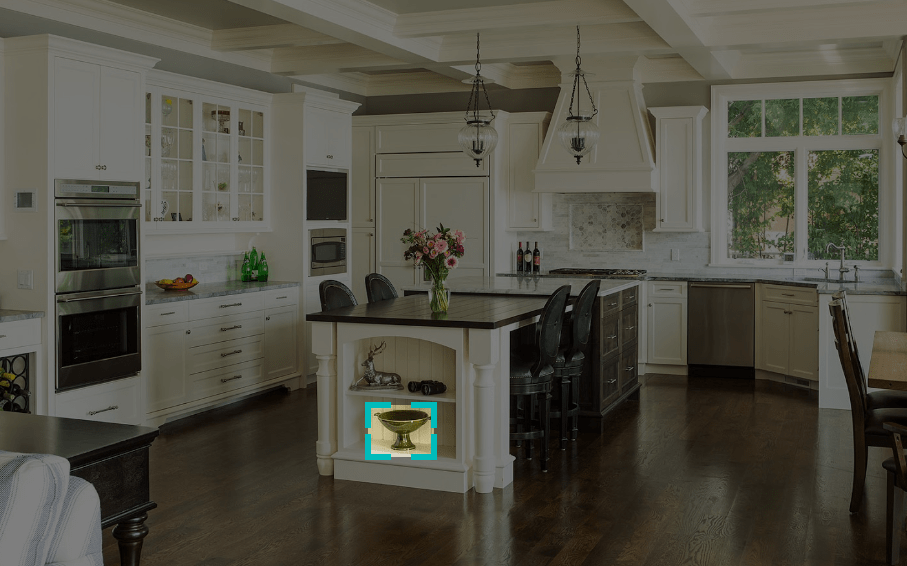 Compared to Pinterest's visual search, Bing's offering is still a bit hit and miss. I found that it often failed to recognize selected items and would instead return items based on color, despite the fact they were totally different objects.
Google
Google has made a series of moves designed at making image search simpler and more accessible, including launching their own camera-based search, Google Lens.
The latest version of Google Lens (May 2018) will be native to numerous Android smartphone cameras, meaning it won't need to be operated within a similar app. Presumably, this will increase the usage of this compared to Pinterest and Bing enabling Google to further monetize their image results.
Google Lens will have a 'Style Match' feature, similar to Pinterest Lens, and in line with the other big players in visual search, the emphasis on shopping will give users a link to buy what they've snapped or browse related items.
In the same vein, Google has also updated their app and mobile results to include badges for image search as well. Now, in searches made within the app, users see a badge in the bottom left corner of an image.
For example, badges such as "recipe" or perhaps the most significant badge – "product" – shown if the item is available for purchase online.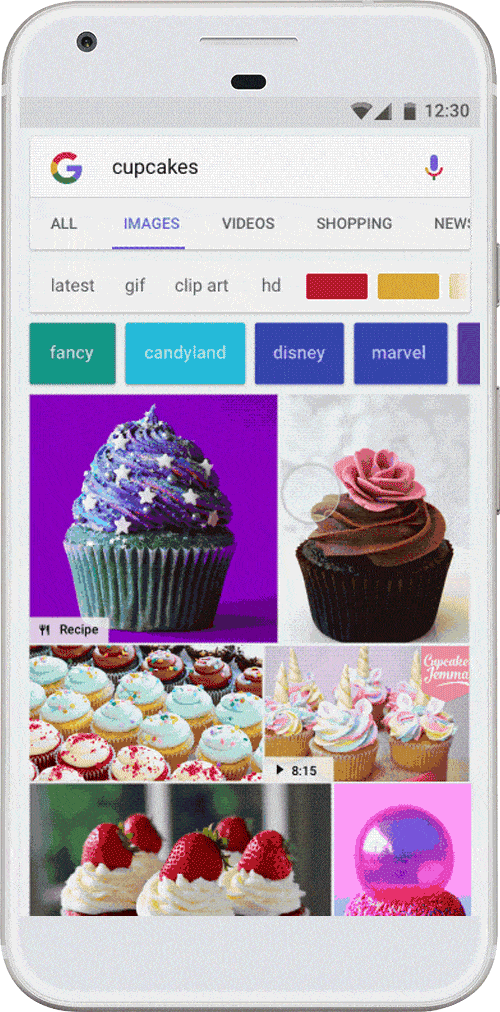 How Can Brands Leverage Image Search?
Image search presents a huge opportunity for online retailers, so how can brands leverage the technology currently available?
1. Focus on Organic Image Visibility
The rise in visual search means that competing in image search results needs to receive a greater SEO focus. Where previously optimizing images has been an afterthought, it may now receive increased attention.
There are some basic steps brands can take to optimize their images to boost visibility which you can read about here.
2. Build Image Search Into Web Inventory
In the past year, Pinterest rolled out its visual search technology into Target's apps and websites. As part of the deal, Target will reportedly increase ad spend with Pinterest and test new Pinterest ad formats.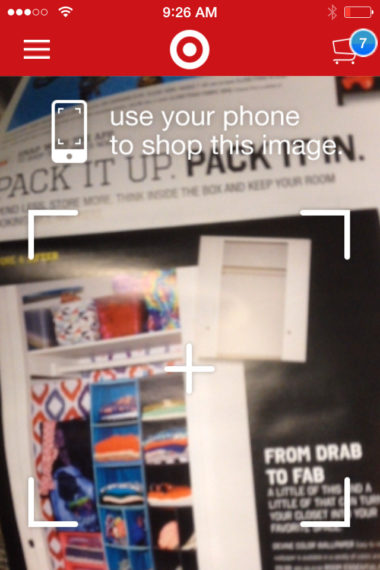 Recent research from L2 found that only 8 percent of retail brands have built visual search capability into their web inventory and I'd certainly expect this to grow over the next couple of years.
3. Advertise on Pinterest
As mentioned earlier, there are reportedly 600 million Pinterest Lens searches every month, a figure which has seen sustained growth since the technology was released.
Add to this the stat that half of Pinners have already made a purchase after seeing a Promoted Pin and and Pinterest advertising seems a no brainer for ecommerce retailers.
Thanks to Pinterest's core visual search technology and advanced image recognition, brands will get the benefit of their ads automatically showing up next to visually related products.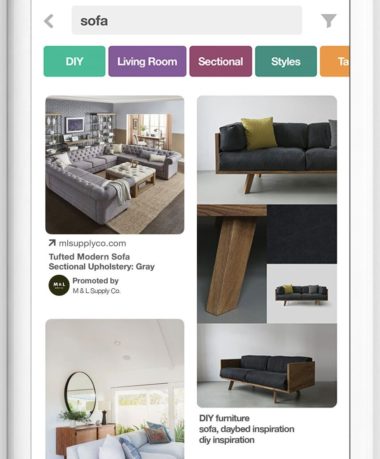 In addition to promoted pins, ecommerce brands will have a huge opportunity with the expansion of Pinterest shopping over the next year.
What's Next for Visual Search?
Visual search will continue to become more accurate and widespread as time goes by. I can imagine various possibilities for visual search going forward, with the most natural evolution incorporating augmented reality.
I don't foresee visual search replacing text-based searches altogether anytime soon. But it certainly opens up a ton of opportunities, mainly for fashion and home decor brands – it's certainly safe to assume that the future of visual search will be retail-dominated.
More Image Search Resources:
---
Image Credits
All screenshots taken by author, July 2018
GIF #1: Pinterest
GIF #2: Google