Most marketers spend a mind-numbing amount of time creating content when they don't have to. Over 3 million blog posts are published each day. Most content you wish to create and share with your audience already exists in some form. You could save hours of your content marketing effort and time by effective content curation.
Content Curation Helps You:
Boost your brand's visibility by sharing more
Create a positive impact on your SEO efforts
Have more conversations and increase engagement
Establish trust, credibility, and build valuable relationships
Channel your marketing resources and time more effectively
For social media and email marketing to work well, you require a certain frequency of content sharing. Regular contact is necessary to drive a meaningful impact and keep leads warm and prospects interested. Effective content curation can help you meet content demand and deliver value to your audience.
Here are five powerful ways to do it.
1. Curate Expert Insights & Resources Shared by Influencers
Influencer content is essential for two reasons. It has valuable information for your audience and can help put your brand on an influencer's radar. Many influencers share free resources and announcements of events that they're affiliated with. By curating that content, you can provide tremendous value to your audience.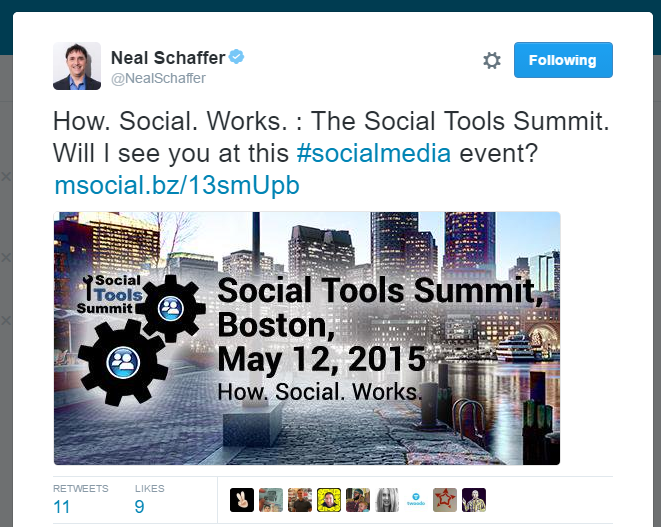 You can make yourself indispensable to your audience by sourcing these updates and funneling them on your social pages and email newsletters.
How to curate influencer content to elevate your brand's content value
Locate lists of top 100 influencers or experts to follow in your niche, and follow them on your official social media accounts. Monitor their activity and add interesting shares of theirs to your content calendar. If your brand follows several accounts, it may become difficult to monitor only influencers – you would have to check their pages on a regular basis. Instead, monitor influencers by using their social media handles on a keyword alert tool, like Brand24, Google Alerts, or Mention.
2. Use Content Discovery Tools for Efficient Content Curation
Navigating all the content in a niche can be a pain. You would have to conduct multiple Google searches (with your keywords), screen each result and shortlist the best to share with your audience. Instead, why not use an app to reduce that work?
There are apps that can discover content based on your preferences. Some of these apps also give you the option to curate content and share/schedule to your social media pages. There are also some apps that let you categorize and store content to retrieve and use in the future. Use these apps to cut your time to find relevant content to share with your audience.
What kind of content should you curate? People appreciate being updated on the latest industry news. Being the first to share news can be beneficial to your brand, in terms of winning audience favor. You can also share industry insights, tips and guides, studies and case studies, expert interviews and industry humor, to lighten the mood once in a while. It is also good to diversify your content formats by sharing infographics and videos, both of which are highly engaging and shareable.
Apps and resources to help you curate content in no time
Pocket is a great content aggregator that lets you categorize and 'pocket' content from around the internet under tags that you create. Choose themes related to your niche on the app and use its recommendations on your newsletters. For social media sharing, you could use a content curation software like DrumUp. Set keywords relevant to your industry on the app. Add RSS feeds of top blogs and news agencies in the feeds section of the app, and schedule the recommendations to your social pages.
3. Curate Different Visual Content in Multiple Formats
Visuals are a content marketing imperative – your content IS less effective without them. The textual relief they provide is a huge advantage in catching attention on crowded social feeds or overflowing email in-boxes. Effective visual content curation can help you turn viewers into readers. There are over 37 statistically backed reasons why you should be using visuals.
Use photographs with human expressions to incite an emotional response, charts and graphs to help people glean insights and infographics to communicate what an entire blog post can in an easily consumable form. GIFs and videos are also great shares. They have been shown to increase social media engagement. Attempt to include a relevant image on every social media post or email newsletter you send out.
However, visuals are hard to create. Creating high-quality visuals requires a sense of design and a considerable amount of time investment. You could cut time spent on your social pages and newsletters by curating visuals instead of designing them. You simply have to find the right apps and resources to do it.
Apps and resources to help you curate powerful visual content
Infographic directories are where people list infographics that they want to be shared. They're a great place to find relevant shares for you social pages or newsletters. Pixabay has large stores of images for you to choose from. GIFs can be sourced from GIF repositories like GIPHY. YouTube, Vimeo, and TED have hosts of videos for you to work with. If you want to quickly customize a pre-existing template to create your visual, you could use one visual apps and resources on this list.
4. Curate Collections of Data or Case Studies Related to Your Niche
Data can be very compelling when it is credible and accurate, but information on the internet is scattered. If someone is looking for solid data or case studies to explore certain concepts, they'd have to search for that information, check the sources to see if they're credible and read all of the results without knowing if they're relevant or not.
You could eliminate the need for your audience to do that by collating data and case studies related to your niche, for their reference, in one place.
SEJ Wrap-Up: Learn From These 11 Landing Page Case Studies & Review of 10 Free Content Marketing Tools
Curating case studies where your company has benefited customers is even more powerful. The resulting content can be very compelling to interested prospects and potential clients. But case studies are valuable even otherwise as they illustrate actual instances of success that generally have actionable insights in them.
How to curate data and case studies for with ease
Search for data and case studies specific to your industry on Google. Of the results that appear, choose only high-authority sources. Refrain from using unclear or incomplete content that isn't backed by proof and the right references.
You could also turn out your own high authority studies. If you're a digital agency, with permission from your client, you could pull data from Google analytics, or any other tool that you may be using to create a case-study. Compare these stats to industry standards and data provided by research organizations. Doing so will help you benchmark your efforts and provide your audience with actionable, proven insights.
5. Curate Comprehensive Round-ups for Your Email Newsletters
While it is great to curate others' content, it is even better to curate your own. You can do themed round-ups of the guides, how-tos, tips and tactics, infographics, and interview series you have created in newsletters.
This is a nice way to re-purpose old content while providing comprehensive information in an area to your audience. It is also one way to reach out to the members of your audience who haven't yet read those pieces. 60% of marketers who participated in this study already do it, and it is something you should seriously consider.
It is good to mix up the round-ups with regular newsletters containing fresh content. Use a content calendar to plan what (theme) you plan to round-up and when.
How to curate powerful round-ups for newsletters
You could bookmark your created content in categories on some of the tools mentioned here, or very carefully label them on your blog for reference in theme-based round-ups. Choose content from the categories you have created to plan weekly or monthly round-ups. Begin every newsletter round-up with a powerful context to highlight its true value.
The amount of content created on a daily basis is only going to increase. Don't needlessly add to the pile. Focus on helping your audience discover the right content. The time that you save can be spent on other demanding marketing pursuits to drive better results.
Editor note: to learn more about content marketing, download our free content marketing e-book.
Image Credits
Featured Image: Pixabay.com
Screenshot by Jessica Davis. Taken October 2016.