Twitter gave users a sneak peek at some changes that are in the works, including comment threads and the ability to see when someone is online.
Sara Haider, Twitter's director of product management, showed off these new features by tweeting a couple screenshots.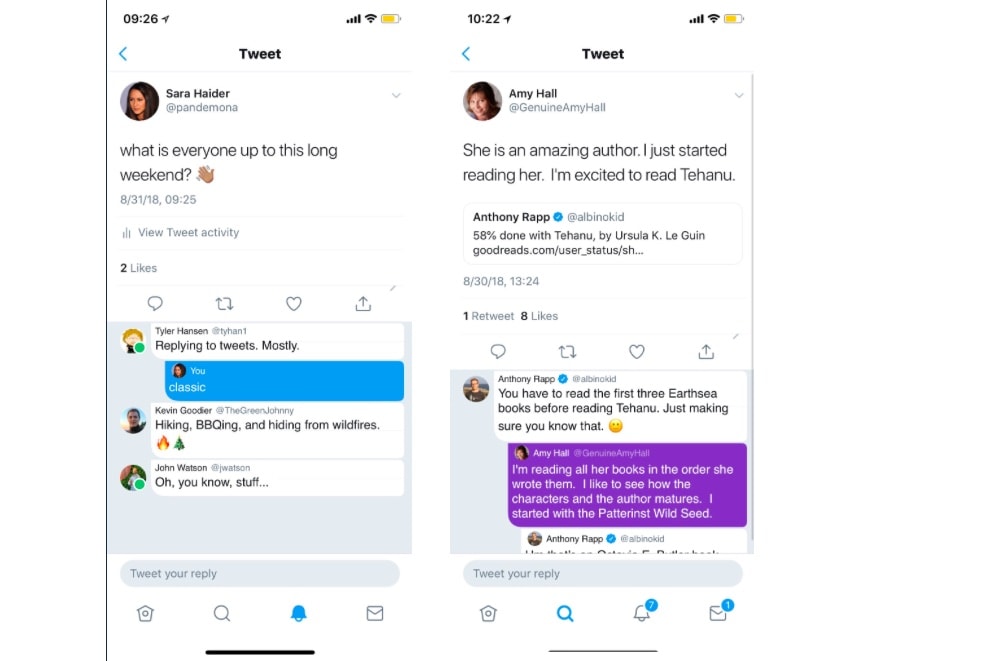 Haider says these changes are being considered in an effort to make Twitter more conversational.
"hey Twitter. we've been playing with some rough features to make it feel more conversational here. presence and reply threading. still early and iterating on these ideas. thoughts?"
Threaded replies feel like a more intuitive way to follow a conversation. Although it looks almost exactly like Facebook's comment system.
In other words, it's a welcome feature but nothing groundbreaking.
Perhaps less welcome, on the other hand, are online status indicators.
Where businesses and brands are concerned, the expectations users have for timely replies is already high.
Could you imagine how high expectations would be if users could see that a business is online as they're tweeting to it?
If Twitter decides to go forward with this feature, hopefully users are able to opt out if they don't want to broadcast their online status.
Facebook Messenger offers the ability to see when contacts are online. Instagram offers something similar in its direct message inbox, being able to see when a user was last active.
However, in each of those cases, users can easily opt out. The caveat is when users opt out of displaying their online status, they can no longer see when others are online either.
There is no indication of when these changes are rolling out, or if they will even roll out at all.
It appears that the company is gathering feedback before deciding to move forward.