Twitter's stock price has hit a new all time low, dropping several dollars below the previous record low of $23.31.
Now, having dropped another 14%, Twitter's stock price is sitting at $19.98. This puts a value on the company of $13 billion. That can be better put into perspective when you consider the fact Facebook bought WhatsApp for $22 million.
There was a lot working against Twtter this week. First, there was the news that the company is planning to get rid of the 140 character limit. Second, the stock market was down all week — but even with that being the case, Twitter's stock fell much more than other tech companies.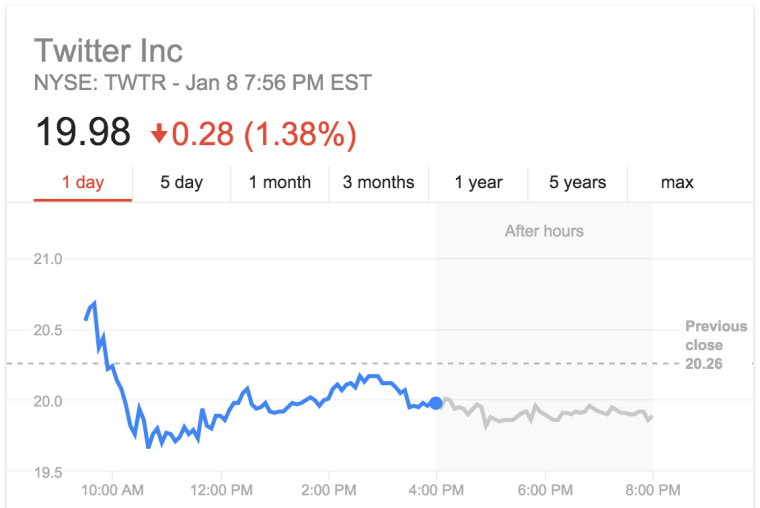 Another factor that has been working against Twitter for some time is the slow growth of its user base. While 320 million monthly active users is an admirable accomplishment, it pales in comparison to Facebook's 1.5 billion monthly active users.
Through the past year Twitter has made efforts to emulate Facebook, even changing its 'favorites' to 'likes', but it has not moved the needle in terms of acquiring new users.
In 2015, Twitter tested the idea of a non-reverse-chronological timeline with the introduction of Moments. This was previously a US-only feature, but has recently been rolled out to the UK. Like many of Twitter's experiments of late, the response to Moments has been lukewarm at best.

It's going to take more than a few new features to revive Twitter's stock price while getting new users on board. For its sake, here's hoping Twitter's new CEO Jack Dorsey has a vision of where to take the company this year.
Featured Image Credit: JMiks / Shutterstock.com