Those who prefer to use Twitter via the web, rather than using a dedicated desktop app, can expect to see some new functionality rolling out over the coming weeks.
Today Twitter announced the addition of real-time notifications to Twitter.com:
When it comes to your interactions on Twitter, it should be easy for you to stay connected to what's relevant. With this in mind, we're bringing you real-time notifications on twitter.com when someone is engaging with your Tweets.
When users are logged in on Twitter.com, they will receive notifications for the following interactions:
When receiving a reply
When a tweet of theirs is favorited
When a tweet of theirs is retweeted
When receiving direct messages
When receiving a new follower.
Best of all, these notifications are fully interactive so users can take appropriate action right away. Users can reply, favorite, retweet, and follow right from the notification.
To enable, modify, or turn off notifications go to the Settings panel on Twitter.com. From there you can choose what types of notifications you want to get on desktop, via email, or on your mobile device.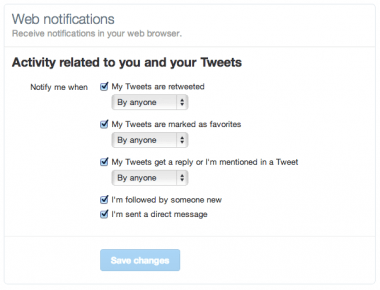 This is yet another example of Twitter becoming more Facebook-like in its appearance and functionality. Interactive notifications have long been a part of the Facebook user experience, and this announcement comes on the heels of several other recent announcements of Facebook-like features being added to Twitter.
Earlier this week Twitter announced new profile pages for desktop that many believe look a lot like Facebook profile pages. A couple of weeks back Twitter launched the addition of photo tagging and collages, features that have been available on Facebook from almost the very beginning.
Twitter may not be intentionally trying to be more like Facebook of course, they're likely just giving users more of the functionality they want to see. Regardless, one can't help but wonder what Facebook-like feature Twitter might announce next.