BLVD Status is a great free traffic analytics utility allowing for a number of great features, tracking search referrals and keyword positions being one of them. In short, it allows you to:
Watch search referrals real time;
Compare current and average search positions;
See conversions of each search term;
View all search referrals for any individual page;
In-depth stats for any of the search term you need to research.
Now, let's take a brief look at how we can actually do that.
("Live") Search Referral Tracking:
BLVD Status offers real time traffic tracking and reports search referrals in a separate window. This window allows to quickly switch between several options as well as set filters:
View all search engines stats or select one of them (Google, Google Advanced, Google blog search, Yahoo, MSN/Live, Reddit, Ask.com, Comcast);
View recent or all-time stats.
[For all-time stats only] Click between AVG and CUR to see average or current search position and compare them.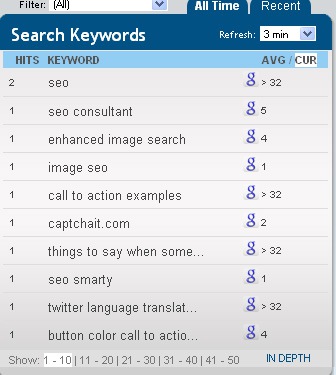 [For recent stats only] See the page the person referred by the search listing landed on.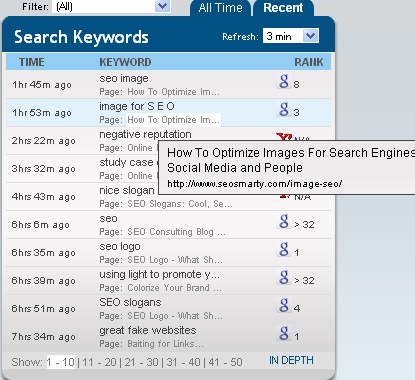 View All Search Referral for Any Page
Accessed via Site URLs -> In Depth, this feature allows to view all or recent search referrals and moreover,
Hits each referral has sent;
Each term position in SERPs;
Conversion of each one.
All in all, quite enough to judge about each word "effectiveness" (e.g. hits versus conversions).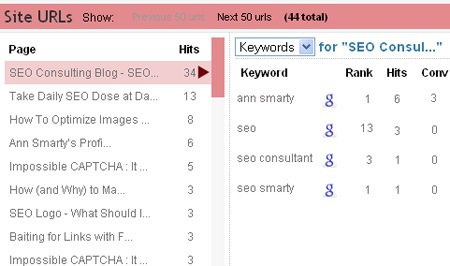 More analytics tools that allow to track keyword positions:
Further reading on keyword position tracking (via external tools):