I have noted a few times how Google's RELATED: advanced operator may be useful. Today I am reviewing a tool visualizing how this operator works.
TouchGraph Google Browser is a free online tool that visualizes relationships between websites based on Google RELATED: search delivering an interactive visual map of interconnected websites or search terms (to get it work, make sure you have the latest version of java, at least Java 1.5).
"TouchGraph provides a hands-on way to visualize networks of interrelated information. Networks are rendered as interactive graphs, which lend themselves to a variety of transformations. By engaging their visual image, a user is able to navigate through large networks, and to explore different ways of arranging the network's components on screen."
I started by searching for "SEO" and got a huge map of websites and links; here's the part of the map visualizing related network for SEJ SEO tools post: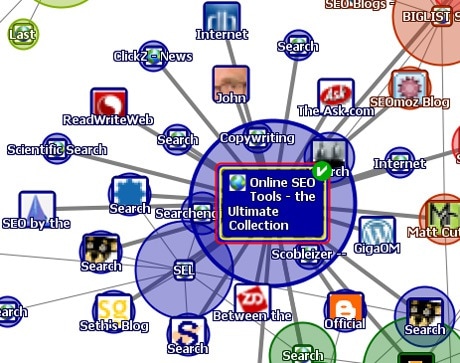 Play with the tool features and settings:
Filter the map by the site / page title, domain name;
Use "Expand selected" option to see more links within the selected cluster;
Play with colors:
Similar pages tend to form clusters of conceptually related websites where every site is related to every other site. Items within a cluster are assigned the same color to make the clusters easier to see.
Use "Keep selected" option to see only the cluster you are interested in;
Drag and drop page spots to change the map look.
Try searching for your brand name or product name: