Search and Internet marketing can, at times, be a 24 hour job. It doesn't necessarily HAVE to be, but if you want good results and want to keep up with new information often times it is. Sometimes we just want it to be regardless; it's something we enjoy. Even when we leave our computers we're still tempted to take a peek at things or be able to manage our tracking and analytics. Thanks to the beauty of the iPhone and the app store, we can be slightly obsessive but in a not-so-obvious way.
1. SEJ News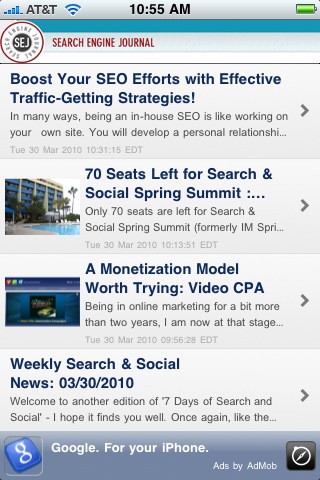 This application should be the beginning of your quest for up to date information. SEJ News for iPhone is constantly refreshed when articles are added to Search Engine Journal. When you have some down-time in your day you can open up this application and read your heart out. Simply pull the top to refresh and you'll always have the newest read available.
2. Social Pop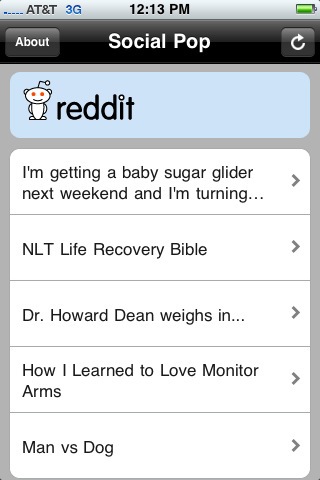 SocialPop! This is a social media/internet marketing/search marketing/social news aggregate from your top favorite sites, including:
and many more. This is necessary if you want to keep your head above the water with the technological changes from day to day. I've noticed that every time I open something, Facebook is adding/improving/changing something. This could be dire if you're a search or internet marketer.
3. Analytics Agent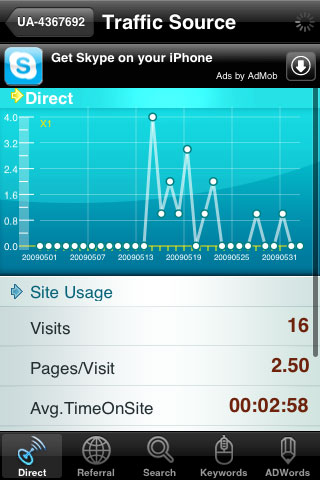 There is both a free version and a formal paid version for this- the application uses your Google Analytics API to access your information for you. It doesn't allow you to actually manage your data but it lets you view it directly from your phone. The lite version is good enough if you don't feel like paying for it. It includes features such as:
Site usage
Visitor information
Absolute page views
Direct Traffic
Referring Sites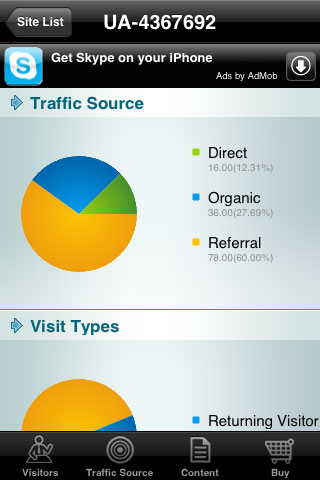 There are many other features. The formal version is only $2.99 and includes novelties such as:
Graph and pie charts depicting your traffic for easy viewing
Top landing pages
Adwords information- it follows and analyzes customer actions such as purchase, page view, register and the sell opportunity. This will help you figure out how effective your Adwords campaign is.
Adsense– Improve the effect of Adsense according to click-throughs picked up in Google Analytics. Also provides the sales status.
E-Commerce data- It can show total revenue, conversion rate, purchased products and more.
The Analytics Agent app is very handy and useful for having data at your finger tips at all times of the day… and the price certainly isn't anything to shake your head at either.
4. SEM Calculator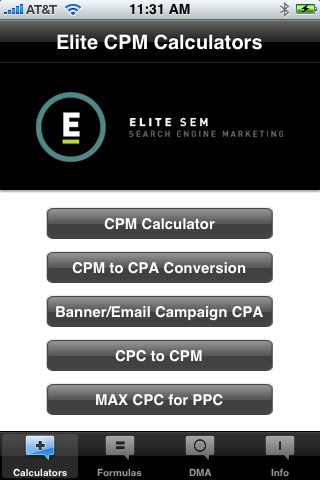 This awesome little free application has multiple calculators so you can figure out those pesky search engine marketing equations that nobody wants to carry around another calculator or a notepad for. This is also great if you're involved in online media buying. Abilities include:
CPM calculator
CPM to CPA conversion
Banner/Email campaign CPA
CPC to CPM
Max CPC for PPC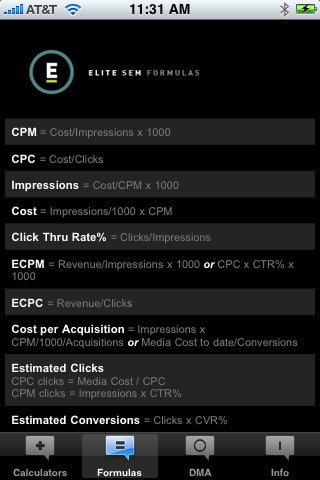 SEM Calculator is very clean and easy to use… not to mention- everything is mostly black. Your eyes won't be hating you later if you need to stare at it for extended periods of calculating glory.
5. iNetUtil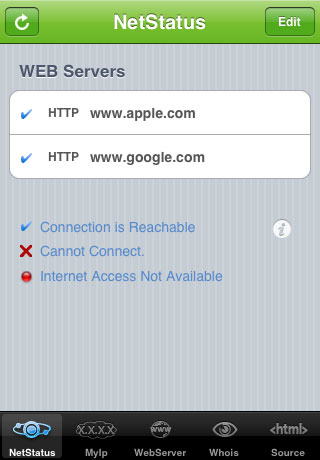 This is another free application. It doesn't really have much that it can do; what it does do is extremely useful. I've been using a few different services online to make sure that my website is up and running at all times. It's actually really nice to know when you're website is offline so you can contact your server company and let them know they need to step up their service. Aside from that, if you're a web design company and you're hosting the sites you make, you need to know that the company you're using is reliable. iNetUtil does just that- it lets you check on your website status from anywhere, at anytime; letting you know whether:
Internet access is available
If it cannot connect
If connection is reachable
There aren't too many useful iPhone apps available yet for search and internet marketing. I mean, there's lots that are OUT there, but most of them have horrible reviews or an interface that isn't that great. These are what I managed to find… are there any others that you readers find useful? If so, please post them into the comments so I can keep growing this list!
What search and Internet marketing iPhone applications do you use?