Visual content is all the rage, and social video broadcasting seems to be becoming more popular by the day. Whether you're live streaming or not, though, social media is all about the conversation. In this sense, Blab just might the perfect storm of live visuals and conversation, which is probably why it's one of the fastest growing social platforms.
Blab's co-founders built the platform because they thought "It would be cool to be a fly on the wall in a conversation," according to CTO Furqan Rydhan.
Blab is similar to Meerkat and Periscope, but unlike the others, Blab is available on your desktop's browser, and instead of just one host, it supports up to four co-hosting broadcasters. Viewers can leave "feels" much the same way hearts can be given with Periscope, which can provide insights into how the audience is responding to one or more hosts, but the feels disappear when the Blab ends. Viewers have the option to mute any or all of the hosts.
According to CEO Shanna Purl, the average session on Blab is a whopping 64 minutes long. Considering that the average attention span is only eight seconds, this is astounding.
Top Blab Accounts for Marketing Talk
Blab is a particularly awesome platform for conversations about marketing. Whether you're a newbie looking to get your feet wet or a veteran trying to rub elbows with marketing thought leaders, there are plenty of Blab channels worth checking out. Here's a list of ten to start with.
Content Matters
The Feldman Creative Blab channel is a top listen for anyone who wants to learn more about content marketing. With topics like "Content Through Interviews: Tips for Content Marketers" and "Guest Blogging Matters: A Conversation with Barry Feldman and Andy Crestodina," marketers can gain insight into how to cut through the noise and generate content that truly resonates with their audience. Barry maximizes Blab by inviting awesome co-hosts.
Tips for Outreach Strategy
Go beyond basic social marketing strategies to learn more about how to use platforms like Snapchat and Instagram for your prospecting. Texas-based Michelle Stinson Ross, who co-hosts #SocialChat and blogs for AuthorityLabs, likes to Blab about SEO, Twitter character limits, in-Pin search, and more.
Discussing the launch of the Twitter algorithm with @marktraphagen and @aknecht https://t.co/wQ7gZC368Z #blab pic.twitter.com/2DnMFoibLe

— Michelle StinsonRoss (@SocialMichelleR) February 16, 2016
Social Media Mixology
Post Planner is a leading social media scheduling and content curation tool, so it makes sense that their Blab channel would be about all things social media. Talk about and enrich your understanding of how to increase leads and engagement on social media, how to stop guessing what to share, how to save time on social media and other related topics.
Maximize Your Social Brand
On the Blab channel managed by Mark W. Schaefer of Schaefer Marketing Solutions, you'll discover more about how to develop a personal brand, how to make money from your content, measuring social media impact, content distribution and promotion. Schaefer is also great to follow for discovering more channels, because he guests as a co-host on Blabs from other industry experts relatively regularly.
Social Media Office Hours with Brian Solis w/ @briansolis https://t.co/TcHNozgWY6 #blab pic.twitter.com/QXYTlA6F65

— Mark Schaefer (@markwschaefer) February 16, 2016
A to Z Internet-Based Biz
Razor Social's Ian Cleary hosts regular blabs about everything that has to do with internet-centric marketing. Topics include blogging tools and processes, content performance measurement, live streaming, and social media monitoring. He also brings on other industry experts to add depth and additional perspective to the conversation.
Converting with Conversation
Though Convince and Convert's Jay Baer doesn't often host his own Blabs, his expertise as a digital media entrepreneur makes him a hot one to follow. Baer likes talking about social media, featuring input from co-hosts like Adam Brown and Drew McLellan.
@jaybaer and @schmittastic talk how to "Hug Your Haters" https://t.co/wi5YqBkEZW #blab pic.twitter.com/F0yKWRQTFV

— Lindsey Evans (@lindseyjoevans) February 10, 2016
Beef up Your Social Selling
Competition for audience attention is often fierce, which is why Kim Garst is all about helping you craft a surefire social strategy. On her Blabs, you can watch her talk about Facebook ads, overcoming your fear of live streaming (meta!), and creating visual content for your community to share.
Engaging Beyond Paid Search
Respected by many as a powerful tool for researching the competition, SEM Rush follows the industry with tips to help everyone in the community. On Blab, the SEMrush channel discusses the evolution of Super Bowl ads, personal branding on Google and various social media platform tactics. These guys are making the most of Blab with ongoing scheduled episodes.
2015 was the year of influencers. In 2016 it won't work as effectively – @Kimota https://t.co/kslAc7rv5z #blab pic.twitter.com/dYdCsnWzzn

— Olga Andrienko (@OlgaSEMrush) January 22, 2016
Not Afraid to Say It
A well-known consultant with a focus on the power of inbound, the outspoken Marcus Sheridan has emerged as a bonafide content marketing thought leader. On Blab, he discusses everything from the secrets of content marketing to how automation impacts the industry's future.
Marketing Conundrums Resolved
PureMatter founder and "human to human" communicator Bryan Kramer is all over Blab, often scheduling his regular sessions in advance for maximum audience opportunity. His channel offers a great deal of insight, and addressing issues like "How content cuts through clutter" and "Why video streaming?" Several of his Blabs feature three topics in 30 minutes, making it easy for people to learn a lot in a short period of time.
Loving @Blab with @bryankramer @brianmoran & @iSocialFanz Live now 🙂 https://t.co/5DR8jWYBPy #blab pic.twitter.com/iHc3QWn30K

— Mark Strauss (@TOGOMedia) February 19, 2016
How to Get Started With Your Own Blab Activity
Once you've checked out at least some of the above channels to get your bearings on Blab, it's time to start chiming in and even hosting your own. Here are some rules for the road.
Leverage the platform's built-in Twitter integration: As is the case with Periscope, your Blab account will be associated with your Twitter handle. Click on the "Tell a Little Bird" button on the top-left corner of the live Blab screen to tweet about Blabs you're on. This will automatically include a mention of everyone else in the Blab, so it's great way to drive traffic and gain followers.
Schedule for offsite impact: Create a scheduled Blab well in advance, you can use the provided code snippet to embed it on your website on its own page. This allows you to promote the broadcast without driving traffic away from your owned properties.
Create a Blab-specific email list: By making your own site the hub of your Blab activity, you can use a tool like GetResponse's autoresponders to send hyper-targeted emails based on site activity triggers. Ian Cleary, one of the Blab masters listed above, does this extremely elegantly with a dedicated landing page that he links to from his Blab bio.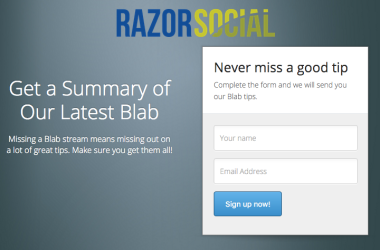 Cross-purpose your recorded blabs: Toggle session recording with the "On the Record" button, and once you stop broadcasting, you'll receive an email that includes audio and video downloads, or an embed link. Use the audio to repost the content to podcasting platforms like SoundCloud and Stitcher for killer distribution, and upload the video to YouTube for increased visibility and SEO benefits.
Before going live with Blab, take some time to prepare: Keep your topic focused, with notes ready to keep you on anchored and flowing. Structure the discussion as if it were a fireside chat, as opposed to a question-and-answer interview. Reach out to other influencers to line up guest appearances. With Blab, even viewers can become co-hosts, which gives the app greater potential.
Loosen Those Lips
Even if you're not quite ready to go live on Blab, take some time to think about how you can use it to develop your brand and connect with your audience. Schedule a block of time to explore the platform and watch content to educate yourself, and get ideas for content you'd use on your own channel.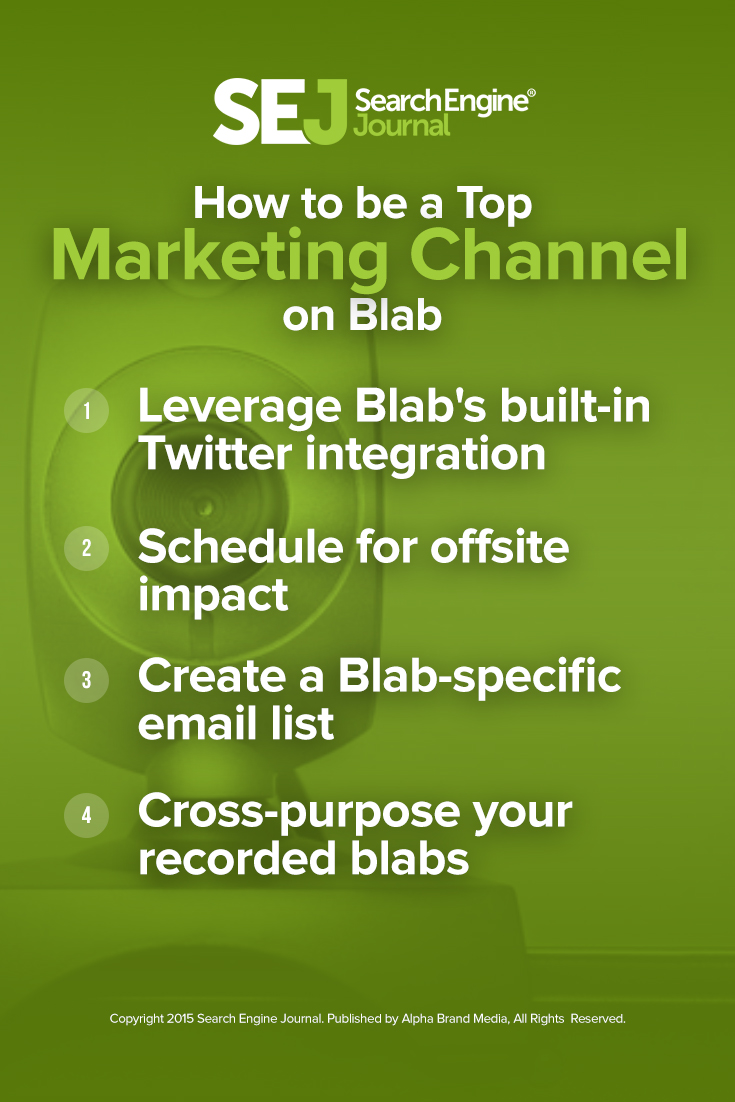 Image Credits
Featured Image: Blazej Lyjak/Shutterstock.com
In-post Photo: McCarthy's PhotoWorks/Shutterstock.com
All screenshots by Ben Jacobson. Taken February 2016.