The great choice of addons is what makes me a huge fan of FireFox. It took me quite a bit of time to learn the ways to search and use the addons effectively: you can't have them all as that will make your browser too slow, yet you always need to keep an eye on new (probably better) ones.
How I discover new addons is really no secret: I just search Google, Twitter search and the official directory. I am also subscribed to multiple blogs sharing useful tools and FireFox tips including LifeHacker, MakeUseOf and many more .
And here comes another really great and innovative way to discover new addons: Add-ons Suggestion Tool (experimental addon)
The tool essentially looks at what you have already installed and based on the combination of addons on your FireFox profile, it suggests many more you might be interested of.
The process is really quick and easy:
Install the addon and restart FireFox;
Agree to share your current addons:
By pressing "Get addons" you agree that the information on your firefox addons will be transferred to our server.
Get the list of addons you should like (install them right from the list or visit the addon page first):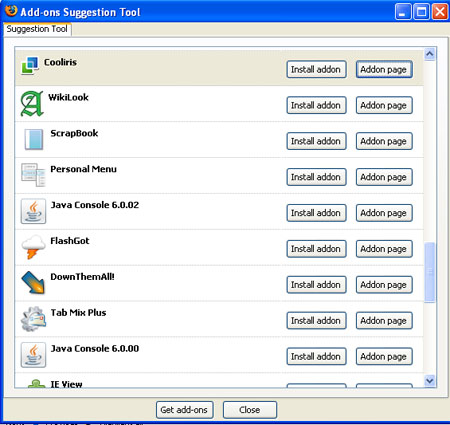 It worked really great with me and it found a number of great SEO plugins I wasn't aware of. The best thing is that after you have a new collection of addons installed you can run it again (access it via Tools menu) and you will get more suggestions.
Please also check the addon privacy policy before running it.
The tool was reviewed under SEJ policy.