Google is constantly tweaking its ranking factors to ensure it shows only the best results to searchers.
Because only the most relevant, authoritative, and highest quality content ranks at the top of the SERPs. Right?
Well…
Not always.
Sometimes low-value webpages that offer little value to searchers still manage to rank well.
This article will highlight five of the most common types of content that, sadly, I come across too often in the organic search results.
1. Toxic Sites That Drive Traffic & Monetize It Through Banners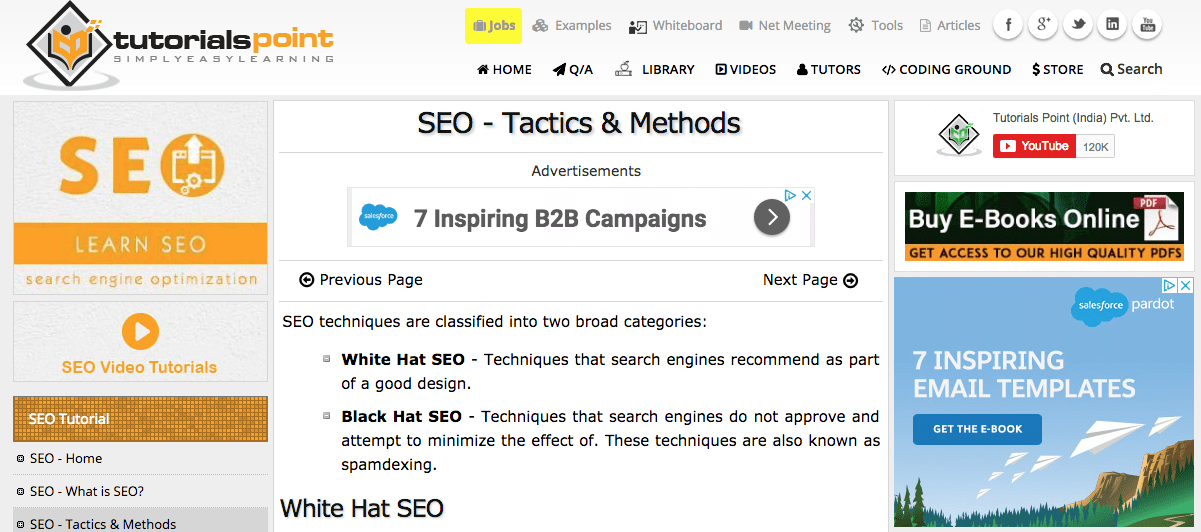 This page ranks well for such keywords as "seo techniques" and "seo tactics".

The website appears to be a library of outrageously diverse tutorials, covering everything from HTML and advanced coding, to soft skill development and cultural studies.
The big problem with this page is that its major goal is to drive and monetize traffic through the swarm of banners placed everywhere on this website.
How does a user benefit from all of this? Unclear.
Alas this page isn't the only one of its kind.
Here's another example of a similar site.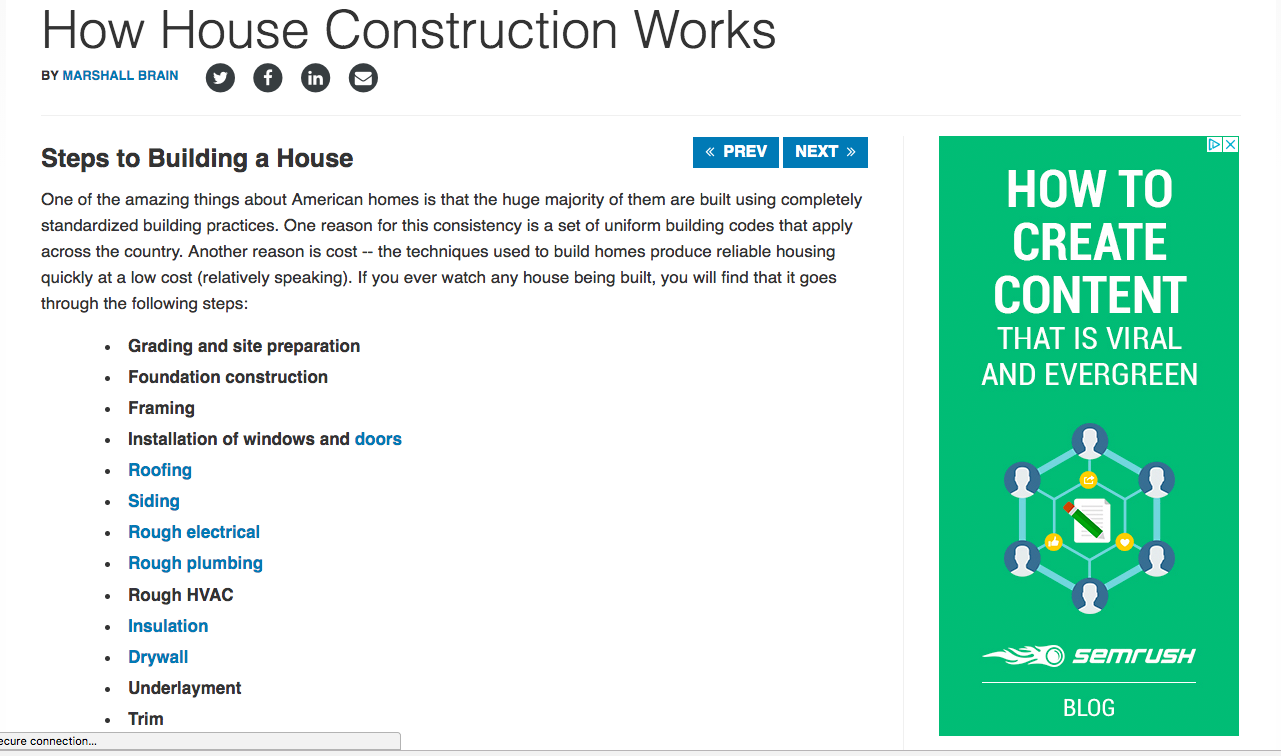 It's a common practice for spammers to build their websites based on generic search queries that have considerably low competition. From an SEO standpoint, this type of content appears in the SERPs comprised of weak domains.
Examples of this content type mentioned above demonstrate how a page can exist to fulfill only one purpose: to get as much organic search traffic as possible.
Often, this kind of websites blindly copy contents from other sites with higher authority. The script does it all, including all of the backlinks within the site.
Many SEO experts can remember the days when you could easily make a buck by creating a site like that and placing a couple of banners on it. The flow of traffic was outstanding.
Now Google does everything it can to eliminate such sites from the SERPs. But even artificial intelligence needs some time to locate and block all of these sites from the search results.
2. Tons of Pop-Ups & Zero Search Query Matches
As I was analyzing the search results for [CPA marketing] on Google, I noticed something interesting.
Check out this screenshot: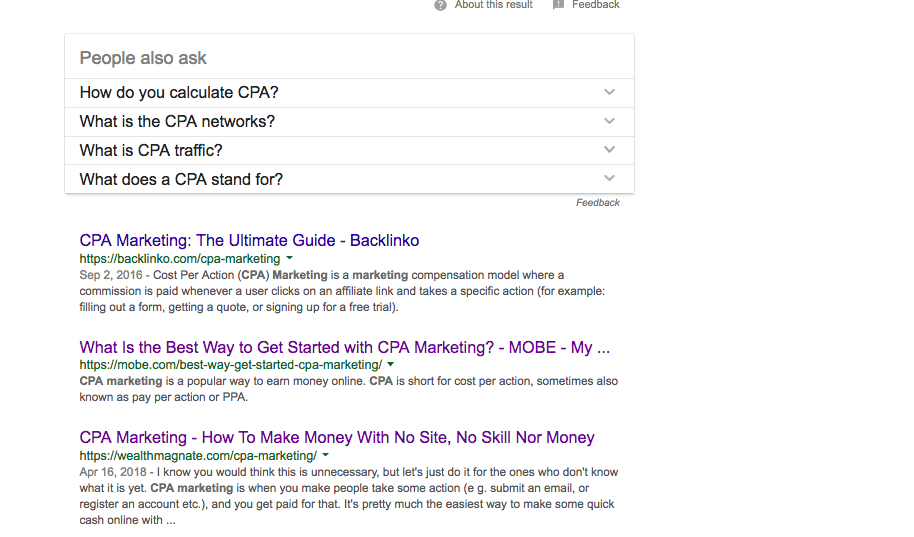 The page in Position 3 also ranks for a keyword that has more than 2,000 monthly searches, based on SEMrush data. Although the keyword here is "CPA marketing", the content on this page has nothing to do with this particular subject.

It's also hard not to notice the title of the third page mentions money twice.
Nobody argues that making a profit is important. But do you really need to be so blunt?
Apart from the author's subtle humbleness and CTAs that whisper his accomplishments, there are several other issues with this page. Where to begin?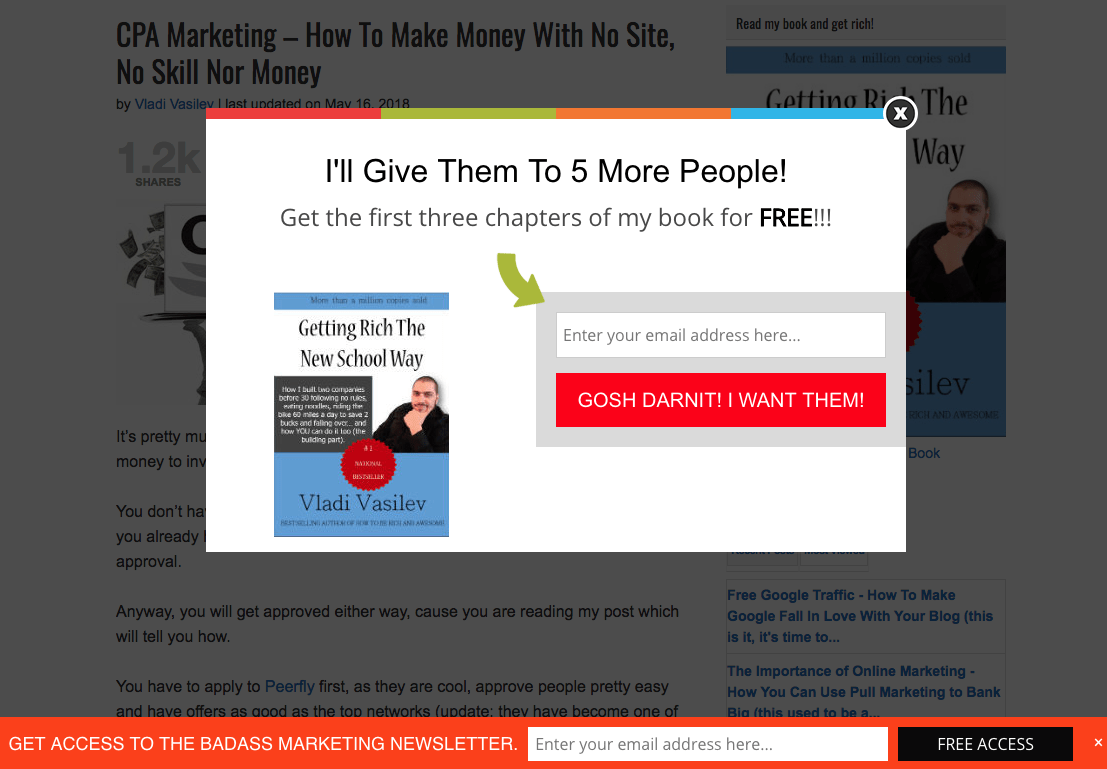 Content is locked out with tons of pop-ups.
You know who else is a big fan of pop-ups? Neil Patel.
That's why, at times, I find it difficult to read his blog posts.
Because of the constant interruptions.

OK, let's give Vladi here some credit. The post is decently written.
Yet, the content doesn't match the search intent of "CPA marketing" (which is an informational search). The article covers how one can start making money by becoming a member of an affiliate network.
But if you click the other two pages that rank for the same keyword, you'll find a lot more relevant content. The first result, for example, has a guide written by Brian Dean that explains what CPA marketing is and how to find the best network.
3. Poor Quality Content
More often than not, searching for a helpful article can be like taking a trip to a mall on a Sunday.
Infuriating.
Take a closer look at this article: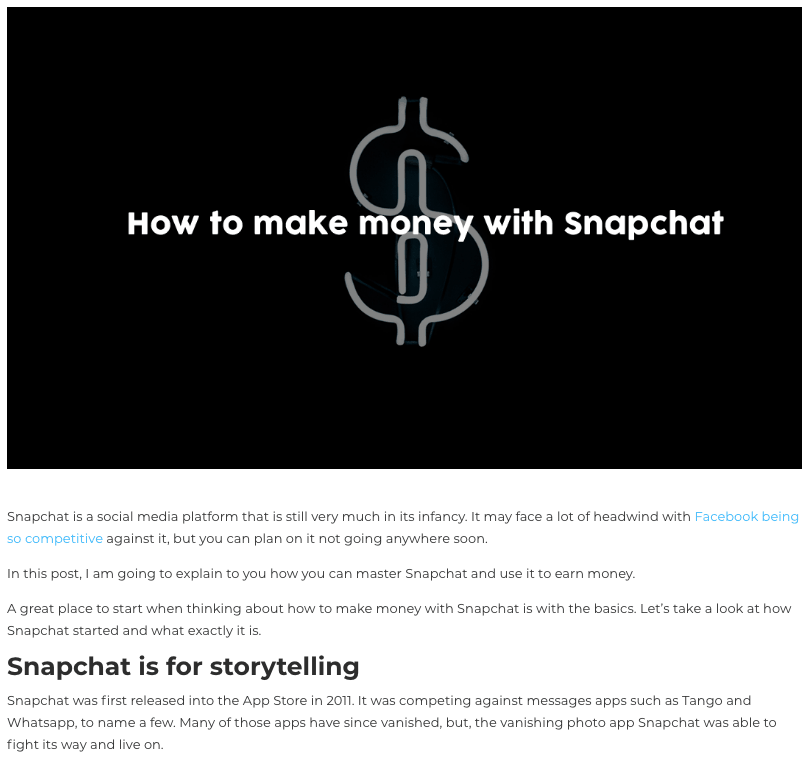 While it's miraculously resting on its laurels at the top of the SERPs, it is nothing but a digested and rewritten content, copied from other articles.
The keywords in this post are straightforward, hence it has a solid number of users coming to this page.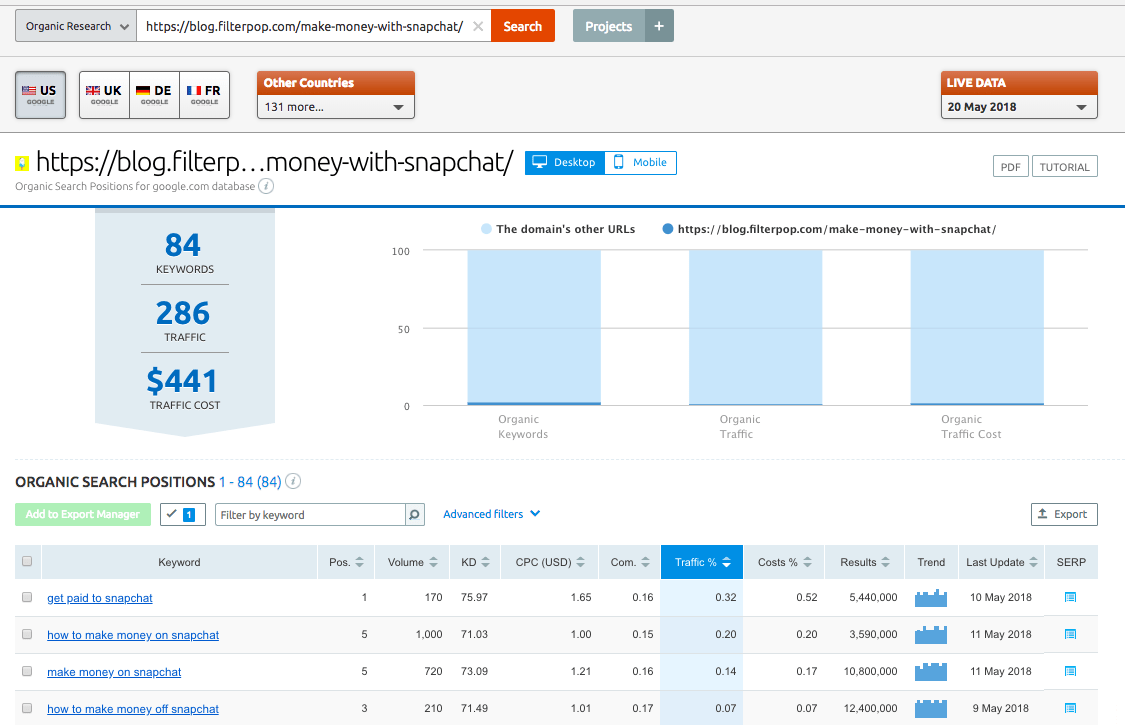 However, the quality of this content is low, to say the least, the post doesn't even get close to explaining how to start making a killing on Snapchat.
Unfortunately, a lot of digital marketing blogs suffer from similar counterproductive content.
No doubt, your page may also get lucky and appear at the top of Google. But once a different page with higher-quality content comes around, your article won't stand a chance.
4. Outdated Content
Do you ever see something that makes you say, "Am I really seeing this?"
Well, here's another page.
Surprisingly, it shows up in third position on a Google search for [types of twitter ads].
Talk about a terrible user experience!
5. Poorly Structured Content
This post ranks in top three results for [ecommerce stats 2018] search term: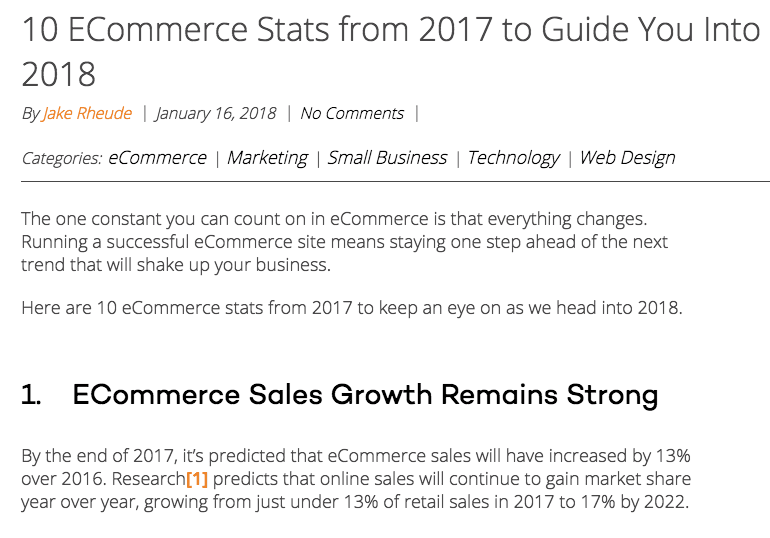 Fearing they might lose their readers too quickly, these guys decided to go all out for a win. They geared up with links, placing as many of them as possible.
Sure, they meant well, but the road to user experience hell is paved with good intentions.
As soon as you get to this page, you want to leave because you are sent to the bottom of the post each time you click any link. It makes it nearly impossible to interact with such content.
Not all growth-hacking strategies are equally good, I suppose.
I have another example of an article that ranks well in Google: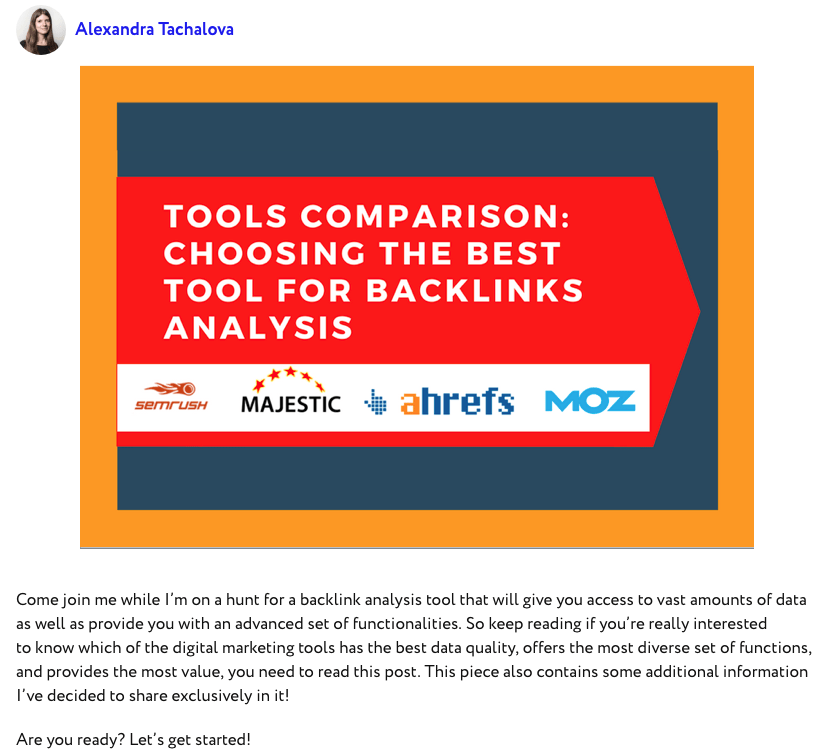 Oh no, it's me! Yes, I got caught producing something useless.
For some reason, online users don't seem to enjoy reading my post. The bounce rate for that post is astronomically high compared to other pages:

Here's the main search query that brings traffic is "best backlinks analysis tool":

So what's the problem with this post? I believe it's mainly a result of poor structure:
There's no summary table that would demonstrate the functionality of each tool featured in my analysis.
It lacks navigation and shortcuts to specific sections.
This post is for those few people who like to scroll and read lengthy studies. Apparently they haven't found my article yet!
Conclusion
Even though these articles are doing strikingly well in terms of ranking and attract a lot of readers, I bet those readers don't come back.
If you want to bring value to your online community and be recognized for good things, then create content that earns you readers' trust and good business. And the traffic will come.
More Content Marketing Resources:
---
Image Credits
Featured Image: Created by Alexandra Tachalova, May 2018.
All screenshots taken by Alexandra Tachalova, May 2018.