With an ever-expanding array of advertising networks at our disposal, it's tempting to jump in before fully considering some key questions.
How do you know which one is the right platform for reaching your desired audience?
Which platforms may work best at different stages of the buyer journey?
In this column, you'll learn tips to help lay the foundation for a more effective, engaging PPC strategy.
You'll also have the ability to make objective, media-neutral advertising decisions for the brands you represent.
1. Begin With Research
The first step toward an effective PPC strategy is research, and I don't just mean keyword research!
With many ad platforms now restricting the precision of keyword targeting alone (e.g., Google BMM phase-out) it's time to invest more effort into researching your potential customers and what makes them tick.
Before diving into any advertising campaign, you must be able to answer the following questions:
Who are your customers? (e.g., demographics, geo)
What do they currently buy from your category? (e.g., which other products/services do they consider alternatives?)
What are their expectations of the product/service you offer?
What are their pain points related to the product/service you offer?
Which other brands would they consider in the category?
Answering these questions will help you define more effective ad creative, more appropriate landing pages, and make better targeting decisions (e.g., deciding which customers are not worth targeting).
Where to Get the Data?
In reality, this data should be collected by marketing leaders for the purposes of an over-arching marketing strategy, so asking these stakeholders for this information should be your first step.
If you find this is lacking, these questions can be answered through primary research, using tools such as Google forms/Survey Monkey at the basic end, through to running focus groups and depth interviews at the more advanced (expensive!) end.
The outcome of this research should be a map of the different customer groups (or segments) that you could potentially be targeting, along with a customer portrait (a.k.a., persona) for each of the audience segments you could choose to target.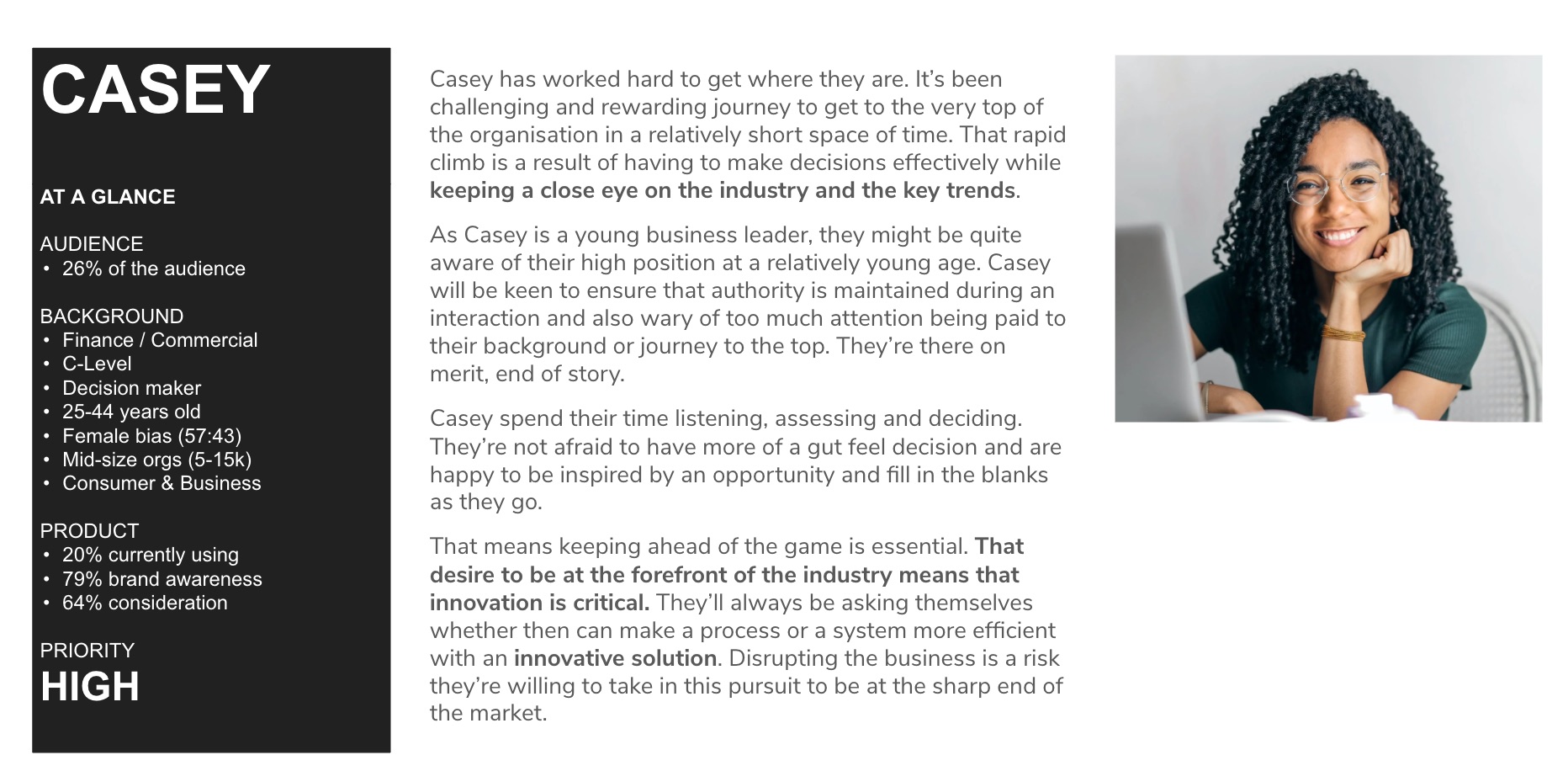 This data is based on the characteristics identified through primary research – typically a combination of survey and focus group data that will allow you to paint a picture of the segment in general.
This should act as a reference point for your messaging and targeting decisions.
The key is to repeat this exercise regularly (annually if possible) to keep your finger on the pulse and avoid making risky assumptions about your potential customers.
2. Select Your Target Audience
Now that we've profiled groups of potential customers, who are we targeting?
Are we going after the total addressable market or just one specific segment, such as the example above?
Each customer group will have different behaviors and the more people we try and target, the more expensive it's going to prove for advertising.
There are a number of benefits to narrowing down your audience targeting:
Resourcing – Very few people have enough resources to reach every customer in the marketplace.
Value asymmetries – Some segments are worth more than others, and the old adage is that 80% of profits are typically derived from 20% of customers. This may be a little bit overstated, but if you can find that 1 in 5 customers that accounts for 2/3 of profits, you've done a good job!
Positioning and messaging – It's difficult to position to all the customers in the market as different segments want different things. If you try and target everyone you may end up vanilla and not distinctive.
Positioning against competitors – If we try and target everyone, we end up with a huge list of competitors, but if we slice the market up and go after only one segment there may be only one competitor to go up against, making it very easy to position yourself against that competitor.
Of course, you may wish to run some broader campaigns to build awareness within the total addressable market.
But the key area of focus here is to avoid wasted spend, especially for smaller brands with more modest budgets.
3. Review Your Messaging
What are you actually trying to say to your customers?
This is so often overlooked in paid search where ad copy is overly focused on promotions and offers, rather than product and/or brand positioning.
The foundation of your messaging lies in your brand position; that is, the intended brand image, sometimes referred to as a "value proposition," "brand purpose," or "brand values."
These are all different ways of explaining positioning, but in other words, what do you stand for to your target market?
This position should be clear to you before diving into any ad creative, video asset, or text ads.
More often than not, it's overlooked in search.
But when properly considered, it can have a hugely positive impact on CTR and conversions.
There are many elements to positioning that should really be considered as part of an over-arching marketing strategy, but one useful concept to bear in mind if you've not got much to work with is the "benefits ladder" (see below).
Essentially, the further you're able to climb this ladder the more attractive your advertising will be to your target customer.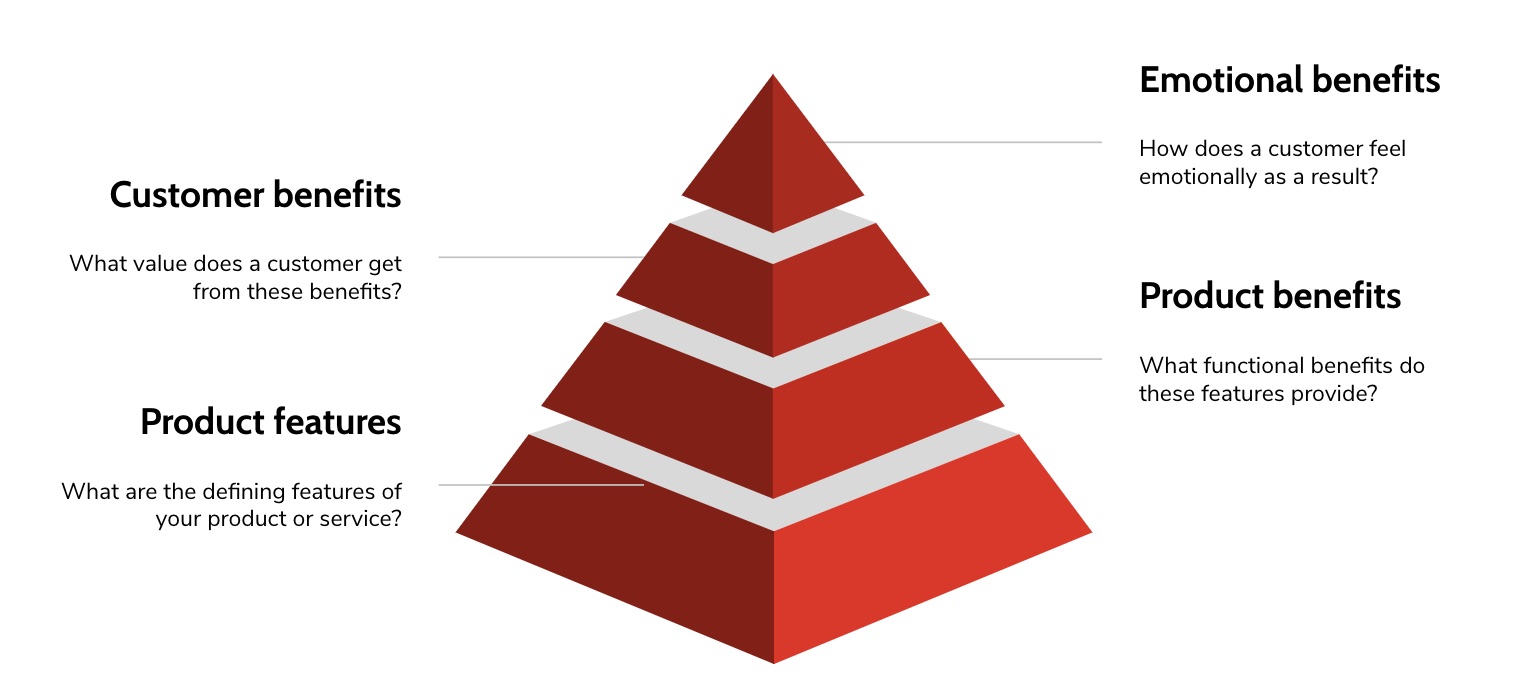 One great example of this in practice is Wal-Mart, which has used positioning to focus on the emotional benefits their product feature (low prices) can bring to their customers.
They work their way right to the top of the benefits ladder with the "live better" slogan.
4. Set Campaign Objectives
The most widely used framework for visualizing common marketing objectives is that of the marketing funnel.
There are many different variations of this, spanning well beyond conversion into loyalty and advocacy.
For the purpose of this post, we'll use a simple three-stage funnel beginning with the objective of awareness, through to conversion.
In reality, a funnel should always be customized to fit the typical journey of your customers as this will differ by industry.
A B2B SaaS buyer journey, for example, will obviously vary wildly from an FMCG buyer journey.
It's important not to use the textbook model for every brand.
So, how do you decide on the right objective for your campaign?
What's the reason you're carrying out advertising as part of your marketing strategy?
Is it to increase leads or sales, or grow brand awareness?
Advertising can, in theory, help with all of the above. And more often than not, you should be looking to create campaigns as part of a "full-funnel" media strategy.
With that said, the tactics you deploy for each stage of the funnel will vary, and the KPIs used at each stage must also be in alignment.
For example, you would not typically deploy shopping ads as a primary tactic for boosting awareness; display ads may be a better option based on their relative reach and reduced cost.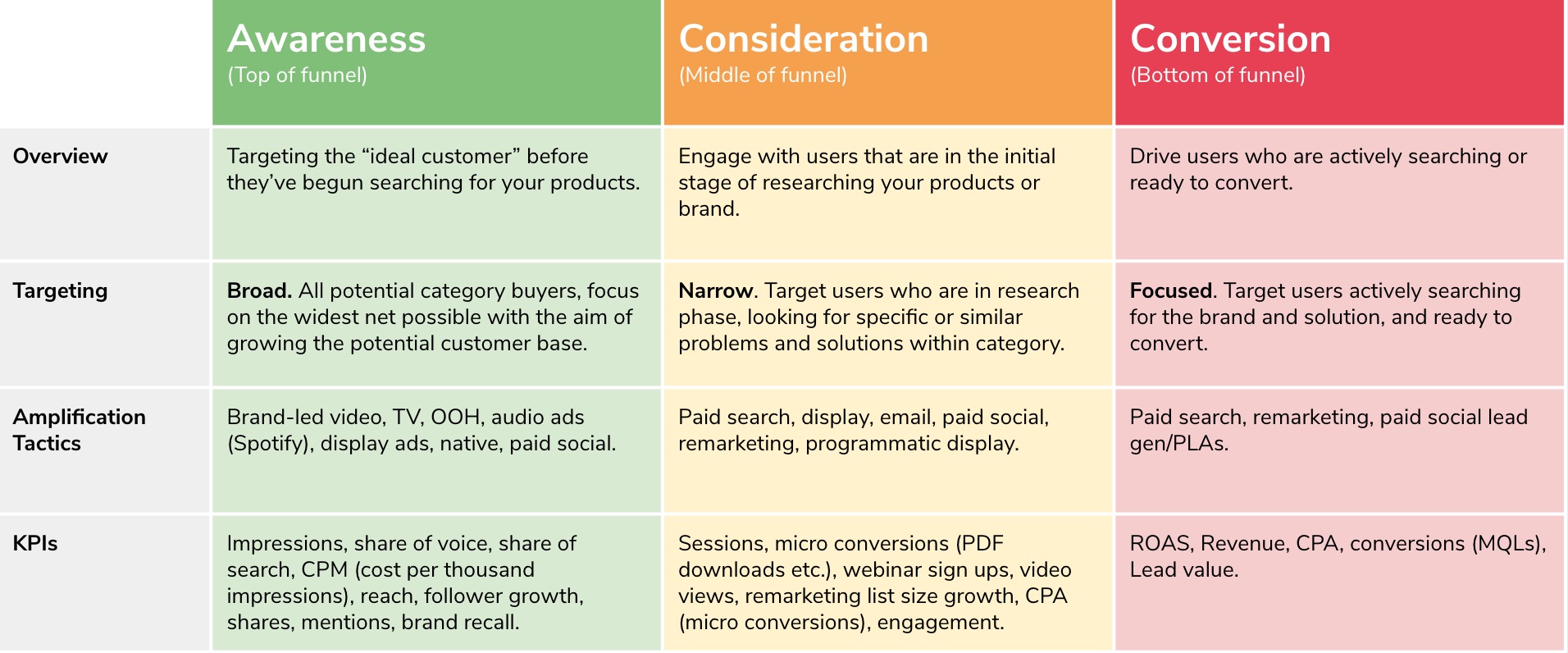 Each strand of your strategy must have a different objective, and you will likely be running campaigns focused on driving awareness at the same time as you're running conversion-focused campaigns.
The key is integrating these campaigns across the right advertising channels.
5. Choose the Right Ad Platforms & Creative
Deploying an effective advertising strategy means understanding which platforms will work best at each funnel stage, and not putting all your eggs in one basket (network).
The reality is that there is no one optimum tool when it comes to paid media.
Each platform does different things well (and poorly).
You must use strategic objectives to decide on the best tactics to use.
For example, if your objective is focused on awareness, paid search should not be the go-to tactic!
At this stage, potential customers aren't actively searching for a product and may not realize your solution exists.
It's about generating demand and maximizing reach with all potential category buyers.
The job of these ads is not to drive immediate conversions, so you will typically see broader brand-led messages focused on the emotional benefits of a product or service rather than the price of a specific product or a demo sign-up form.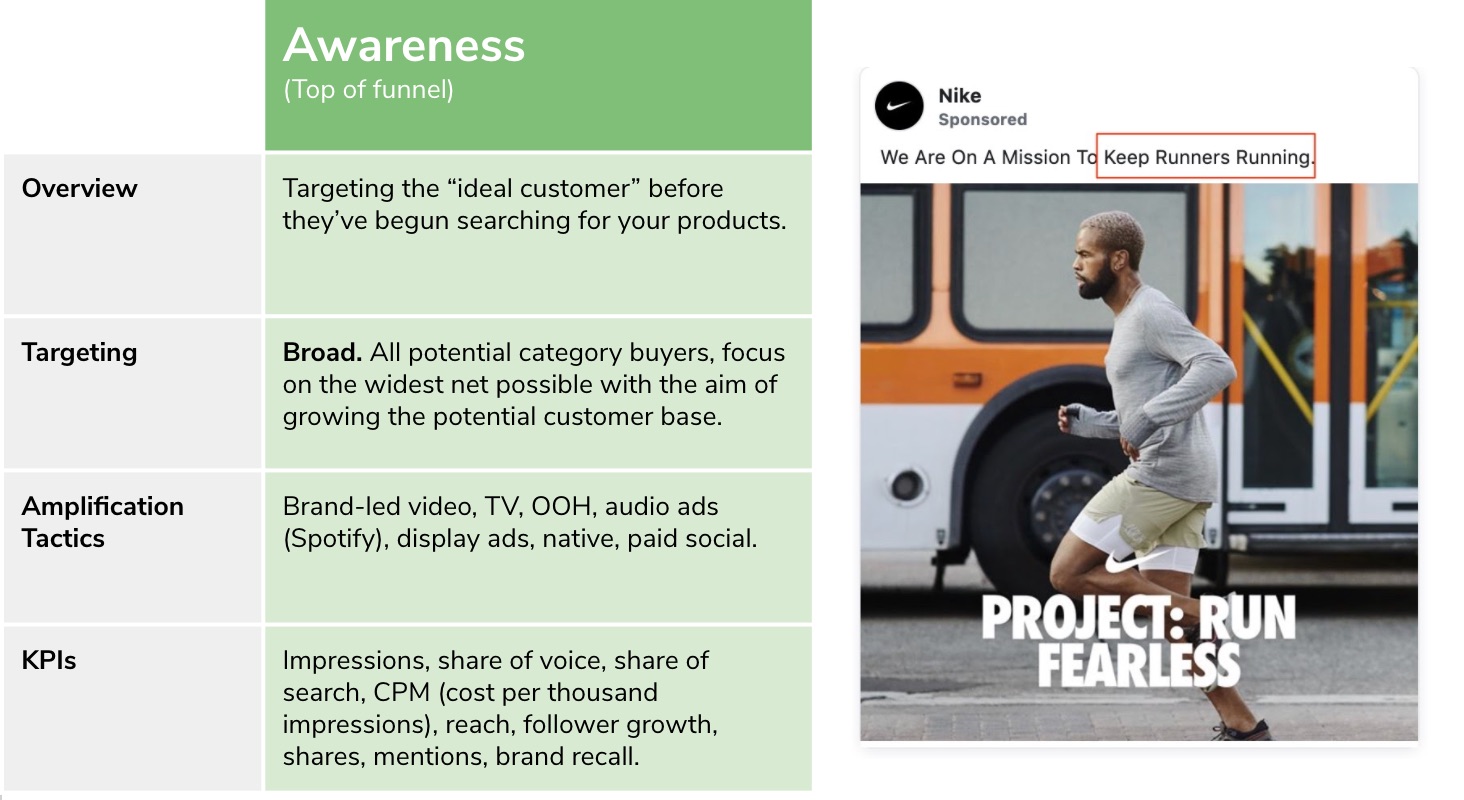 On the other end of the spectrum, if your objective was to generate conversions (sales or leads), your platform selections will be different (e.g., search, shopping, remarketing).
The messages used in your advertisements should be designed to promote sales promotions via price, discounts, product features, etc. and actively promote an action to take.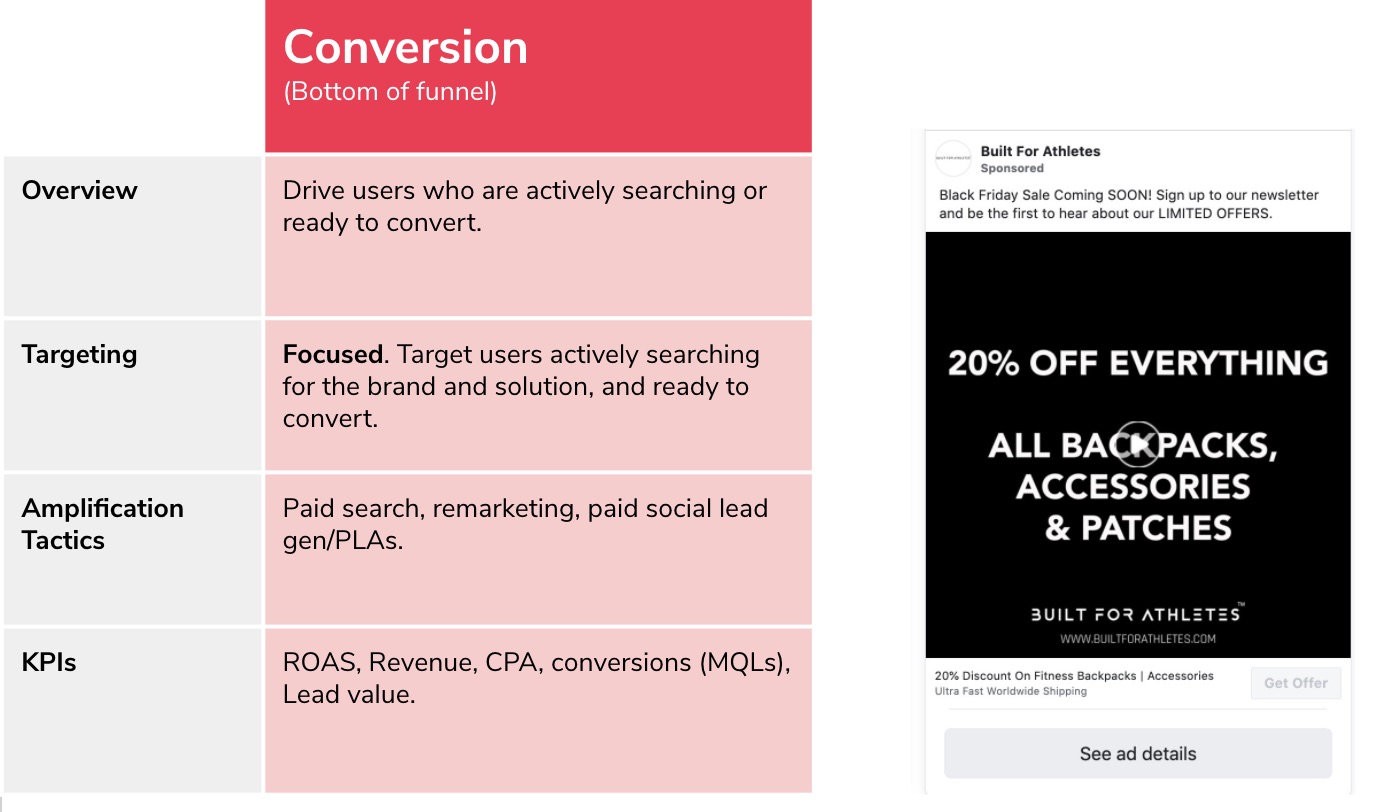 There are, of course, many more objectives we could work through. But you get the picture.
Always look at the objective first, then choose the tools and messaging best suited to deliver against it.
6. Deliver an Integrated Campaign
The synergies that come from integrated campaigns are well documented.
Combining tactics and channels (e.g., paid search + connected TV) will give you a much better return than for the same investment spent all in a single channel.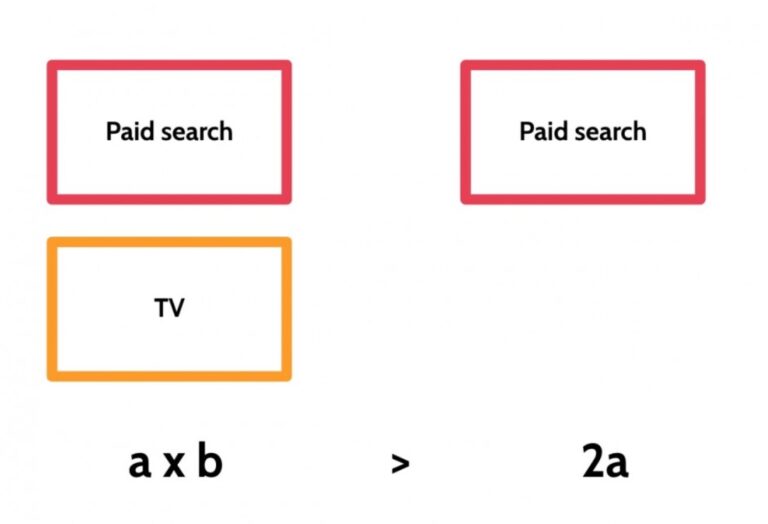 The difficulty of achieving effective integrated campaigns is that, more often than not, the responsibility for advertising is split across multiple agencies, each with different objectives and platform decisions to consider.
This makes it tough to deliver a coherent message to the customer unless all parties commit to working together as part of an orchestrated campaign.
Check out this award-winning example from an Australian drink manufacturer who used multiple channels in tandem to boost brand awareness, consideration, and market share.
It's a great illustration of the benefits an integrated marketing campaign can deliver.
Data-backed strategy must always come before tactics and channels.
You can have no favorites when it comes to media planning.
Before jumping into any platform decisions, make sure you refer to the audience you're trying to target, the message you want to get across, and the objectives you're attempting to deliver against.
More Resources:
---
Image Credits
All screenshots taken by author, February 2021