Since the European Search Awards is quickly approach, I sought out the expertise of returning judge Gianluca Fiorelli to learn more about the judging process and to discuss the prestige behind these awards.
Now going into its fourth year, the winners of the 2015 European Search Awards will be announced in Berlin, Germany on Wednesday, April 22nd, with many of the continent's foremost digital and content marketers expected to be in attendance. I will be there covering the event on behalf of SEJ.
In this interview with Gianluca, I got his first hand perspective as a judge on what it takes to win a Search Award, including what judges are looking for and how to package your submission in a way that gets their attention.
We also discuss the prestige and industry recognition that comes with winning a Search Award, and I couldn't resist picking his brain about what SEO is like now compared to when he started working in this field in 2003. It's not often you get to speak with someone who has 12 years of experience doing this!
Hello Gianluca, it's a pleasure to meet you and I thank you for agreeing to do this interview . With your extensive experience as both an SEO and a Search Awards judge, I'm eager to ask you a few questions.
Rarely do I get to speak with someone who has been working in SEO since 2003, so my first question is how do the key challenges faced by SEOs today differ from the challenges faced 12 years ago?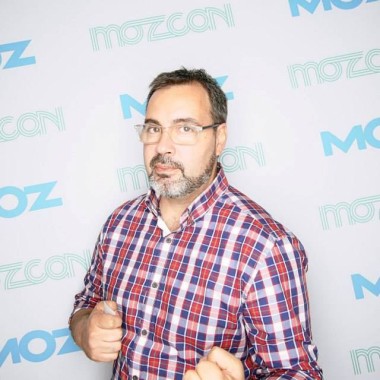 Well, in 2003 I was a completly ignorant about everything SEO related or even the internet, to tell the truth. Until that moment I was working in the TV Industry as Director of Programming for a movie and a series channel. Internet was something that I was using for searching information on IMBD (yes, it already existed!) or for retrieving material in the studios' websites. In my profile page on State of Digital, I narrate how I started doing SEO.
That being said, in 2003 it was much easier to win the internet than now, even though the Florida update meant an SEO-Apocalypse worst than any Panda or Penguin. It was the forum's era, even though we started seeing the first bloggers (WordPress was released, again, in 2003). All links were follow (nofollow came in 2005) and somehow it was less complicated to create true relationships with others, hence earning links without so much planning.
But if you look at the core of the practice, SEO hasn't changed that much in its purpose. Somehow, the worst spammy era was later, with its peak just before the first Panda was released.
When I started, and my objective was promoting the TV channels of the company I worked for, and if I wanted to obtain a link I needed to create strong relations with the fan sites' webmasters, creating exclusive content for them, attending fan conferences, like the ones by Trekkers or Gerry Anderson's UFO.
Indeed, the technology was not allowing us to create amazing content like you can see right now; we didn't have the same tools we have today available, but the principles and the techniques were almost the same then as now.
That's fascinating, and I'm truly jealous you got to attend fan conferences as part of your job! Next question: as a consultant, what would you tell a client if they asked why the European Search Awards are so important?
Good question!
I would tell a client if there is one industry community that's critical for the job of the others, it's the SEO industry. In addition, despite being also one of the most generous and ready-to-help communities I've ever known, SEOs are very particular about how to solve, for instance, a technical issue or how to prepare an outreach campaign, or about the best use for a given tactic.
Therefore, if a jury composed by those type of people is prizing an SEO project, than that project surely was outstanding and deserving. Earning an European Search Award, then, should be considered important as proof of the value of an SEO agency – as much as presenting the Google Partners or the GAIQ accreditation.
As someone who has judged the European Search Awards before, what advice would you give to businesses, agencies, and individuals looking to stand out from the competition?
My advice is: go straight to the point. Tell us why, how, and what you did related to your campaign.
Do not overwhelm us with hundreds of words; give us data and show us the strategy you planned and the tactics developing that strategy.
Be visual as much as you can; a Google Analytics snapshots before and after your campaign is more valuable than three paragraphs of text, for instance.
Remember that we receive many candidatures. We love to study all of them, but we have also our agencies and clients to pay attention to at the same time.
Even though the spotlight is on the award winners and nominees, the night is also about celebrating everyone's hard work in the industry. How would you describe the experience of the awards show for attendees?
Maybe I am not the right person to ask this question, because for one reason or another, I ended up not having the opportunity to attend the European Search Awards Show. But, from the photos shared on social media, things friends told me privately, and the enthusiastic comments I've read, that night is the closest thing to the Academy Awards for SEOs!
Thank you very much for your time, Gianluca. I look forward to getting to see first hand what the experience is like, and invite everyone to come and join me!
Would you like to join me? Let's have a drink and take one night to celebrate our industry! Get your tickets here.
Editor Note: The European Search Awards is paying for Matt's flight to cover the event and SEJ is a media partner. All opinions are his own.