Few people see it as such, but content curation is more of an art than a science. There is no set formula, and the better your brush strokes are, the more likely you are to succeed. This is one of the reasons why some people/brands have more engagement on their social media pages than others. They just seem to 'get' their audience, and their audience 'gets' them. The more planned your content curation efforts are, the more likely you will be to enjoy its benefits.
Why Social Media Content Curation Matters
Curation helps you survive two social media perils — overcrowded social media feeds and the crime of sounding too self-obsessed. It also helps you build invaluable relationships while providing value to your audience.
Curated content can help you engage social media fans and newsletter subscribers by moving beyond your expertise and sharing with them insights and ideas from experts world over.
If you are convinced of the necessity of social media content curation, let us move forward to the things you need to consider when implementing it for your social media pages.
1. You Need to Know Your Audience
Remember the two perils? Being self-obsessed is a huge no. Don't simply curate 'industry content that suits your brand.' Also focus on exactly what your audience needs and wants at this instant. You will be surprised at how drastically that change in perception will affect your content choices.
Instead of resorting to lazy marketing (effortless content sharing), as Mark Schaefer calls it, you should make sure that your curated content also solves a real problem, and is interesting and timely.
The post in the image below is dated, and useless to your audience if you had shared it at the end of 2016, or now, in 2017. Avoid making such mistakes.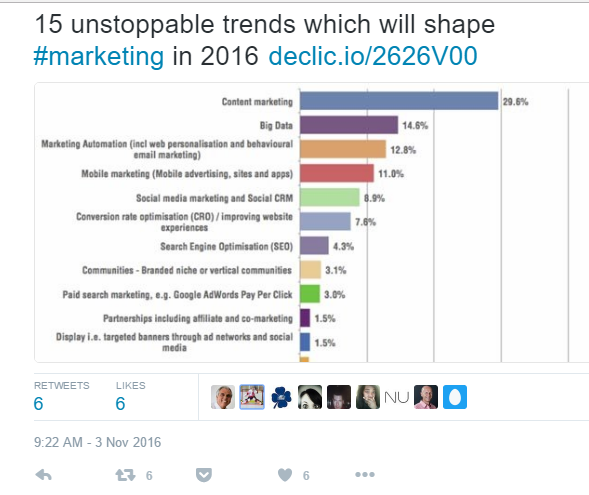 How do you know what your audience is interested in? Are you listening to them?
If you have an active blog, you may get questions or suggestive hints in your comments section. You could also follow your niche on communities like Quora to find and answer urgent questions. Another possibility is to monitor questions being asked in your niche on Google Alerts with terms like "how + marketing" or "why + marketing."
You are the best judge of the most relevant alert terms, so fine-tune them and make them more specific than the ones that I have suggested.
2. Curation Isn't a Substitute for Original Content
By no means should you flood your social media page with curated content. There has got to be a balance of both created and curated/shared/re-tweeted posts.
Did you know that over half of the links floating around on Twitter have never been clicked on?
Even if I hadn't shared this information with you, you would probably know that this is happening. All of us do it, which makes it hard for a reader to assess the credibility of information shared on social. This is why it is critical for brands to create original content with unique value that can solve real problems. People love brands that can help them overcome obstacles in areas that are important to them — like their career or their personal lives. Sharing content with real value is an important part of establishing authority on social media.
The same standards apply to curated content, which represents you on social media just as created content does. Even if the content you share isn't yours, you can add value with your unique insight or a tip that the author may have forgotten to mention. Even if you have nothing to say, ensure that you add something in your voice, maybe recommending an article like Alison has done in the example below.
You could even add emojis that let you express your personality to let your audience know that it is you sharing that information.
You could use a social media manager app like DrumUp that lets you customize curated social shares with emojis or a news aggregation app like Newsify that lets you curate niche-specific news for your audience, to easily curate unique content.
3. You Shouldn't Lose Sight of Your Goals
'Lazy marketing' also leads to unintentional content posting, 'just to fill the page.' This is an absolute disaster.
Everything posted has to be useful to your audience and tie back to your brand neat and tidy. Every share should ideally have a purpose. Before you fill your content calendar, ask yourself what the intent behind every post is.
It helps to have an intentional theme, one or two very clear messages that come across in everything that you curate (and create). Stay true to your central themes.
The brand Girls Who Code, for instance, clearly stands for gender equality and empowering women in the tech world. That message comes across very clean. They curate a lot of content synonymous with that message.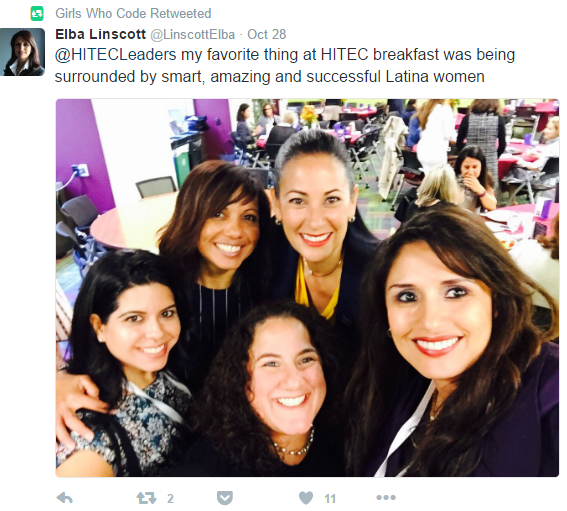 4. You Need to Have a Systematic Process for Content Curation
You can't manually sift through content in your niche, the research could take hours. Plus, doing it without a set process would be hard if you had to do it everyday, or on a regular basis. Keeping on top of current events would become a real task.
Create your process. Identify top blogs, influencers, and new agencies to follow. You could streamline the process further by monitoring RSS feeds of every site on your list on a curation software.
Read as much as possible of what you intend to post on your social pages because it will represent your brand. Get your content marketing team involved. Ensure that everything that goes out is screened for relevance, value to your audience, and how it aligns with your central theme.
Place curated content alongside your created content on a content calendar. That way, you can enjoy an overview of your curated/created content distribution ratio and track if you have focused on central theme enough.
5. Curating Partner/Stakeholder Content Can Help You Increase Reach
As a business, you may have built strategic ties with people/companies in your industry. You can reinforce those ties by sharing content created by them. This works on the same principle as influencer marketing. You feature your partners and their content, and they, in turn, help you promote your content.
Co-marketing is an interesting way to expand your audience and reach more people. This works especially well when you partner with a company that has the same target audience as you do.
You begin by finding those companies and making contact. Alternatively, you can catch their attention by sharing their content before you begin conversing with them. Knowing what you can do for them may make them warmer towards your co-marketing proposal.
In any event, it is beneficial to build those relationships even before you need them. Even if it is too early in the game for you to form co-marketing partnerships, it is a good idea to identify potential partners and begin sharing their content. You can also get your employees involved in the content curation process and have them distribute their content, with a reference back to your brand/company. This is an excellent way to earn massive visibility. With the right employee advocacy guide and tool, you can potentially blow up your visibility.
To Sum It up in a Tips List
Don't forget to add the element of 'you' to every post.
Credit your sources, it is the right thing to do and they'll appreciate it.
Remember that curation applies to all content formats, visual content included.
Don't resort to lazy marketing, make sure that every post adds value.
Stick to your central theme and message.
Leverage social media management tools to simplify the process.
Make sure to build relationships along the way, they are important.
That's a wrap. Which of these do you struggle with the most? We could explore that a bit more on social media. Also, if you have some information that belongs on this post, feel free to share it.
Image Credits
Featured Image: Geralt/Pixabay.com
Screenshots by Jessica Davis. Taken December 2016.