Saying hello to all Google Chrome users out there: today's post is right for you. I am sharing a new (fun!) productivity addon for Google Chrome: "StayFocusd". Now an introduction which I loved first of all:
You sit down at the computer, and you swear you'll be productive. Next thing you know, it's twelve hours later. You've checked your email, updated your Facebook status, browsed the trending topics on Twitter, read your RSS feeds, looked up your favorite band on Wikipedia, vanity googled yourself, cyber-stalked your ex, looked at all your high-school crushes' Facebook photos, and lost a week's pay playing online poker.
Sure, few of us won't want to check the tool out after such an intro. So I did. After an instant installation (can't get used so far, no need to restart!) you will notice the tool icon in the browser address bar. Click on it and you'll be able to block/unblock the current site: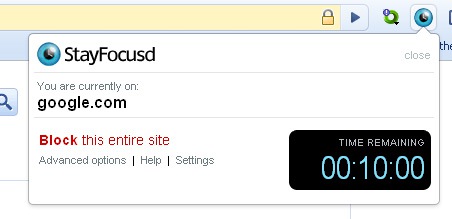 Here's what it stands for:
1. Block this entire site: This will block you from browsing any page on the current site once time runs out.
2. Advanced options are the following:
Only block pages on the current subdomain;
Only allow pages on the current subdomain;
Enter a custom url: This will allow you to block or allow any specific page, path, or query.
The last one is cool: it allows you for example to block yourself from browsing Delicious come while still being able to access delicious.com/save to save important pages.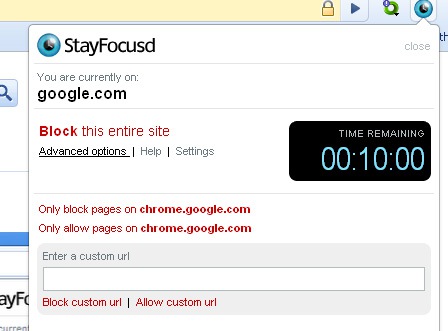 Naturally, you can configure the period of time after which the site gets blocked via settings which also list all the blocked and allowed sites (and allow to customize the list):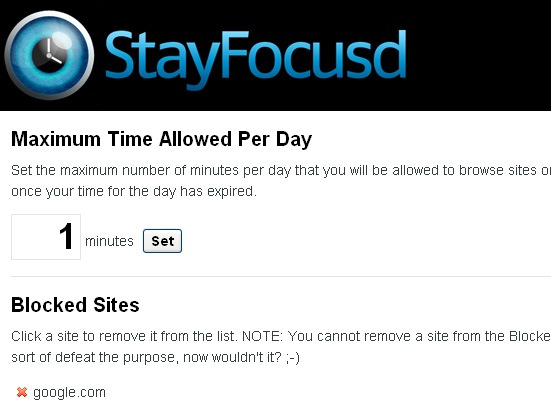 However the removal feature is somewhat wicked. Here's what I got after I tried to unblock my test site:
Here's the explanation:
Can I change the amount of time I'm allowed per day?

Sure, as long as your time for the day hasn't run out yet. Just visit the Options page and enter the number of minutes per day you want to allow yourself. If your time has run out for the day, you'll have to wait until tomorrow before you can update your settings.
Well, I guess it means I won't be able to change the options until tomorrow. Farewell to Google for today.
And here's what the blocked site looks like after the time runs out: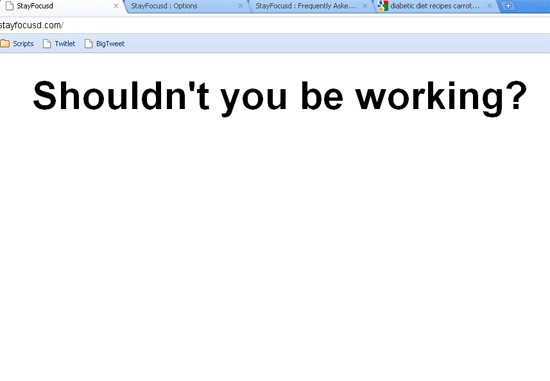 Now, all you have to do is to stay focused!