I have always believed that the way you organize your work and information defines how successful you are. In SEO various tools that allow for data outlining and manipulating can be helpful in multiple tasks:
(1) Keyword research (for better keyword organization and analysis). Remember how useful an outlining tool called "wikidPad" turned for keyword research?
(2) Reporting (for compiling detailed, yet easy-to-grasp reports your client will appreciate);
(3) Collaboration (for easier distributing multiple tasks, organizing multiple writers and teams), etc.
The tool I am going to share in this post can help in all the tasks listed above – SpringNote is a free online tool that can be used for collaboration and data organization.
Best features:
Data "tree-like" organization.
Collaboration;
Auto-saving;
Search within a notebook.
Organize Your Data in Multiple Levels
The ability to create multi-level notes make this tool one of my favorites. It makes information organization much easier and much more effective. You can create the information tree for easier navigating from topic to sub-topic and also for better data visualization.
To create a subtopic, all you need is to create a new page and then drag-and-drop it to the place you want it to be. Here's a sample information tree I created while writing a post on email writing optimization tools:

Collaborate on Various Projects
SpringNote offers two modes that provide tools for online collaboration:
1. Personal notebook: you can add editors and readers by clicking "Share" button. You can set individual pages to be public, giving reading access to anyone, or private, allowing only you (along with others that you have shared pages with) with access. Additionally, you can see all previous revisions of a page (Pages can be restored to previous revisions of a page).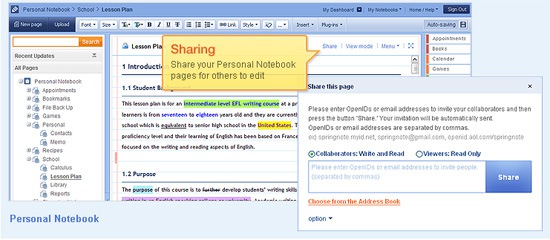 2. Group notebook: this mode allows multiple members (with the same set of rights) to create a "members-only" project.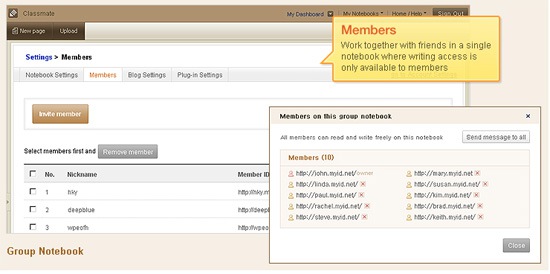 Additionally, you can easily watch updates in all your notebooks from your Dashboard: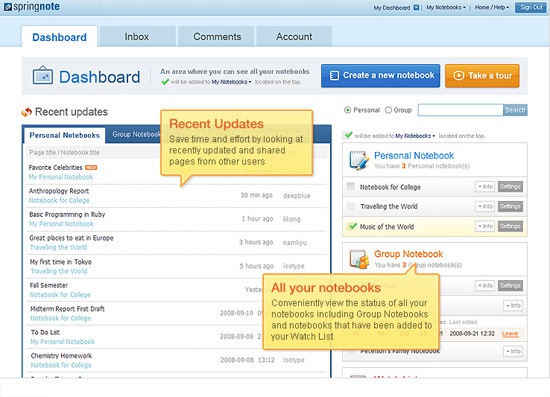 Use Templates
"Templates" is a nice feature allowing to create various content types. There are quite a few of them created for you, for example:
Calendar;
To-do lists;
QA (for discussing thing among your group of collaborators);
Reports;
Notification;
Vocabulary,
Etc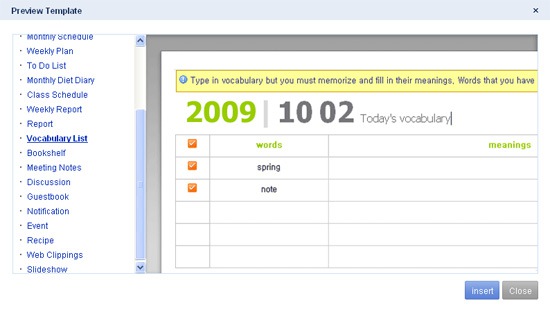 Additional features:
Import notes to your blog and save notes at your blog (supported blog services: Typepad, Movabletype, WordPress, Blogger);
Tag pages to easier find them.
Use View Mode to preview your edits . Pages that you have reading-only access to will show pages in this mode.
There was only one issue I found: There is no easy way to create an offline backup (you'll need to create a ticket for that and after that you'll be emailed a link where you can download the backup).
The tool was reviewed under SEJ policy.