There are two social media vanity metrics that you need to stop tracking today.
They are:
Facebook Fans (a.k.a. Page Likes)
Followers (a.k.a. Page Followers)
I know that Facebook and other social media have publicly reported these vanity metrics since 2006. But, they have become totally worthless over the past few years.
And if you continue to use them in your own reports, then you are no better than the frauds, quacks, and charlatans who used to sell "snake oil" as a cure-all elixir for many kinds of physiological problems.
That said, I am still surprised to find how many marketing managers are still tracking Facebook Fans and Followers.
They mistakenly think that reporting these metrics make their social media activities look good to marketing executives, who are still struggling with selecting the right metrics to use as key performance indicators (KPIs).
What's so Wrong with Tracking Fans & Followers, Anyway?
These numbers invariably go up in bad months as well as good ones – which is why marketers love these vanity metrics.
They make social media marketing appear to be getting better and better even if or when it isn't.
It's the modern equivalent of the phrase coined back in 1920 by Émile Coué, "Every day, and in every way, I am becoming better and better."
This method of psychotherapy and self-improvement, which was based on optimistic autosuggestion, later became known as the "placebo effect."
So, why haven't most marketing executives figured out that they've been sold snake oil or given placeboes by now?
Well, they didn't learn about social media marketing back in the 20th Century when they went to college – because it hadn't been invented yet.
And they didn't want to reveal their ignorance and undercut their authority by asking their younger social media marketing managers too many dumb questions.
And then, to make things worse, far too many of these marketing executives mistakenly assumed that the number of Fans and Followers are the number of people who will see each and every one of their posts and tweets.
If you aren't an exceptional brand, a top influencer, or the current occupant of the White House, then I hate to be the bearer of bad tidings.
You're lucky if .0035% of your Fans and Followers even sees your post or tweet these days.
Now, this isn't a new trend. It started back in June 2014, prompting Brian Boland, who leads the Ads Product Marketing team at Facebook, to publicly explain why organic reach was declining on the social network.
Back then, an average of 1,500 stories could appear in a person's News Feed each time they logged onto Facebook. Of those 1,500 stories, News Feed displayed 300.
And that was five years ago.
Since then, organic reach has plummeted like a wounded bird.
That was before algorithm update known as the "Facebook Apocalypse" hit in January 2018, prompting Adam Mosseri, the Head of News Feed for Facebook, to publicly explain:
"Today we use signals like how many people react to, comment on or share posts to determine how high they appear in News Feed. With this update, we will also prioritize posts that spark conversations and meaningful interactions between people. To do this, we will predict which posts you might want to interact with your friends about, and show these posts higher in feed. These are posts that inspire back-and-forth discussion in the comments and posts that you might want to share and react to – whether that's a post from a friend seeking advice, a friend asking for recommendations for a trip, or a news article or video prompting lots of discussion."
He added:
"Because space in News Feed is limited, showing more posts from friends and family and updates that spark conversation means we'll show less public content, including videos and other posts from publishers or businesses."
How Hard Were Posts from Businesses Hit by the So-Called 'Facebook Apocalypse'?
Last summer, Buffer and BuzzSumo teamed up to analyze more than 43 million posts from the top 20,000 brands on Facebook.
They found that top business pages had increased their output from 72,000 posts per day in Q1 2017 to 90,032 posts per day in Q2 2018.
At the same time, the average engagement per post had dropped from 4,490 engagements per post to 1,582 engagements per post.
And we're talking about the world's top brands!
It's worth noting that engagement on Facebook posts had dropped for all types of content.
The average engagement per image had dropped from 9,370 per post in Q1 2017 to just 3,454 per post in Q2 2018.
The average engagement per video had fallen from 5,486 to 2,867.
The average engagement for links had plummeted from 2,577 to 763.
If you were tracking social media metrics that matter like average engagements per post, then you'd know that your Facebook marketing activities were facing an existential crisis.
But, if you're still tracking Page Likes and/or Page Followers, then you're mistakenly telling yourself and those higher up in the org chart that, "Every day, and in every way, I am becoming better and better."
That's snake oil.
This inability to identify the social media metrics that matter explains why the average tenure for CMOs has dropped to 43 months, according to a report by Winmo.
And CMO tenure is just 29 months at Digital Business Providers (online-only businesses), according to the same report.
Several big-name companies have recently done away with the CMO position altogether – including Beam Suntory, Hyatt Hotels, Johnson & Johnson, Lyft, Taco Bell, and Uber, according to a recent article in Ad Age.
What's the story behind this?
Well, if you were the CMO, what would you say if your CEO asks one of the following questions?
"Are our target customers more aware of our brand after liking a post or tweet?"
"Did sharing a post, video, photo, or tweet move people to consider our brand or product?"
"Are customers intending to purchase our product after commenting on a post, video, photo, or tweet?"
"How much economic value does each visit from a social network bring to our site?"
The average CEO tenure is 7.2 years. CEOs better start asking their CMOs these questions sooner rather than later if they want to remain CEOs.
And the questions that get asked in the C-suite impact you, no matter where you sit in the org chart.
So, if you don't replace these two social media vanity metrics soon, then you should probably update your resume in the very near future.
The Social Media Metrics You Should Be Using
Fortunately, there are better social media metrics to use.
They've been hidden in plain sight since October 2011, when Avinash Kaushik first defined them in a post on his Occam's Razor blog entitled, "Best Social Media Metrics: Conversation, Amplification, Applause, Economic Value."
The definitions have evolved over the years, but here's what each one measures and how it's calculated:
Conversation rate: Indicates how many Comments/Replies on average each of your posts has received (e.g. Conversation rate = # of Comments/ # of Posts).
Amplification rate: Indicates how many times on average each of your posts was Shared/Retweeted (e.g. Amplification rate = # of Shares/ # of Posts).
Applause rate: Indicates how many Likes/Likes each of your posts has received on average (e.g. Applause rate = # of Likes/ # of Posts).
Economic value: Shows how much Economic Value each visit from a social network brings to your site by completing your site's goals (e.g. Economic value = Per session Goal value, which is calculated by Google Analytics when you assign a monetary amount to each completed activity, called a conversion, that contributes to the success of your business).
Kaushik is the Digital Marketing Evangelist at Google, so you'd assume that the vast majority of marketers would be using these "best social media metrics" by now. But, they aren't.
Why?
Because they make most social media marketing activities look like a total waste of time and money.
Most marketers stick with vanity metrics instead and hope that no one notices.
They hope their boss won't read Kaushik's follow-on post, which was published on June 2017. It's entitled, "Stop All Social Media Activity (Organic) | Solve For A Profitable Reality."
You read that correctly. Kaushik said:
"It is time to point out an ugly truth, and to be the brave person that you are, the intelligent rational assessor of reality that you are, and kill all the organic social media activity by your company. All of it."
And to prove his point, the Digital Marketing Evangelist at Google held up two of Google's Facebook Pages for examination.
There are 27,231,557 people who like Google's main Facebook Page and 27,830,029 people who follow it.
These are big numbers.
Wouldn't you love to report them to your boss?
But, take a look at a recent post with a video about the Google Pixel 3a. It's got:
1,033 reactions (822 Likes, 118 Loves, 46 Wows, 24 Haha, 21 Angry, and 2 Sad).
178 Shares.
278 comments.
That's a total of 1,489 engagements. And those are not big numbers.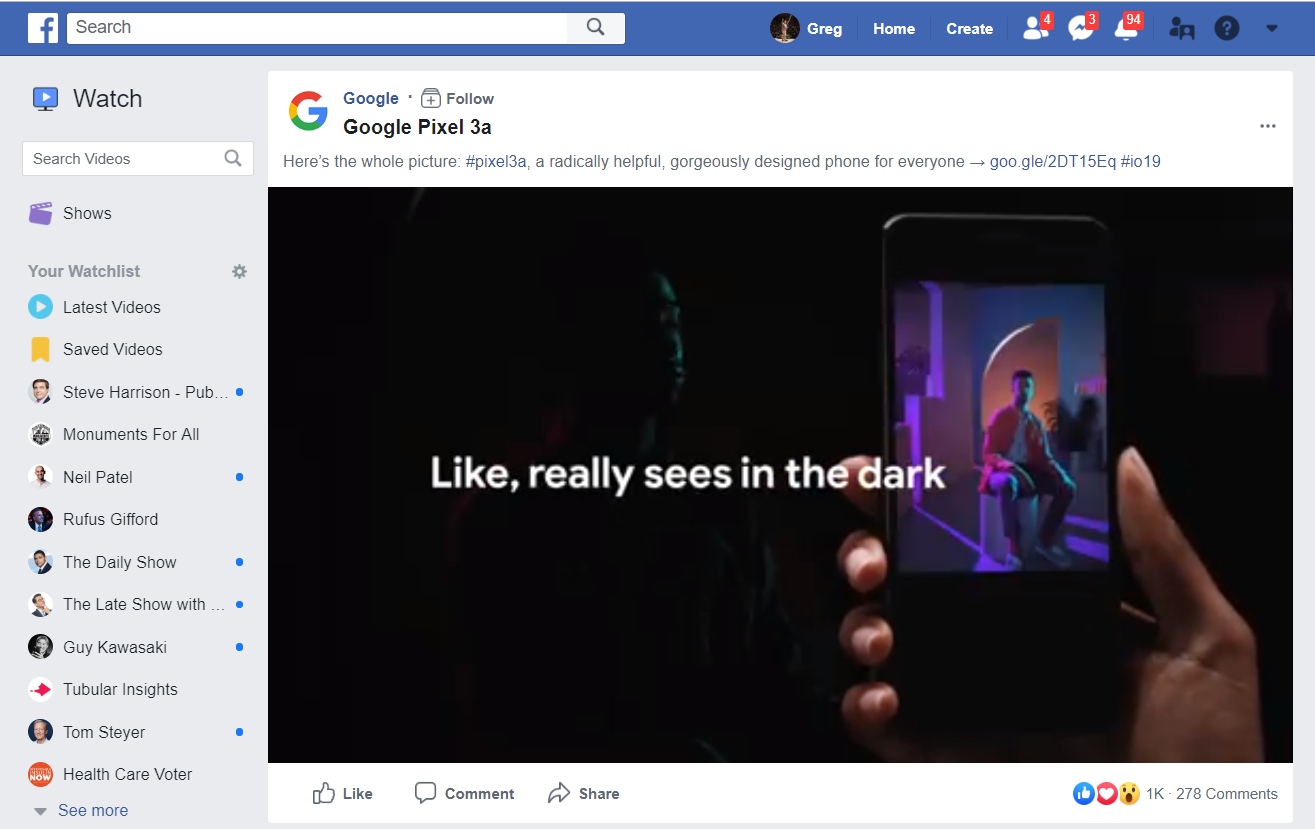 Kaushik also examined Google's Small Business Page on Facebook.
Check it out: 81,300 people like this Page and 87,693 people follow it.
Cool, right?
But, look at a recent post like the one with a photo that says, "Quick Candles saw an opportunity to use the web to deliver candles and decor at better prices, faster.
With millions of customers served, it's become a 'scent-sation.'"
It has 11 reactions (10 Likes and 1 Love); no Shares; and 1 Comment.
Not so cool.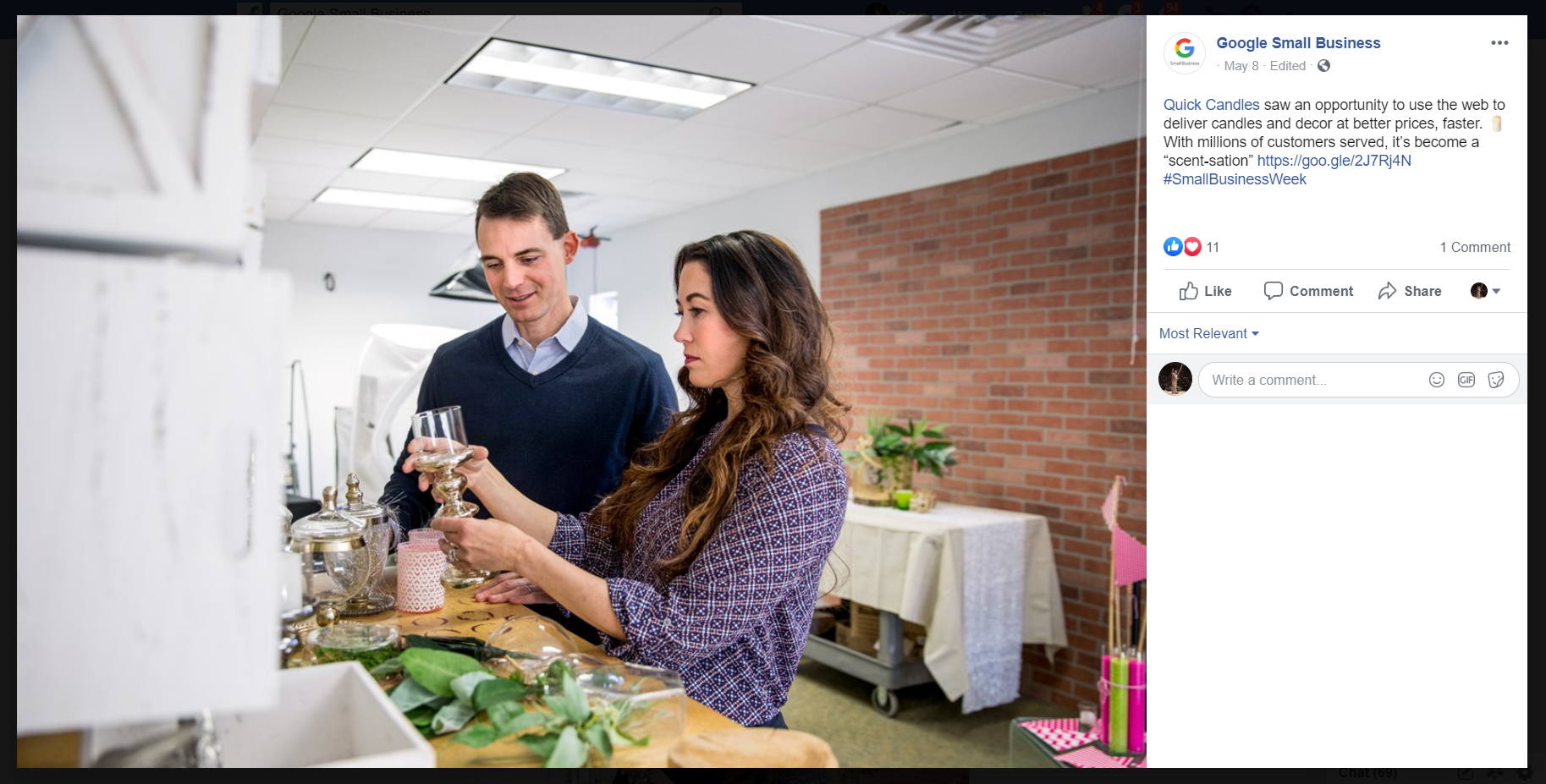 Almost two years before "Quick Candles" was posted, Kaushik said that Google's Small Business Page on Facebook "is a complete disaster with not a single post in the last six months being of even five seconds of value to any small business."
He was right back then. Sadly, nothing has changed today.
What Now?
So, when I tell you to stop tracking vanity metrics like Facebook Fans (Page Likes) and Followers (Page Followers), I realize that this goes far beyond "tough love."
Let me ask you this question: "Do you feel lucky, punk?"
Sooner or later, someone will share this article with your boss. And it might as well be you.
Then, you could become the first person in your organization to use a tool like TrueSocialMetrics (which was inspired by the ideas of Avinash Kaushik) to measure the real active engagement of users with your social media pages using metrics that matter like Conversation, Amplification, and Applause rates.
You can also the tool to compare the Economic Value creating by all your social media accounts and (hopefully) find the most effective ones for your business.
And for extra credit, you can even compare your results against your competitors, because no login credentials are required to analyze competitors' social media pages.
Hey, if you are the exception to the rule, then you will be able to step forward and take credit for doing such an exceptional job.
But, if the Conversation, Amplification, and Applause rates, as well as Economic Value of all of your social media activities, really suck, then you can be the first in your organization to propose alternatives to the "Facebook Apocalypse" like:
It's really up to you. But, you can't bury your head in the sand for much longer.
More Resources:
---
Image Credits
All screenshots taken by author, August 2019