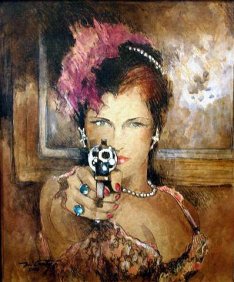 Stark, raving mad and angry enough to do some damage. That was me after having what started out as a quick, pleasant Q & A. This article about social media ROI is what resulted from the conversation, after my editor took out all the cuss words and indecent language not fit for general consumption. Oh yes, the topic was "How do you measure your social media ROI?"
Tip of the Day: Social network automation is not the same as measuring social media ROI. There's a big difference.
When asked this question, I responded with a short answer. Measuring your ROI for social media includes such things as:
Identifying users that have engaged through social media
Assigning an appropriate value to social media interactions in the click stream
Determining if the user converted to a sale
I mentioned a few great articles about the fundamentals of social media ROI, such as those written by Brian Solis and Samir Balwani. We also use specific goals, benchmarks and various analytics tools.
So… I thought it was a good short answer. Give a tip, add some links to further reading because, you know – it's hard to push everything you know in short form. The response…
I know there's a lot of articles but very few answers. If you're managing 50 FB profiles/pages and some have 100K fan/friends than you're going to spend months in that process. That is zero automatisation.
Look – answers will only appear if you do the work. You have to test; you have to put these things into action and see how it works. There is no magic bullet.
It's like asking, "Can you show me the ROI of my iPhone?" Everything you use has to be tracked in some form or another: phone calls, blog posts, FB posts… I can go on and on. By "tracked", I don't care if that means asking anyone who contacts you, "How did you hear about us?" Sometimes, that's the only way you can find out.
Is there ONE formula? No. Even the Brand Builder says, "As far as I can tell, there really is no way to calculate social media ROI through an equation or a cost-accounting type table. It just doesn't work that way." He does share a nifty calculator, though.
This, ladies and gentlemen, is what I shared with my questioner, who responded by telling me that I must not have genuine practical knowledge, which is why I post links, mention other people or quote others. "I asked 'how do you track your ROI' not where I can read about that."
Okay, once I calm down, I have two points to address here.
One – when you're asking a professional a question, aren't actually speaking (thus, lot's of typing), and aren't paying them for their hard earned knowledge, they most likely aren't going to write you up an exact case study with results. What will they do? If they have a case study already written, they'll send you the link. If not, they'll send you to someone else's link has a case study.
As well, it has to be said that I'm not alone on that. Professionals don't get online and engage in social media and whatnot to give you all their services for free. When answering questions, most of us:
Give short answers
Give links to more information (ours or others)
Write a whole article about it at another time
Now, there are those who post whole articles on forums in answer form, but they don't answer every question that way. So… if you want to call me trying to be helpful – while not spending an hour on the answer – as a "lack of genuine practical knowledge", go ahead, kimosabe. If your way of responding to an answer you don't like is to insult the professional, you can bet you'll start losing professionals to ask questions of.
Two – as mentioned at the beginning of this article, "automation" is not the same as "measurement"…
Automation
With 50 FB profile/pages and 100K fans/friends, I can understand how you might be looking for some way to automate the process. That's a lot of typing, my friend. If you just need help automating this process a little, or a platform that helps make sense out of the madness, you can always try programs like HootSuite, TweetDeck or Yoono.
Monitoring, Measuring, Tracking
Maybe you need a bit more functionality. Maybe you really need to know – as much as possible – how your social media efforts are turning out. This makes sense. We have our own process for this, but there are several tools available to a wide audience. Off the top of my head: Sprout Social, Go Socially, SpredFast and Radian6 are a few.
The Fundamental Difference: Measuring vs. Monitoring
I once closed a client after chatting with her for 3 days on Twitter. Since this is the only interaction we had, I can categorically say that client goes into my social media ROI. However, can I break it down to how many hours I spent feeding Twitter with articles, comments, conversations, etc? Should I break it down even further to how much I pay myself hourly? No, because that week alone we had two clients directly from our Twitter feed.
One client started with a press release that turned into an SEO audit. The other hired us for ongoing consultation services. The second was a nice surprise, but threw in a factor you can't see in an analytic tool: personal human element. Influence. Respect. These factors can't be measured or tracked. Go figure.
Monitoring
When you're monitoring your social media efforts, you have to get up-close and personal. You're continuously tracking your real time, and this will get you involved in the conversations. Quite simply, you can't help but respond to what you see in your feeds while monitoring.
Measuring
When you're measuring, you're actually looking at what happened numerically. You watch the peaks and valleys, stare at the data and absorb time slots. You do this to correlate what piece – video, audio, content, etc – you used. Then, you grab a snapshot of the peak to compare it to the next one.
Noise-to-Signal Ratio
You have to have a starting point, no matter what you're doing. In simpler terms, if you have no idea where you are, you can't know where you're going. How do you know where/when you'll reach your goal?
This takes a lot of time, which shouldn't be a secret by now. I can't begin to tell you what the noise-to-signal ration will be; it changes on a daily basis. Noise – regular conversation, good mornings, hellos, goodbyes, etc. Signals – conversations about the industry, Q & A sessions, questions about services/products, etc.
Digging through the noise (which may actually factor into your ROI) to get to the signals is time consuming. Even if you have a program to aggregate the data into one spot, you still have to (or should) dig deeper. If you base your campaigns and decisions only on what charts and graphs show you, you could miss some important fruit.
Conclusion
After writing this article with too many cuss words and eventually calming down, I finally came to this conclusion: if you're looking for automation in your social networking, keep in mind it's not the same thing as your ROI. Also, there are bound to be miscommunications between laymen and industry people, because a laymen doesn't know the business like the industry person. This is true no matter what the industry, by the way, whether it's social media marketing or home repair.
I also concluded that many people want cookie cutter solutions. I get that – I want quick fixes, too. However, online business isn't a "one size fits all" kind of thing. It just isn't. I forget sometimes that the reason what we do costs so darn much is because we take the time to look over a client's site and influence before we ever start a campaign.
Finally, when you're asking a professional's opinion about something, remember that we can't teach everything we know in a few short sentences. It takes time, research and a lot of learning to get where we are. As well, with IT industries especially, we have to continue that learning, because it changes rapidly.
I'm not going to ask a plumber a question and then insult them because they didn't give me an answer I liked. Even if you don't like someone personally, at least respect the time it took to learn what they've learned – whatever the profession is.
Now – if you want to brainstorm an idea, we do welcome conversation and comments throughout the site. Yes, we'll even post the comments we don't agree with…