Social media networking is both exciting and overwhelming. Hardly can you choose one network to monitor: on average one social media user seems to choose at least 5-6 sites he tries to frequent.
So today's toolset offers a list of FireFox addons that make the power social networker's job easier by combining 2 + different social media sites: choose those that support your favorites:
| | | |
| --- | --- | --- |
| Tool | Social media sites supported | Location |
| ShareAHolic | Delicious, Diigo, Digg, DiggBar, Friendfeed, Mixx, Twitter, Reddit, Sphinn, Yahoo Buzz and many more | Address bar, contextual menu, navbar |
| Samfind | StumbleUpon, Digg, Reddit, Twitter, Facebook, Delicious, LinkedIn, FriendFeed, Mixx, Propeller, Sphinn and many more | AddressBar Icon |
| AddThis (ShareThis) | Facebook, MySpace, Twitter, Digg, and many more | AddressBar icon |
| Tweecious | Twitter + Delicious | Delicious user menus (non-browser integrated) |
| FriendBar | Twitter+ Facebook | Dynamic bar |
| Yoono | Twitter, Facebook, Piczo, Flickr, Friendfeed | Sidebar |
| FireStatus | Twitter, Friendfeed, Facebook, Delicious, | Navbar |
| Social Media for Firefox | Digg, Reddit, Stumbleupon, Mixx, Sphinns, Tip'd, Twitter | Navbar |
ShareAHolic
ShareAHolic lets you quickly submit to any imaginable social media and bookmarking service with one click of a mouse. It is accessible from the browser address bar. It also lets you see the page current social media rankings (va the context menu):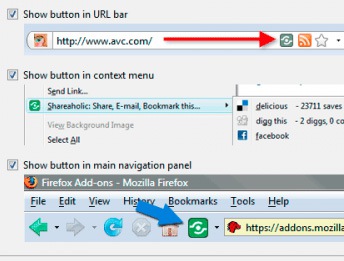 AddThis
AddThis (as well as ShareThis) is another multi-service FireFox addon connecting you to dozens of social sharing and bookmarking sites. Sadly, unlike the above one it lacks the ability to show the page current rankings: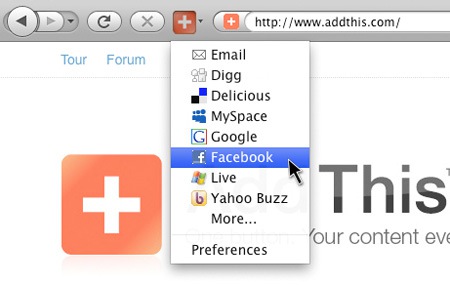 Samfind
Samfind is a bit different from the above: it works via its own toolbar which can be customized to only include your preferred services. More features inside include:
Search within websites using their own search engine from the Bar,
Quickly find any website's RSS feeds;
Synchronize your bookmarks to access them from more than one computer.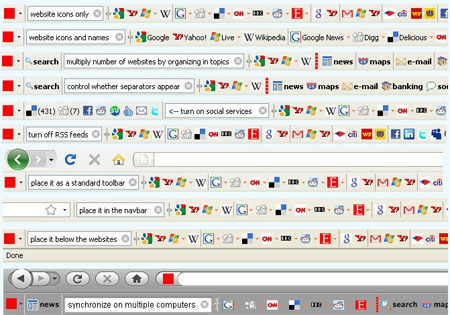 Friendbar
FriendBar allows to see a running stream of text and photo updates from Facebook and Twitter right on the toolbar; post updates, retweet, direct messages, and replies from the toolbar itself:
Roll over the photos to view the original
Click on the enlarged photo (or album name) to visit the photo or albums web page
Get an alert when a new message arrives
Use "Lucky Site" button that opens popular sites of the day, to provide you with interesting content to Twitter about!

Yoono
Yoono (thanks MUO for the find) is a great social media tool that connects your public accounts with each other as well as your IMs (AIM, MSN, Yahoo; too bad there is no Gtalk support). The best features include:
See related tags while browsing the web (clicking on the tags will take you to the Yoono search page and search for other websites with the same tag that you have clicked on);
See your friends who are online now (via IMs);
Create web notes (drag and drop text, video and images to share with your friends);
See similar websites and fellow users who like the website that you are currently browsing.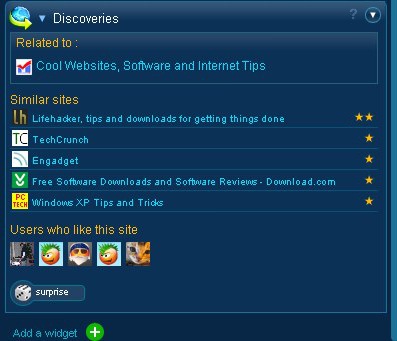 FireStatus
FireStatus is one of the least annoying and invisible multi-service addons allowing to send status updates, notes and URL links simultaneously to multiple social networks and services, like Twitter, FaceBook and FriendFeed. It also displays updates from these services in notification popups, for a more "live" communication with your friends.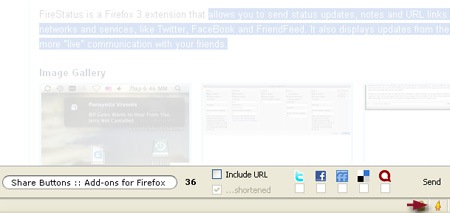 Social Media for Firefox
Social Media for Firefox is the best extension for analyzing the page social media popularity. You can configure it if you want the data to be retrieved automatically for each page you visit or manually (when clicking the tool icon). You can also remove any network if you don't need its ratings.