This is a sponsored post written by SE Ranking. The opinions expressed in this article are the sponsor's own.
SEO for companies that launch an ICO, run crypto investment funds, or engage in any other business activities related to digital currency and all things crypto is a little different from the traditional approach.
Many of those sites are short-lived, high-trafficked, and saturated. There are a few important tasks that those websites need to master.
The most important tasks are competitor and keyword research.
Regardless of whether you are trying to bring an organic traffic or acquire it through paid campaigns, you have to be precise in your PPC and organic SEO.
How do you make things happen without blowing your budget?
As different as it is, you still need to make sure that your ICO or cryptocurrency-related site is a finely-tuned vehicle that brings quality traffic and gains trust in the eyes of the search engines.
This means you need to do all of the essential on-page and off-page optimizations, just like every other website owner. Then take the following steps:
Carefully Study Your Competitors
You can hire an agency – or you can do it on your own using an SEO platform like SE Ranking.
For instance, SE Ranking's competitor research offers an extended database to get a full picture of the crypto market.
As a matter of fact, we've researched the entire niche and updated our U.S. and U.K. keyword database to better accommodate ICO and cryptocurrency-related businesses.
The data we provide is the most accurate and up to date, especially when it comes to search volume, keyword competition data, etc.
This gives endless possibilities to research competitors in terms of knowing all about their organic traffic from Google, and keywords and ads for AdWords traffic.

Need more data?
We can create a custom database based on your needs so you can beat your competitors all the way through on the different levels – from a specific location to a specific keyword.
This data is collected specifically for you, available only to you, and what's most important is relevant specifically for your niche – ICO and cryptocurrency.
Pick up the Most Converting Keywords
Being in the cryptocurrency market, you want to rank high for queries like Bitcoin, Litecoin, Ethereum, Ripple, Dash, and so forth.
Better yet – you want to rank among the top 10! It's like running into a gold mine! You or your agency can do this project using tools like keyword research tool.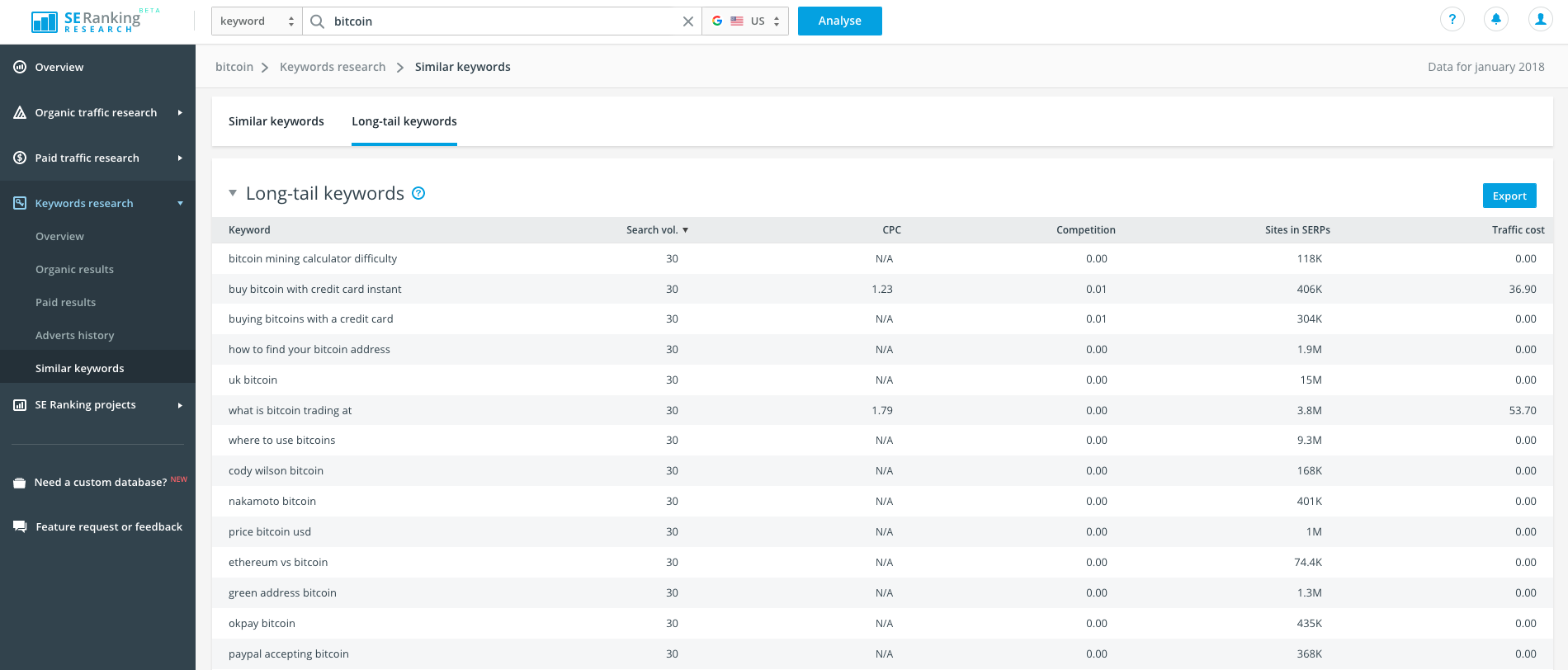 We've collected a huge keyword database: 1.6 million just for the "Bitcoin", 900k Ethereum-related and millions of keywords for other cryptocurrencies.
Using this pool of data you can find low-competition keywords and adjust your paid and organic campaign accordingly.
This will be cheaper and more efficient than to bid on the highly competitive keywords that everyone is bidding on.
Also, you can get dozens of ideas for your PPC campaigns and content strategy. No one besides Google knows better what queries people are using to search for crypto-related info.
Discover proper keywords among the search engine suggestions as they come from how people actually search. This means you can get the keywords based on the search volume/popularity.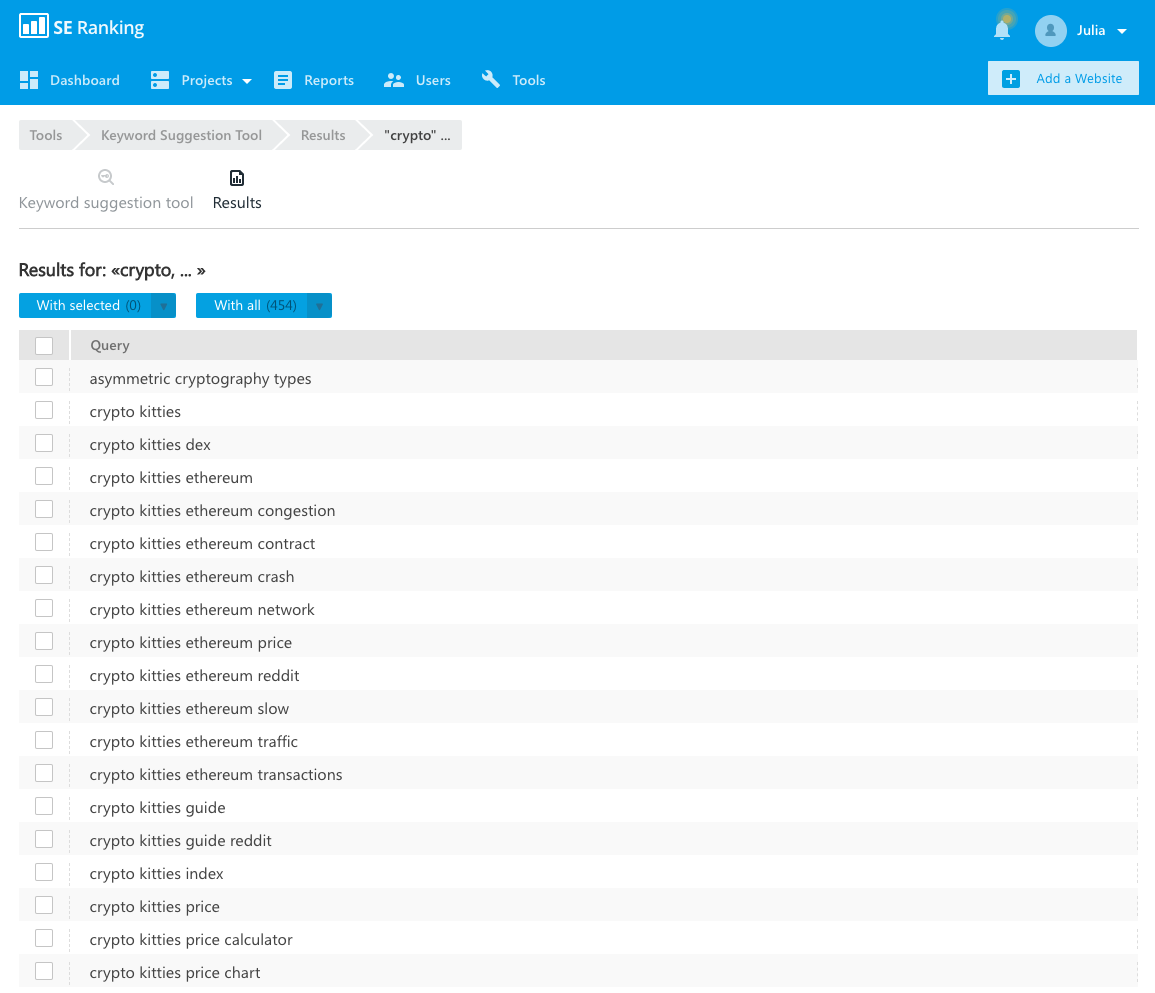 Group and Distribute Keywords like Google Wants to See It
Once all of your keywords are compiled into a long list it's time to figure out the best way to use them in different variations.
Search engine marketing can turn into a money-blowing machine if data is scattered and keywords are not distributed correctly.
Keyword grouping is essential.
This tedious job could be done manually or using tools like keyword grouper.
Keyword grouper collects and separates your keywords into different clusters (or groups) and then distributes them among different pages, just the way Google wants to see it.
Get things done fast, properly, while making Google love you. Bingo!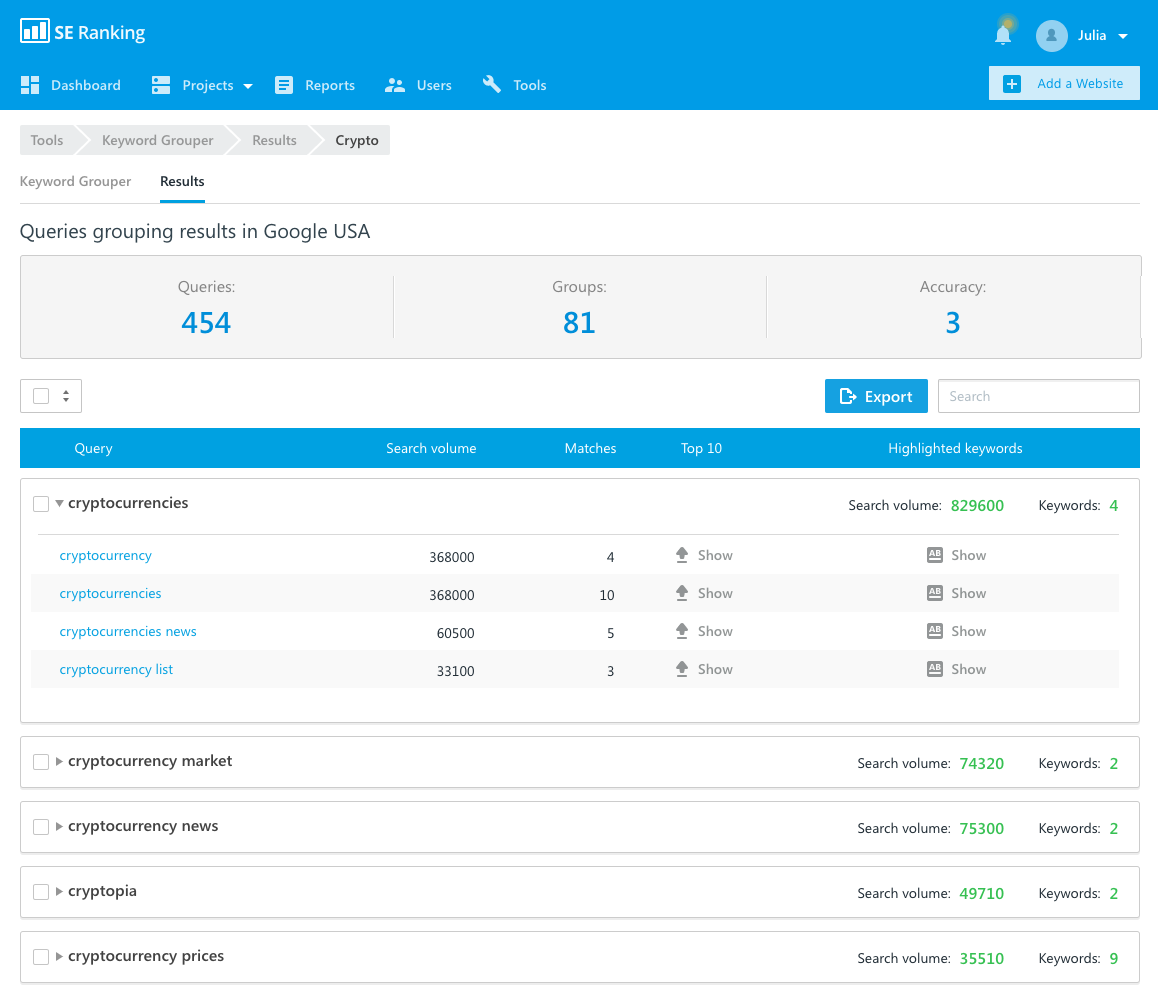 Don't forget about those long-tail keywords we were talking about earlier.
If you optimize your crypto-related content for long-tails and use keyword grouping to cluster it for the most converting variations, the effect might overcome your wildest expectations.
The keyword group related to your niche such as crypto are usually more powerful than just a keyword and thus yields better results in terms of bringing quality traffic.
The best advice we can give to those who are launching ICO and cryptocurrency website is to do the proper competitor and keyword research.
Try our tool completely free or buy a more advanced plan using an exclusive coupon: ICO25OFF*. Or send us an email requesting more information about custom competitor research – it's truly unique and awesome.
*the offer is valid until March 31, 2018
---
Image Credits
Featured Image: Image by SE Ranking. Used with permission.
In-Post Photos: Images by SE Ranking. Used with permission.