*Note*: This is NOT a paid review.
I've had the opportunity to check out by SEO Automatic's iPhone app by Scott Hendison of Search Commander, Inc. The app is the full version of SEO Automatic, an SEO site audit tool, just made for the iPhone. The only difference is the descriptions and recommendations is slightly less verbose to fit it on a mobile window.
The app is lightning fast and analyzes your site in just a few seconds, despite it's screen that says "This may take a minute or two." It immediately gives you an overview of notable issues, issues worth reviewing, and stuff you are doing correctly. SEO Automatic gives great advice.
Despite being less verbose than the Website version, it is still highly text-heavy for an iPhone. It'd also be nice to see a feature that allows you to email yourself the results so you can read the results on your computer too. I guess that'd defeat the purpose of buying the Web version though!?
Below is a screenshot from my iPhone running an analysis on Digg.com: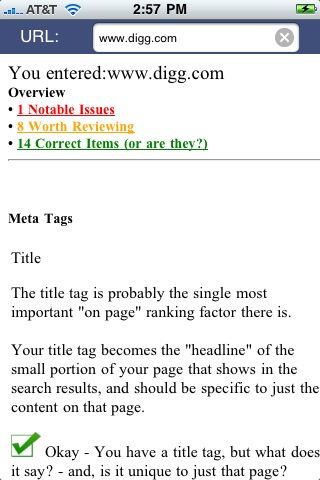 The cool thing is the app is a one-time payment, $9.99, whereas SEO Automatic is a monthly payment for use. I recommend checking it out if you feel it might be useful to you, I will definitely be using it frequently in the future. Check it out in the iTunes App Store.