SEMRush is a new (paid) keyword ranking and competition evaluating utility developed by the creators of SEOquake FireFox extension and SEOdigger tool. The site has both free and paid versions, so you can go ahead and test its features together with me and share your thoughts.
1. Check any domain natural Google rankings (the feature that makes me love SEOdigger by the way). Unlike other tools that can also list terms the domain ranks well, this tool seems to have a fairly large database and return very focused results.
SEOdigger functionality has been enhanced by:
cost per click for each term;
number of overall results for this term;
ranking URL (which I see as the most useful addon here):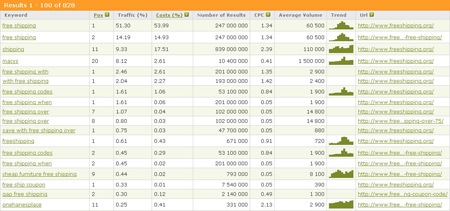 2. See the list of competitors for any of the keywords and what's more, see your and your competitors' common keywords (the terms you both rank well for).
3. Check your competitor's Google Adwords campaign and who else they compete with in Adwords (like with organic rankings you will see their common terms).
More great features:
export any data to Excel;
see the list of Related Keywords;
see the estimated domain traffic (both organic and Adwords).
Some more essential information:
The service claims to update its data once a month;
Price: $14.80 per month or $19.80 per month if you want to include Adwords data as well.
The service uses some internally developed metrics. The most important one – SEMRush Rank evaluates the sites' natural SE referral traffic (based on its natural rankings).
Important: this tool review was not intended as an advertisement: I do not encourage you to buy a PRO version – instead, I'd like you to test the tool and share your (critical) opinion. Please also see the SEJ disclaimer for tool overviews.