I guess one may have a different definition of "SEO web hosting" than mine (most people refer to it when talking about different C-class IPs). The way I see it is that an SEO-friendly hosting is one that provides a reliable platform for your website. That's it.
Get Webhosting from HostGator for as little as $3.96 per month. Click here for the 20% discount!
Again, this may sounds somewhat "cliche", but your website hosting is actually the foundation of its success. Therefore choosing a reliable hosting provider is crucial – and with such a huge range of available services in that niche choosing the optimal (the most favorable in terms of price, the feature set and reliability) solution is so hard.
We have had quite a few very solid guides on choosing the best web hosting solution so far – this one is a good example: Finding Genuine Customer Reviews to Help in Your Web hosting Choice – this post lists some of the most important factors to consider when choosing a hosting provider:
Uptime;
Security;
Fast Customer Support;
Price.
While the above are very essential factors to consider, there are many other things you may want to keep in mind like, for example, various specifications (bandwidth and space).
One site that makes your job of comparing hosting plans and providers easier is Web Hosting Geeks which I already shared in the post on hosting reviews linked above. The site creates handy side by side comparison charts – and you know that I love charts (and often build them myself to compare various SEO and social media tools).
The site is broken into sections:
Top 10 Web Hosting
Multiple Domain Hosting
Reseller Web Hosting
VPS Web Hosting
Dedicated Server Hosting
cPanel Web Hosting
Green Web Hosting
Each section features a handy chart that allows to quickly review and choose best hosting alternatives:
Hosting provider and rating;
Core specifications (Space, Bandwidth, Price)
Bonus features (like technical support, unlimited domains, instant set-up, etc).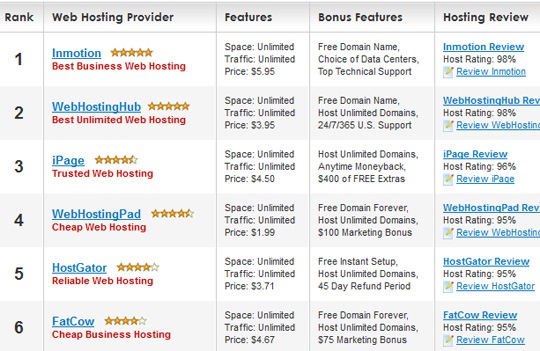 The main reason I love it is that the site is very clean and easy to navigate and use. It's a great example of how loads of information can be packed in a usable format. Besides, on the plus side, the tool is absolutely free and requires no registration to access all the information.
Note: Disclaimer for SEJ tool reviews can be found here.