Next week, about half of the SEJ team is heading to Las Vegas for Pubcon 2016. This four-day event is a digital marketing staple for networking and learning. This is the fourth year in a row most of the SEJ team has met up in Vegas, and we couldn't be more excited.
Here is the low down on what we will be doing during the conference – including our open bar hours, a link for our Passport to Pubcon guide, and our booth location.
Passport To Pubcon
Want to stay up to date on all the after parties, find the best sessions, and figure out who's who? Download our Passport to Pubcon guide! It is totally free and chock full of great information including SEJ team members' favorite session picks, dates, times and locations of all the after parties, and tips for first-timers. Or, stop by Booth #114 for a print copy on Tuesday!
Get it now to read on the plane!
SEJ in Expo Hall Booth #114
Meet the SEJ Team at Pubcon! We will be hanging out in Booth #114 doing video interviews with industry experts and shaking hands with fellow attendees.
On Tuesday from 1 PM to 3 PM we will be having an open bar at the booth! Come grab a drink or soda and chat with the SEJ team and other industry folks!
US Search Awards Ticket Giveaway
Do you want to attend the US Search Awards with the SEJ Team? We have tickets for a few lucky fans (worth $350 a pop). Here's how to WIN:
Stop by SEJ's Pubcon booth #114 anytime on Tuesday during expo hall hours from 9:00 AM to 3:30 PM
Drop your business card into the drawing with your phone number and email address
We will announce the lucky winners when the expo hall closes at 3:30 PM on Tuesday.
Winners will receive a FREE ticket to the show on Wednesday at Caesar's Palace, which includes a drinks reception, 3 course dinner, hosted bar, and entertainment! It's a super fun event. Last year they had selfie sticks at all the tables and the ice luge is always a hit!
P.S. Dress code is "smart and glamorous", so if you plan on winning, come prepared to dress fancy ;). Good luck!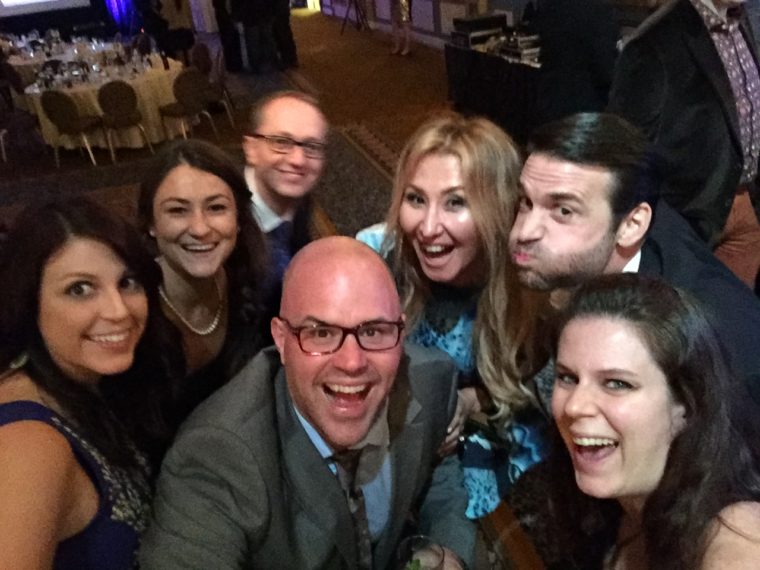 Don't Miss Sessions
SEJ's very own Loren Baker (founder of SEJ) and Brent Csutoras (SEJ's Chief Social Media Strategist and a Managing Partner) are speaking at this year's event. Catch their sessions:
Link Building 2016
Loren Baker & Dixon Jones
Tuesday, October 11th 11:25 AM
Salon A
Marketing To Millenials
Brent Csutoras & Allison Mcguire
Wednesday, October 12th, 2:45 PM
Salon I
See You There!
We can't wait to see you all in Vegas. Don't forget to stop by Booth #114 and say hello to SEJ team members Danielle Antosz (that's me!), Kelsey Jones, Jessica Cromwell, Jenise Henrikson, Brent Csutoras, Loren Baker, Danny Goodwin, and Anna Crowe.
Featured Image: Deposit Photos
In post image: Taken by Loren Baker (and a selfie stick)