This past January, I took on a new role: Social Media Manager for Search Engine Journal. One of my first projects was to put together a comprehensive social strategy. The thought of putting together a detailed guide covering a variety of platforms was a bit daunting, but I ended up discovering that if I put in the time, supported my conclusions with research and used an iterative group review process, the results would be well worth the effort.
After many revisions, fine tuning, and more edits, the guide finally came into fruition. (It helps to have an engaged editorial and operations team providing feedback, direction and moral support!) We put it into practice immediately. By using it as a roadmap, we were able to increase our overall traffic from social networks by 170% for the period January-March 2014 (220K visitors) versus the prior period October-December 2013 (81.5K visitors).
What We Did
First off, we kept goals limited to just three months out. It was hard to make projections our first time out the gate, and so we wanted the ability to adjust goals (some of which were achieved and some were not, as it turns out) as well as re-confirm what's most important to us as a brand.
Two of our goals: a 5% month-over-month increase in Twitter followers, and a 10% month-over-month increase in Facebook fans.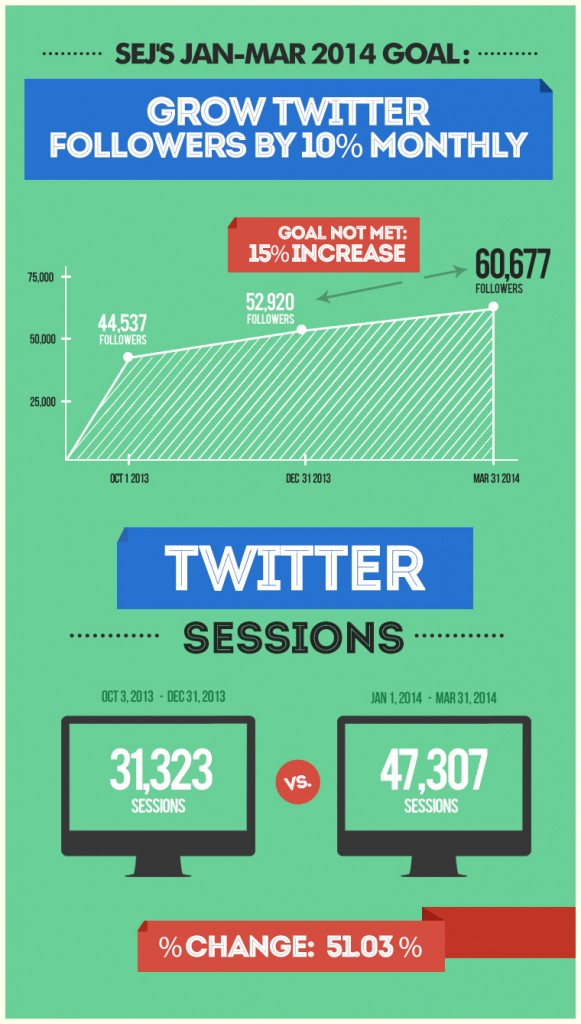 Those short-term goals proved to be a useful tactic. As you can see from above, while we met our Facebook goal of increasing 5% monthly, we fell short on Twitter. Because of this, we are re-evaluating what we're doing on Twitter and figuring out how to shake things up. In April, we began trying new things, such as broadening our posting times, re-sharing popular posts more regularly and adding more hashtags.
We also launched a new LinkedIn page which brought almost 10,000 visitors to the site, and Google+ has also proven to be a huge success bringing us nearly 50,000 visitors from January-March, an increase of over 700% from the three months prior.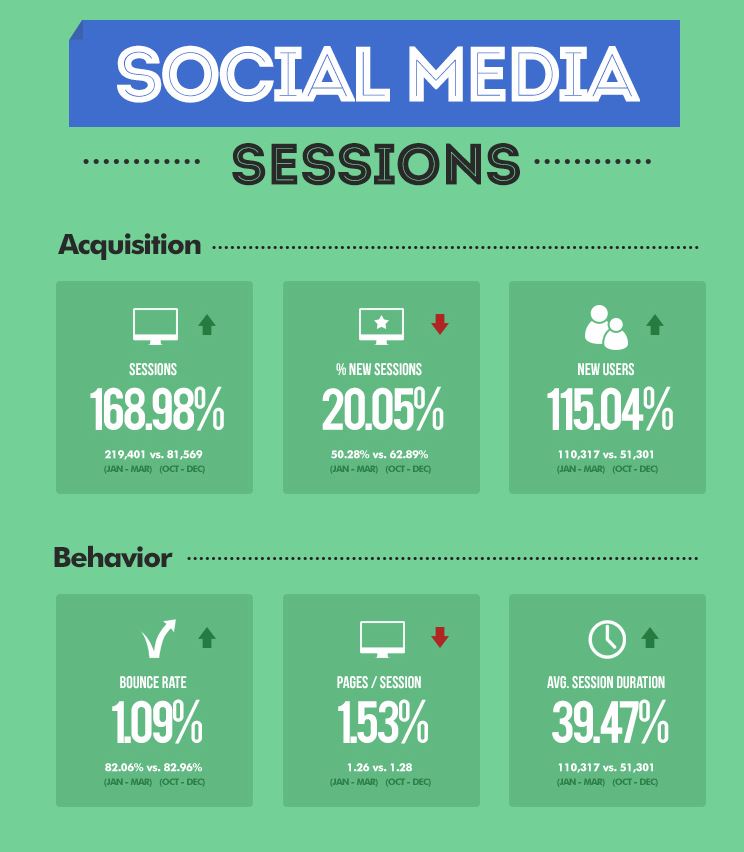 Soooo… How Did We Do It?
It occurred to us that our readers might be interested in checking out our strategy.
So we published it, in its entirety.
With the exception of some cleanup, it is essentially the same version we've been using internally.

At almost 7,000 words, it was too long to publish here in this post.
In practice, although there are times we don't stick 100% to every word, it serves as a useful baseline by which we've been able to manage and grow our social media presence, as well as traffic to the website from social networks.
Your Mileage May Vary
With so many "best practice" articles, guides and white papers out there, it can be difficult to assess what works best for you, your company, or your client.
Since we're a media publisher and don't have as much visual product collateral to share, we focused more on Twitter and Facebook rather than Pinterest and Instagram. If you're a fashion or food-related company, for example, it may make sense to do the opposite. (And although we don't place as much focus on Pinterest, our website traffic stemming from there has increased over 500% the last three months.)
The best social media strategy for you must consider the context of industry, goals, and audience. As a media publisher, impressions, follower counts, RTs etc. are valuable metrics for us. However, if you're an e-commerce brand, the amount of revenue derived from social is going to be of higher importance than your fan count by itself. The bottom line is to always take into account what's best based on your company, your industry, your bottom line.
We will be updating the guide regularly, as well as publishing posts on our progress like this one. Would love to know your thoughts, and what's worked or not worked for your own methods involving social media.