Last October, we asked you to participate in Search Engine Journal's second annual survey on the state of digital marketing. We wanted to know how you work, what you spend, and how you measure success.
We received answers from more than 230 digital marketers and after months of analyzing data, the results are finally in!
Here are the main findings from Search Engine Journal's Annual Report on the 2017 State of Digital Marketing. Let's take a closer look at how the digital marketing industry is changing — and how it remains the same.
Survey Respondents
We've listed the demographics of the awesome people who helped make this second annual survey a possibility:
SEO Specialist Expert: 34%
Manager/Multi-discipline: 28%
Business Owner: 12%
Content Marketing Specialist: 10%
PPC Specialist: 9%
Social Media Specialist: 7%
Most respondents listen to podcasts to stay updated with digital marketing trends. They also consider webinars an effective method to learn about the industry.
Search Engine Optimization
Site audits are similar to routine visits to the doctor. To keep your (or your client's) website healthy, regular audits are needed. Performing audits helps you identify errors and points out improvements to your site.
So how often should you perform a site audit? 47% say that a full SEO audit should be conducted every six months, yet only 43% or less than half of SEO professionals always audit a new client's website.
It may be daunting to perform an SEO audit, and just thinking of it can make your palms sweaty and your knees buckle. If you're overwhelmed or unsure where to start, check out SEJ's SEO audit guides to help you get through.
Other Takeaways
31% of respondents spend an average of $51 – $300 on SEO tools per month, with almost a quarter (23%) getting away with spending less than $50 a month
68% of respondents utilize remarketing campaigns
66% of respondents find remarketing campaigns to be effective
Pay-Per-Click
PPC continues to be an essential aspect of digital marketing. Our research reveals that 42% of respondents allocate most of their digital marketing budget to PPC and display ads.
So how much do digital marketers spend on their PPC campaigns? SEJ's survey reveals quite an even distribution of budgets, with almost as many marketers spending under $50 (17%) as those spending over $5,000 (16%). Most digital marketers (18%) spend between $51 to $300 on average for their monthly PPC campaigns.
The survey also shows that being on the top three positions on SERPs results in the highest number of clicks for ads. It brings in an average CTR of 2-3%.
Social Media
In the battle of social media networks, Facebook is the clear winner among digital marketers, with 62% saying they would pick Facebook over any other social media platform out there. Digital marketers are also in agreement that Facebook is good for small businesses, with 80% of respondents saying the social media network is still an effective use of resources.
When it comes to measuring the effectiveness of social media campaigns, the top three metrics tracked by digital marketers are:
Engagement (likes, upvotes, and comments): 39%
Conversions: 31%
Traffic: 13%
This means that social media engagement has a lot to do with site visits and conversions. Other metrics include reach (6%) and followers (2%).
If you're looking into building a social media strategy that works, check out SEJ's social media strategy guide.
Other Takeaways
27% of respondents spend an average of $51 – $300 on social campaigns per month, while 19% spend $0 – $50 and 16% spend $301 – $1,000
46% of respondents believe that businesses can be effective on social media without utilizing paid campaigns, while an equal amount say otherwise and the remaining 8% are unsure
Content Marketing
When asked what they thought the most effective aspect of digital marketing was, 56% said it's a balanced mix of content marketing, SEO, social media, and link building. However, among the mix, our respondents believe that content marketing leads the pack. In fact, 53% state they have a documented content marketing strategy.
Yet despite its popularity, digital marketers don't allocate a big part of their budget to content marketing. 24% of respondents spend under $50 a month, while 20% spend $51 – $300 and 17% spend $301 – $1,000.
On what types of content are most effective at bringing in qualified leads, blog posts top the list at 41%, with long-form content such as white papers and e-books coming in at a distant second (14%). Other content types include video (12%), webinars (7%), and podcasts (3%).
If you're struggling to create a content marketing strategy or don't know what really works, check out SEJ's content marketing guide.

Want to get a PDF version of Search Engine Journal's Annual Report on the 2017 State of Digital Marketing? Subscribe to SEJ's Newsletter and download it for free.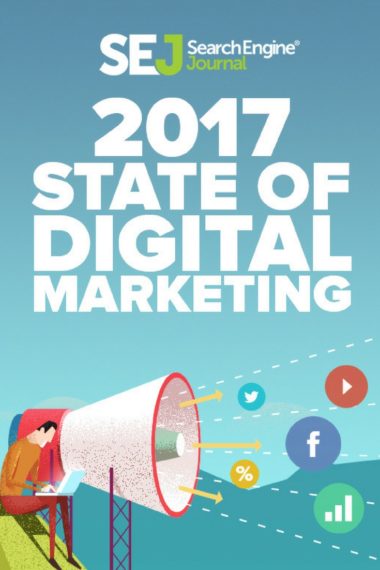 Image Credits
Featured Image: Image by Paulo Bobita
Infographic by Pixel Road Designs