The Internet is becoming increasingly cluttered.
In 2005, we were reportedly exposed to over 3,500 brand messages per day. Nowadays, that figure is closer to 10,000 (if not already higher).
5.3 trillion display ads are shown online each year, 400 million Tweets sent daily, and 4.75 billion pieces of content shared on Facebook every day.
This relentless stream of content makes it harder than ever for your message to cut through the noise and get attention.
And while there's no secret formula to creating content that gets shared, often the content that people share isn't random. By understanding some of the science behind successful content, you can increase your chances of success.
Here's our guide to breaking through the noise.
What is Content Overload?
There's been an explosion of platforms entering the market — from Facebook, Instagram, and Twitter, to Vine, Medium, and Snapchat — with each platform providing businesses (and consumers) unique tools to create and engage with content.
Companies of all sizes are using these platforms to engage with, advise, sell to, and service their customers. In fact, recent studies indicate that 94% of small businesses, 93% of B2Bs, and 77% of B2Cs all use content marketing.
That's a lot of content! With our limited attention spans, there's only so much we can take in. This means that most of the content out there is rarely seen — driving little, if any, value for the businesses who create it.
Looking to Stand out? Put the Consumer First
As more and more businesses begin to think like publishers and produce content, consumers have become bombarded — often relying on algorithms (like Facebook's Newsfeed) and curation services (like Nuzzel) to filter and show us what is believed to be most relevant to us.
In a world of content overload, 99% of content businesses produce goes unnoticed. It simply doesn't stand out. It's the middle.
If you want to stand out in a saturated space, you should focus on content that is genuinely adding value to your consumers' lives.
By caring more about how you enhance the consumers' lives, interests and enjoyment, you begin to build real, lasting connections between your business and the consumer.
Here are couple of examples of companies who put consumer interests at the heart of their content:
GoPro: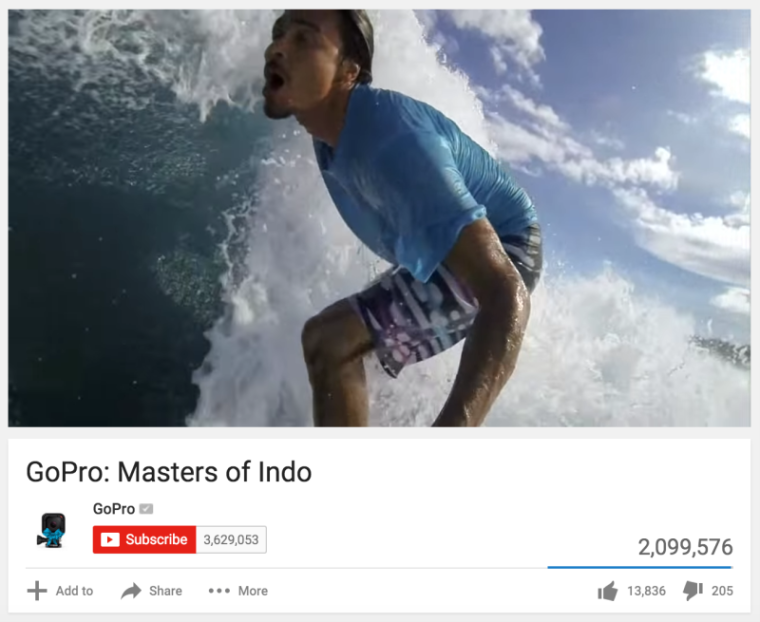 At Ad Age's CMO Summit, Go Pro's VP of marketing, Paul Candell explained: "We're not just a camera anymore. We're an enjoyment platform for people around the world to watch."
As a company, GoPro aims to inspire you to "Capture and share your world." To achieve this, they produce aspirational, short-form video content that, in turn, inspires their customers to capture immersive footage of their adventures.
As a result, more than 6,000 GoPro-tagged videos are uploaded to YouTube every day.
Help Scout: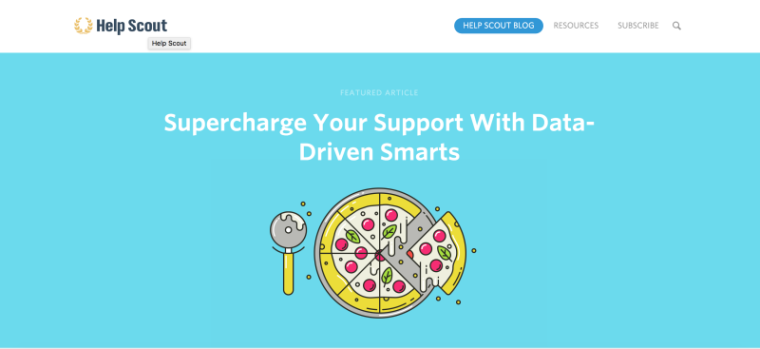 Help Scout is another company that focuses on consumer needs with their content.
As a customer service tool, Help Scout enables teams to efficiently collaborate and manage busy inboxes in order to deliver delightful customer experiences.
On their blog, they craft and share some incredible content for anyone who works in the customer support industry.
Their content is highly shared and respected in the customer service world and, as a result, they have grown a mailing list of over 57,000 subscribers who opt in to receive their content twice a week.
The Science of Successful Content
The best content marketing has the potential to far outperform the interruptive paid-for advertising models.
Examples of interruptive advertising models include Facebook or Twitter ads popping up in our feeds — or in a more traditional sense, TV ads interrupting our favorite shows.
Content has the opportunity to appeal to our hearts and build a direct connection with consumers by giving us exactly what we're looking for.
Whereas an advert may show a solution to a problem, great content can teach the consumer a solution.
I'd love to share with you three things we've discovered about the science of successful content and how you can use content to stand out from the crowd.
1. People Love Content That Helps Them Learn
One study from the University of Pennsylvania found that helping someone learn something new increases chances for your content to spread.
Even more so than being interesting or surprising, creating content that your target audience finds practical will help it to stand out and spread further.
2. People Love to Seem Smart
In 2012, Linkedin sent out an email to some of its power users letting them know they had "one of the top 5% most-viewed LinkedIn profiles".
This email led to an outburst of sharing by those who received it. Why did they share it? In short, because being a part of this exclusive group felt good (even though 20 million Linkedin members may have received this email).
Author and marketing professor Jonah Berger notes on his blog:
If a piece of content makes people seem smart, they're more likely to share it with their friends. And people like being the first to share information because it makes them seem cool and in-the-know.
3. Consistency is Key
Consistency is essential if you want to create content that grabs consumer attention and helps you to build an audience.
It's probably best not to put all of your eggs in one basket and hope for one big, viral hit. Instead, focusing on consistent content production can have a much better return for your business.
This piece of research shows that when it comes to blogging, traffic increases significantly after you write 24-51 posts.
There's no shortcut to consistency and, as comedian Louis CK says, results come from the work:
"I've learned from experience that if you work harder at it, and apply more energy and time to it, and more consistency, you get a better result. It comes from the work."
Three Ways You can Create Stand-Out Content
1. Do One Thing Well
A good strategy to stand out from the crowd is to focus on becoming known for something in particular.
It can be easy to think you need to be good at everything when it comes to content, however, less is often more.
Doing one thing well means that audiences know what to expect from you when they return to your website, blog, Facebook page, or wherever you create content.
One of my favorite examples of a company doing one thing well is Blendtec. They have a series of videos called "Will it blend?" – where they stick all types of different things in a blender. Their content has amassed over 269 million views and earned more than 8000,000 subscribers on their YouTube channel.
Here's an example of one of their videos:
Blendtec has built up a substantial audience and created engaging, sharable content about their product by focusing on one thing in particular – answering the question "will it blend?"
This highlights that if you can find the inner remarkability in any product, you can create great content that gets people to talk and share.
2. Create, Measure, Iterate
Data is an incredibly valuable part of any content marketing or social media strategy.
Before you create any content, try to think about who you're targeting and what success will look like – maybe you're after more page views, email subscribers, or sales.
Whatever you're aiming to achieve, having a goal will allow you to measure and iterate over time. By consistently monitoring the performance of each piece of content you share, you can learn and respond fast to what works, and what doesn't.
3. Follow Attention
Attention is a necessary ingredient for effective marketing. And in the crowded online space, attention is a commodity with a rising price tag, as a Harvard Business School paper explains:
The market for consumer attention has become so competitive that attention can be regarded as a currency. The rising cost of this ingredient in the marketplace is causing marketers to waste money on costly attention sources or reduce their investment in promoting their brands.
As attention becomes more scarce on established platforms, marketers have to spend more to reach their target market.
Take Facebook, for example: a couple of years ago Facebook organic reach was extremely high, whereas nowadays it's likely to cost you if you want to reach more than a small % of your fans.
To stay on top of your game, you always need to be ready to shift and go where people are spending their time. This approach could help you to grab consumer attention at the smallest cost.
A growing platform like Snapchat could present enormous opportunities right now and may even be a better place to focus time than the most crowded platforms like Facebook and Twitter.
Over to You
I hope you found this guide useful. I'd love to hear your thoughts on how to create stand-out content below in the comments.
What are your favorite brands to follow on social media? Which company blogs do you read? I'd love to hear what content stands out to you.
This post originally appeared on Buffer, and is re-published with permission.
Image Credits
Featured Image: Image by Ash Read
All screenshots by Ash Read. Taken January 2016.