Does your SEO strategy account for seasonality? If not, then your business could be at a disadvantage. No matter your industry, seasonality impacts SEO projections, allocation of marketing costs, and other business factors.
What Is A Seasonal SEO Strategy?
Seasonal SEO takes all the basic considerations of a traditional SEO strategy but then looks at ways to drive conversions based on themes and a finite time period.
There are basically two types of seasonal SEO strategies:
Time-based: Summer, winter, monthly, etc.
Event-based: Christmas, Thanksgiving, Donut Day, etc.
Factoring seasonal influence into your overarching SEO strategy can help your business align your content and distribution strategy to meet the needs of your customers. In turn, this helps drive more qualified leads and increase conversions based on the intent of your users.
For example, let's imagine we own a business that provides air conditioning repair services in Florida. Because not as many people need their air conditioner repaired during the winter months, it's safe to assume that seasonal influences drive the need for our services in the summer months.
Taking a quick look at Google Trends shows that March to September has the highest search volume.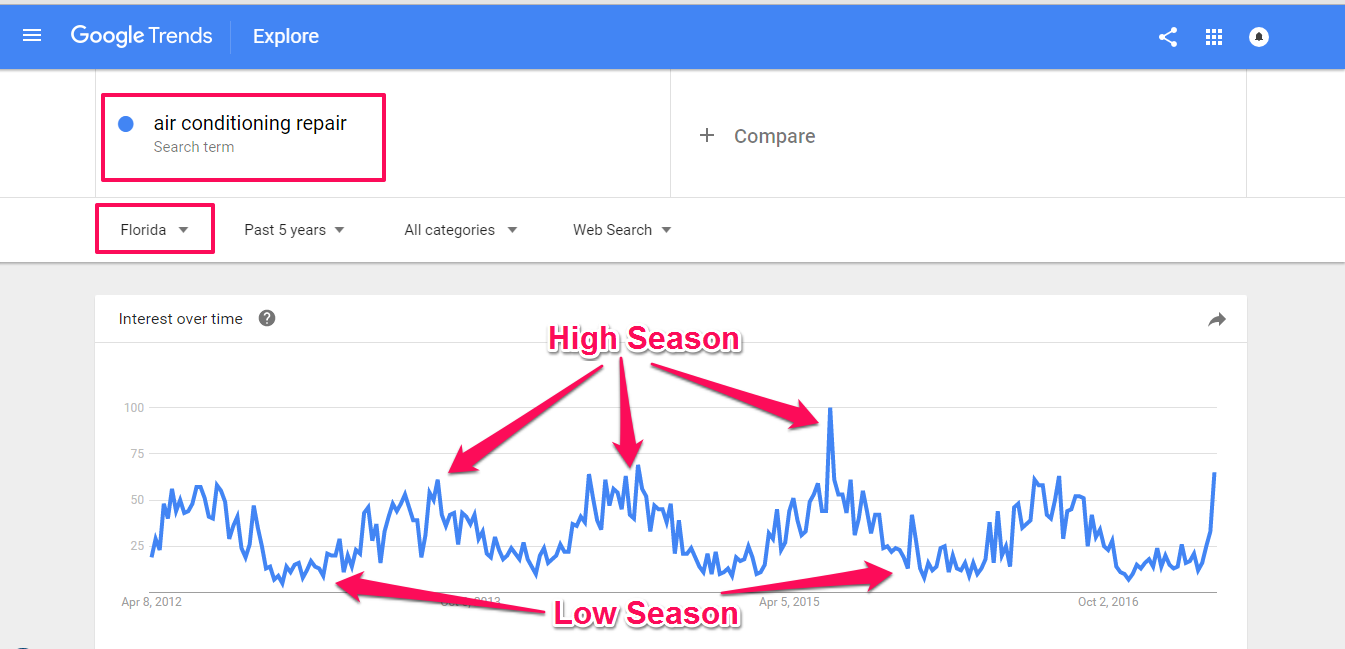 Seasonal SEO is simply leveraging these points of highest interest to help drive qualified traffic and more sales.
Why Seasonal SEO Matters
SEO is awesome for driving long-term success. However, if your business wants to capitalize on seasonal SEO, then you'll need to build a strategy to generate results in a short timeframe.
Customizing content production and optimization based on seasonal weather and relevant holidays is a great way to boost conversions and open new revenue streams. Though you won't be able to use seasonally-based content year-round, optimizing your content and overall SEO strategy to match the needs of your customers for specific seasons can pay off for your bottom line.
Seasonal content provides several benefits for your business, including:
Meeting specific needs of your customers
Higher conversions since user intent are specific and immediate
Can be used each year and offers data to drive upsells and cross-selling
Timing & Launching Your Seasonal SEO Strategy
Because content can take a lot of time to plan, create, optimize, and publish, your entire marketing team should discuss seasonal SEO strategies for the upcoming quarter. While this time period varies by industry and other factors, you should usually prepare three to four months ahead of time to ensure your message is planned out.
Your team needs to prepare and follow a plan if you want to capitalize on seasonal content. There are lots of moving parts.
Here are a few of the necessary steps to prepare for a seasonal SEO strategy:
Think about the dates, events, etc. that you want to build your campaign around.
What promotions will you offer?
What message will you use for the offer and how does it relate to the season?
Perform keyword research around the chosen promotions.
Plan, create, optimize, and publish content for select marketing platforms and channels.
Create supporting content like landing pages that are optimized for your seasonal keywords.
How to Prepare Your Site for Every Season
1. Review Previous Years' Data
One of the first places you should go to find opportunities for your seasonal SEO strategy is to look at year-over-year data from Google Analytics or other data sources. This information can show when you can expect a shift in the market.
Not only does this data give you a heads-up approach to building a successful seasonal SEO strategy, it also provides you with a starting point to improve your campaign performance heading forward. You can use existing performance as a baseline to improve on your previous year's strategy so you can see an incremental improvement for a set time frame each year.
Once you know when your peak seasons are, you can build a strategy based on proper timing and content production. Look at similar analytics platforms for each channel you plan to integrate into your overall marketing effort.

2. Timing Is Everything
Your team will need enough time to develop your seasonal SEO strategy. Looking back at our example of an air conditioning repair company, we can see interest in these services spike between March to September.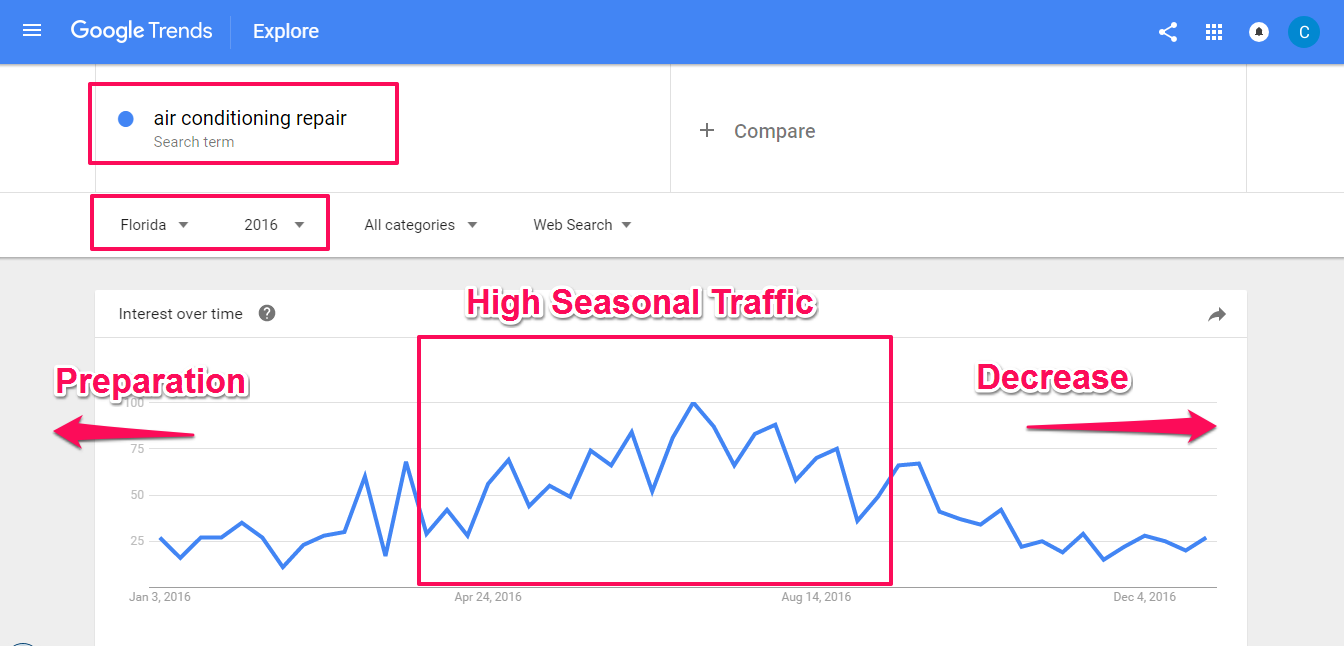 To pull this off properly, our air conditioning repair company will need to segment out the months leading up to, during, and following the peak season months. The main segments of these time periods include:
Ramp-up Period: This period will include a few months leading up to the high season, during which time we'll want to increase brand awareness. Our marketing message could be centered around people checking their A/C unit for repairs and other preventative benefits for homeowners.
Engage Period: The months of March through September will be our busy season. We'll want to focus our messaging around fixing your A/C today. We could also present information telling homeowner that their A/Cs might not be working perfectly, could be costing them money, or might be impacting their family in other ways.
Slow Down Period: Following the high season months, we'll want to begin transitioning our SEO strategy away from the high-octane approach used during the peak season months. This period should begin transitioning the message towards other products or services. We could also reallocate time and resources to heating repair in another state/region if appropriate to our business goals.
From this example, we can see that planning and coordination need to take place well in advance of any content launch. At the same time, our message and seasonal promotions change based on the needs of our customers and our business goals.
3. Create a Content Calendar
Now that we have identified a general sense of peak interest in our air conditioning repair services, we should work on creating a content calendar for those periods. Basically, a content calendar is where you plan out your content for email marketing, social media, blog posts, and website content.
While it sounds basic, a content calendar is a framework you can use to tell the ongoing story of your business. Customer journey mapping is part of creating a detailed content calendar, and as you build out the content calendar, always remember who your customer is and how they will consume your content.
This calendar will also help line up all of your content and channels together so you have a clear tone, voice, and direction.
Create a yearly calendar with all relevant holidays, events, special occasions.
Create a plan around each event.
Create a strategy around each channel: organic, paid, social, email.
Prepare all content in advance.
4. Keyword Research
To ensure you attract the most qualified traffic, you should diligently research the right keywords based on what your audience is looking for.
Long-tail keywords work best for seasonal SEO strategies. Although long-tail keywords have lower search volume, they are more contextually relevant for the needs of your customers.
Here is an example outlining a sample keyword list based on the time period.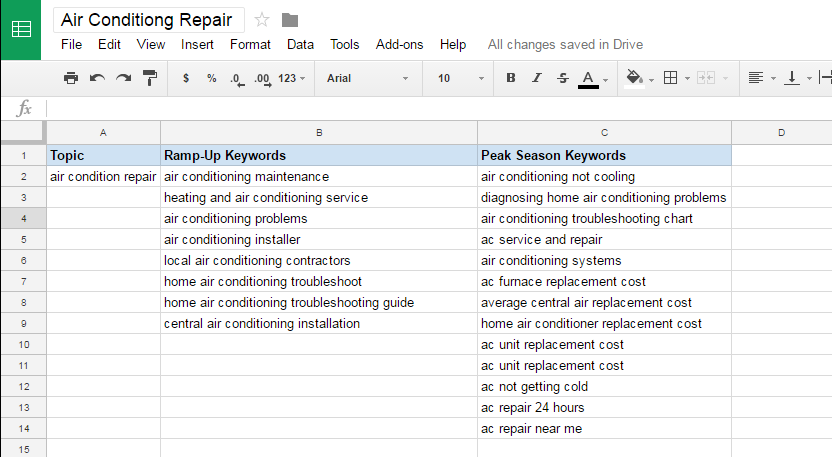 If you're running a seasonal SEO strategy on a budget then you should focus your time and resources on your local/regional customers. You will be able to see better results and decrease your expenses if you focus your SEO strategy on your local/regional customers.
5. Optimize On-Page Experience for Conversions
Now that our air conditioning repair company has a good idea about the timing, content, and keywords, you will need to optimize your website for conversions. We will want to create unique landing pages for each seasonal campaign that our business can reuse each year.
If we want to focus on the ramp-up period for air conditioning repair, we will want to create special messaging to display between January to March. This landing page should have a message about "get your A/C checked before it's too hot" or we could even run a special for pre-season check-ups.
Navigation menu: Updating your main navigation menu to promote the key products and services your customers are looking for can improve UX and help drive your customers toward the solutions they're looking for.
Landing pages: As you build out your content calendar for different channels, consider creating and optimizing specific landing pages for each offer. This will improve your conversion rate and keep your message together across your entire marketing strategy.
Customized CTAs: Avoid generic CTAs for special landing pages and other content for your seasonal SEO strategy. Instead of a boring "Call Now" CTAs, our air conditioning repair business could use more creative CTAs like "Don't Sweat It. Call Today!" or "Keep Your Family Comfortable Now!"
Focusing on various aspects of your customer's experience will help you align your website content with other marketing initiatives. This will help you increase conversions and help your business reach your goals.
Seasonal SEO: The Bottom Line
Every business is influenced by seasonal fluctuations, but you can drive your bottom line and grow your business with some simple planning. By identifying when your seasonal fluctuations occur, you can plan, create, and optimize content specifically for your customers.
Great content based on the seasonal needs of your customers will help you influence search traffic and better position your business to maximize ROI with a smart seasonal SEO strategy.
Image Credits
Featured Image: Depositphotos
Screenshots by Chris Giarratana. Taken April.