Want to learn how to write content that brings you consistent organic traffic for months, years, or even a decade?
The secret?
It isn't about being trendy.
It also isn't about volatile topics and clickbait.
It isn't even about packing in 10 or 20 more hours a week to create a higher volume of content.
The real magic boils down to two words:
Evergreen content.
In this post, you'll learn:
What evergreen content is.
Why should you care about it?
And, most importantly, how you can create it.
What Is Evergreen Content?
Evergreen content is content that never goes "out of style."
It's the opposite of news or trending content.
Evergreen content is high-impact, foundational, in-depth content with a lifespan of one or two years for many industries.
Let's look at examples.
When you search on Google for the keyword "Facebook stats 2020," you get this.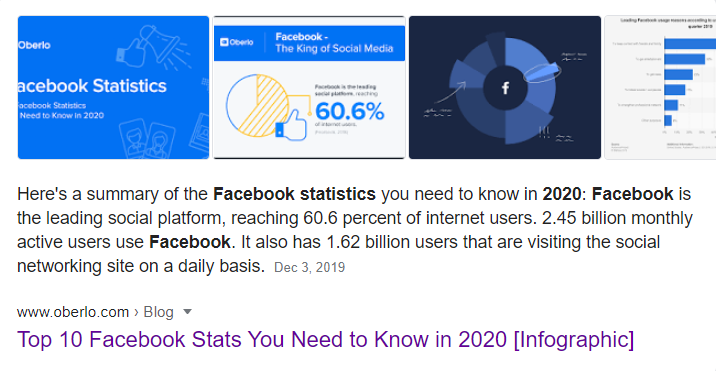 Oberlo's piece ranks #1 for this keyword, so you can imagine the organic traffic they get for it.
But the question is, for how long?
In 2021, will anyone be searching for this keyword?
Nope.
On the other hand, look at this example.

This piece ranks #1 for the keyword "the importance of health."
As you can guess, this topic will never go out of date because humans will always care about good health.
But before we move on, it's important to note the difference between evergreen topics and evergreen content.
Evergreen Topics
Evergreen topics are topics people will always be interested in.
Here are three examples:
How to start a business
How to gain the perfect beach body
Unhealthy food
No matter how the world changes, the human race will always want to gain an extra source of income, look fit and attractive, and avoid dangerous health issues.
Evergreen Content
On the other hand, evergreen content is content that focuses on an evergreen topic without becoming outdated.
For example:
How to start a business with no capital
10 workouts for the perfect beach body
20 foods you should never eat
Remember to incorporate both in your content creation.
Why Your Blog Won't Survive Without Evergreen Content (Unless You Post 10x a Week)
Myth: You need to post 10x a week to receive a steady stream of organic traffic to your site.
But the truth is, content creators who focus on trending topics and content do have to go through this rigorous exercise just to maintain their organic traffic.
For example, look at this post from The New York Times.

On November 9, 2016, traffic to this new post spiked. The whole country was keyed up to find out the results of the presidential election.
But a week later, when people generally accepted the Trump victory?
That's right. Traffic to this post flat-lined.
This is why The New York Times posts multiple pieces of content per day.
Which is all great if you're a giant company focusing on news and current events and opinions.
If you're a regular marketer and content creator? What you need is evergreen content.
With evergreen content, you'll get:
Consistent traffic. People will always search for your content, so you'll always get traffic.
Savings on time and energy. Once you post your evergreen content, it'll remain relevant for years. Thus, you don't need to break your back typing up tons of content per week.
Why Evergreen Content Is an Invaluable Resource for Any Type of Business
The web is flooded with low-quality information with very little or no practical value.
In this context, many budget-conscious companies decide to take the easy (and cheap) way out by lowering their quality standards and crafting and delivering thin content that doesn't resonate with the necessities and demands expressed by readers.
Instead of making the same mistake and suffering the consequences of your actions, you should focus on producing evergreen content that will always do your brand justice.
As its name suggests, evergreen content is timeless.
It displays the highest quality and usually represents the definitive, canonical content piece that a business has and promotes on a given subject.
Any player operating in any sector can create a fair share of timeless, evergreen content.
Here are the three main benefits evergreen content offers.
1. It Ranks Well in Search Engine Results
Naturally, optimization is one of your top priorities when it comes to creating Google-friendly content.
If that's the case, you should know that aside from having a long shelf life, evergreen content also ranks well in search engine results due to its timelessness.
To maximize its potential, you would just have to perform optimal keyword research and make sure that your content is properly optimized for the keywords that you're currently targeting.
2. Generates Leads for the Longest Period of Time
Evergreen content also has the ability to generate new leads over a long timeframe.
Many reputable sources credit day-to-day leads to high-value articles that were published years or months ago.
As impossible as it may seem, in the era of perishable content, evergreen masterpieces can help you stay active and relevant in your industry, regardless of its particularities.
3. Keeps You in the Public Eye without Making You Seem Outdated
Some types of content revolving around a subject that will never change can easily stand the test of time and guarantee your success.
Topics such as "How to Set Up a Facebook Business Page" or "10 Solutions to Common Problems That You'll Encounter in Your Business Environment" usually contain information and guidelines that can resist new trends and changes.
How to Create Evergreen Content
Now that you're convinced of the awesomeness of evergreen content, the next step is to learn how to create it.
Here are three great tips.
Do Keyword Research to Find Evergreen Topics
Keyword research is key – especially when it comes to tackling a topic that is generous enough to be compatible with a long-form article or blog post.
Use keyword research tools like SEMrush and KWFinder to find keywords with high search volume over a long period of time.
These keywords are your evergreen topics!
Also, don't neglect keyword research and the importance of a deeper understanding of your audience; both aspects could help your new piece rank better and respond to your readers' problems in a more effective manner.
Optimize Your Content Creation Process
Determine the ideal structure for your content piece enabling you to introduce your ideas in a logical manner.
Figure out when and how often you should revisit and adjust each evergreen content piece; if you have a lot on your plate and wish to stay organized, you may want to create an editorial calendar and document all these changes.
Add internal links to support your SEO efforts.
Eliminate grammar/spelling errors.
Assess the quality of your post and keep in mind the fact that each content piece should be uniquely valuable, instead of being a poor reflection of your previous work.
Create Content Your Audience Will Miss
It isn't enough to create "good" or even "great" content.
You need to create the kind of content your audience can't find anywhere else.
The content they'll miss when you post a day late.
Content that people will miss, if ever you decide to quit creating it.
The kind of content that beats the crap out of all its competition.
You know the kind.
Once you create it, it'll remain relevant for a long time.
Avoid News, Trending Topics & Dates
News grows stale overnight.
And if you write a blog post based on the latest "Star Wars" trilogy, it'll get old as soon as fans are over the hype.
Also, avoid words and phrases like "2020," "last year," and "a few months ago."
Keep Promoting Your Evergreen Content!
There are countless ways in which you could increase your exposure through long-form content.
Email newsletters and social media platforms offer you the most fertile ground for a flawless distribution and promotion.
Even when you have a lot to say, you can still come up with a social media-friendly, pared-down message by pulling out interesting sentences or statistics.
You could also make a short video introducing your topic or create a bunch of related images that could support your content and make it more palatable.
For more ideas, read: How to Promote Your Old Evergreen Content: 5 Tips.
Is Evergreen Content Really Possible?
Good question.
The answer is yes. And no.
Nothing is really 100% evergreen, because much of the world is constantly changing.
For instance, even your post on "how to start a business without capital" can get outdated as new discoveries and strategies emerge.
A post on SEO will change as Google releases new algorithms.
But don't worry.
When you write evergreen content, all you need to do is tweak your posts every year or so.
A tiny refresh is all that's needed for your content to be relevant again.
Here's how you can do it.
1. Check on Your Stats & Links
Go over your content and update your stats.
Click on each of your links to see if they're still working.
Remember, Google notices outdated stats and broken links.
So does your audience.
2. Review User Search Intent
Search intent is the reason behind every online search.
Everybody who types keywords into Google's search bar is looking for something, and it's your job to fill in that need.
The thing with search intent is it changes over time.
If you want to keep your content fresh, make sure it always targets your audience's current search intent.
3. Ask Why You're Being Outranked
Is your content falling behind to other awesome posts?
Ask yourself why that's so.
How is their content more amazing than yours?
What does their content have that you lack?
Improving Your Google Rankings with Awesome Evergreen Content
As a content marketer, you want to create content that gains a ton of links and ranks on Google for years.
And you don't want to spend every minute of your life writing, producing 10 or 20 posts per week.
The secret balance to it all?
Evergreen content.
Evergreen content is content that lasts "forever," constantly and consistently gaining you coveted links, organic traffic, and a huge and dedicated following.
Most brands assume they don't have enough time, resources, and/or cash to produce and distribute evergreen content.
But here's the thing:
Evergreen content is the most valuable asset you can generate and use even – when your options are limited by a tight schedule and an even tighter budget.
More Resources:
---
Image Credits
All screenshots taken by author, April 2020