Mobile in recent years has been a sort of side panel at search marketing conferences but here in mid 2010 I feel for the first time it has been truly welcomed as a full fledged participant.
I just completed a short week of bi-coastal search conferences, Affiliate Summit East in New York City & SES in San Francisco, speaking on mobile search as the interest from the audience was well beyond that of any mobile sessions I have been at previously.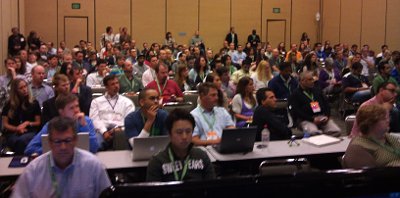 Before mobile seemed to be just a curiosity in search but now webmasters are looking at the vast increase in traffic mobile is producing and want action items to further tap into it.
I believe this is now happening, in no small part, to Android becoming a dominant player in the mobile space this year.
At Affiliate Summit the interest was more about how to monetize your mobile presence, by not just exploring the ad platforms offered by Google Mobile Ads, iAds & Jumptap but also what appears as a great affiliate mobile location program sweetspot with OpenTable, SpaFinder & Restaurant.com.
Then at SES San Francisco the interest was more about getting an SEO edge in mobile search which leans heavy on location indicators beyond standard SEO practices plus proper mobile rendering.
Mobile search algorithms will be changing dramatically, from where it is now closely mirroring standard search, as its this logical mobile preparation which will put you ahead of the competition when it happens.
Thus no longer are mobile sessions about whats happening next year but what you should be doing now.
This mobile prominence in search is further evidenced by SMX East having a quarter of its sessions focusing on mobile & PubCon having multiple mobile sessions for the 1st time ever this year at the Las Vegas show.
Are you interested in attending mobile marketing sessions at search conferences?
If so, what are you looking to get out of them as true actionable takeaways?