The Interactive Advertising Bureau and Price Waterhouse Coppers's IAB Internet Advertising Revenue Report for 2009 is showing some quite interesting findings regarding the comparison of online ad spends and search spending.
Search Ads topped the spending over the past year, comparing Q4 2008 & Q4 2009. According to the report search advertising revenue grew slightly from 45% in 2008 to 47% in 2009. This is despite the fact the overall U.S. internet advertising revenue went down 3.4% at $22.7 billion in 2009 (but again, increased in Q4).
In a nutshell, search rules!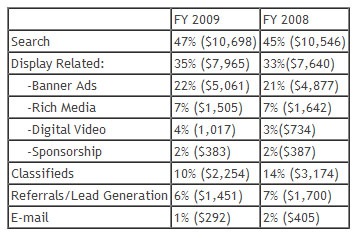 So, while overall spending decreased, online search & display ad spends increased 🙂
Thanks to an upsurge in spending during Q4 2009 (a good sign), the overall increase in internet ad revenue increased. If the recent couple of months are any sign, this increase is not ending anytime soon. I do not know about every particular search marketing firm or consultant, but we are busier than ever and the end does not look like it's in sight!
Other interesting findings of the IAB report:
Display-related advertising—which includes display ads, rich media, digital video and sponsorship—totaled nearly $8 billion in 2009, showing an increase of 4% from 2008.
One component of display-related advertising, digital video, continues to experience robust growth, with an almost 39% increase from 2008 to 2009.
These latest revenue figures underscore the significant share shift taking place from traditional media to digital. Based on industry data from PwC from 2005 to 2009 in five key U.S. ad-supported media (television, radio, newspapers, consumers magazines and Internet), the Internet's share of combined ad revenue grew from 8% to 17%.