As most of us know, Scribd is the most popular document sharing site available, with over 50,000 uploads each day. With that being said, Scribd clearly has established its authority and web presence. The high online activity makes Scribd ideal for marketing purposes. Why do we want to market through a site that is based on sharing documents? Document sharing is a great way to promote brand awareness, bring eye balls to your content & marketing collateral and increase link building.

Most businesses have flyers, brochures, and other marketing content around their offices and other places offline. Today, most of society operates online. It is extremely important to make all of your marketing materials available on the web. Scribd makes uploading all of your documents a simple task.
Reasons to love Scribd:
It's free
Gain exposure to search engines
Track reads and downloads
Build business relationships
Document sharing available via direct link or embed
Unlimited uploads of most file types
Bulk upload tool for desktop
Social networking with Twitter opportunity
Page fragment caching
The point of Scribd is the ease of access to documents. Scribd allows us to simply browse and click opposed to download. Uploading is extremely manageable. When a document is uploaded, you have the option of choosing a category, a subcategory, and numerous tags in addition to title and description. One of my favorite features of Scribd is the bulk uploading tool for your desktop. It is free and downloads quickly. The desktop tool allows people to upload as many documents as necessary without ever having to go to the Scribd website.
Instead, click the Scribd icon on your desktop and enter you Scribd user name and password. Once you are recognized, you are able to select documents and assign description,titles, and tags to each right from your desktop. Keep branding in mind when creating titles and description. Once you are done uploading and editing, the documents will become available for viewing on Scribd immediately. All documents can be saved for editing and published at a later date. You can also add file subsets for organizational purposes within Scribd.
Sharing is simple too. Take any document off of Scribd and insert it into any website without worrying about the file type. If you have a blog, embedding documents is something that could be very beneficial. When you are looking at a document in Scribd, you will notice the share and embed option in the upper right hand corner.

After you click that, you will be given the embed code.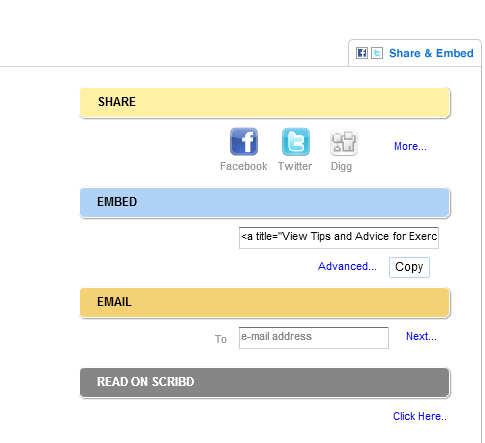 Copy the code provided and paste it into your website or blog. It will then be published and appear the same way it does on Scribd.
Scribd Analytics : Eyeball Metrics
I created a new Scribd account and uploaded 40 PDF's within the last 20 days. I already have 1,130 total reads and 35 downloads. I know that because Scribd keeps me updated on my stats. Basic stats appear on the homepage but if you click on them, you will be provided with a more detailed description in both bar graph and line graph charts including favorites, downloads, comments, and reads.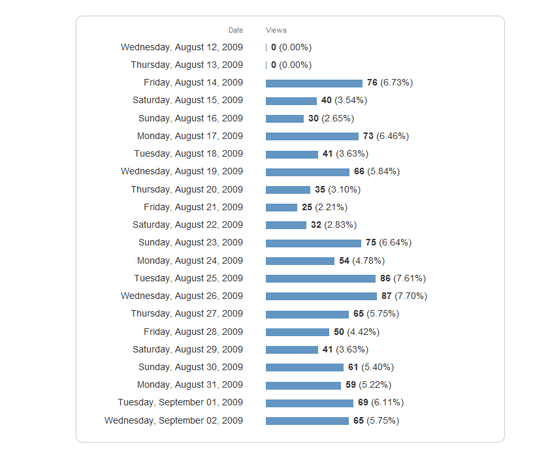 It is important to comment on documents within your niche. The goal is to encourage people to review your documents and possibly respond back. Scribd is a great place to stay connected through networking with the intentions of increasing viewership and brand awareness. Scribd has recently gone social. Like Facebook, there is a section for updating your recent activity. Also, Scribd offers a way to sync all of your uploaded documents to your Twitter account.
This is cool because all of your Scribd activity will be reported automatically through tweets and since you never have to actually sign into Twitter very little effort is required but the results are rewarding. Recently, Scribd created an E-book store for those interested in selling their documents. DocStoc is another document sharing site that offers many of the same opportunities as Scribd. It is not as popular but for those of you who may be interested in a professional document sharing site, DocStoc is a good one. It has categories such as legal,business and financial. The online community is not as large as Scribd but the site is proficient and easy to use.