Scholarship link building is a good strategy for acquiring .edu backlinks.
It requires serious time and money (the scholarship award itself), but the payoff can make it well worth it.
Today, I'll cover this strategy, which has been around for a while, yet often is overlooked.
Why Do Scholarship Link Building in the First Place?
Scholarship link building offers many advantages, including:
Backlinks from high-DA, authoritative .edu websites
User-generated content for your website.
Clearly-defined target list with easy-to-find contact information
Efficient, templated outreach
Brand goodwill among your local community, industry, and customer base
The caveats: Naysayers argue that scholarship link building is akin to paying for links (since you're offering money in the form of a scholarship). However, as long as you create a legitimate scholarship offering, fairly choose a winner, and pay that winner, I really don't think that's something to worry about.
Also, as with most link building efforts, some of your efforts will result in no-follow links, social media shoutouts, or unlinked mentions. Even so, scholarships are a valuable way to build mentions and links from .edu websites, as well as brand awareness and goodwill among clients, partners, and customers.
Here's your step-by-step scholarship link building plan.
Step 1: Define Your Goals
Like any other marketing campaign you undertake, your scholarship should have a purpose. Besides those sweet, sweet .edu referring domains, what are your secondary goals with this scholarship? Your goals will dictate both the form of your scholarship submissions, as well as the extent of your outreach.
Here are a few examples of common scholarship link building goals, as well as the pros and cons of each:
Goal #1. Written Content
Let's say you want to create some user-generated, keyword-rich content for your blog. Offer one or more essay questions for students to choose from, that revolve around topics related to your business.
Pros:
Lots of written content you can repurpose on your blog.
Traditional scholarship option with a low barrier to entry, so you'll get plenty of submissions.
Cons:
Plenty of submissions means a lot for your team to read through.
Unoriginal scholarship option keeps your brand from standing out.
Goal #2. Video content
Video is taking over the internet. Get help meeting demand by asking students to create videos around topics your audience is interested in.
Pros:
Higher barrier to entry than written essays, so lower risk of submission overload for your team.
Original video content for your social media channels and website.
Cons:
Lower amount of responses gives you less content to work with
Video takes time and resources for students to create, so you'll need to offer a higher scholarship amount in order to get submissions.
Goal #3. Brand Awareness
If you want visibility above all, find a way to incorporate social media or outreach into the scholarship. Set up a publicly accessible voting landing page for the submissions to drive site traffic and social shares. Or, require students to engage with others in creating their content, such as requiring interviews.
Pros:
Public voting removes the burden of choosing a winner from your team.
Like any sort of contest, this approach drives site traffic, social shares, and general chatter.
Cons:
Some of that chatter can be negative.
Setting the scholarship up as a voting contest comes with more legal considerations, so make sure to consult your legal team first.
Goal #4. Local SEO
For local businesses, it often makes more sense to localize the scholarship to your city or state. This appears more genuine to the schools, your customers, Google, and the press, all while making the project requirements more manageable for a small marketing team.
Pros:
Higher backlink success rate, which will be highly targeted and specific to your area.
Area focus makes it easier to get local press pickup when you choose a winner.
Cons:
Limiting the scope means you'll get fewer backlinks overall, as well as less content to work with.
Step 2: Publish Your Scholarship
Once you've decided on your goals, create your scholarship materials and post them on your website.
This includes:
Your scholarship landing page that explains the scholarship in detail. Provide a general overview of entry requirements (such as undergraduate only, specific to certain majors, word or time limits on written or video submissions), what the reward is (typically a monetary amount, specified for use on tuition or related expenses), and the submission deadline.
The legal stuff, ideally linked to or included on the landing page itself. This is a clear and accessible submission requirements document that's been reviewed by your legal team and includes all the eligibility information in detail, as well as an explanation of the judging, deadlines, and other considerations for your scholarship. Many schools will double-check for this specifically before they decide to post your scholarship.
Once you've got your public documents ready, you need to create the backend items. This includes your target list of schools, your outreach emails, and your tracking documents.
Step 3: Build Your List
One of the many wonderful things about scholarship link building is that the list creation is significantly easier than with other forms of link building. Most schools make their financial aid page easy to find, so all you need is a list of all the schools in your target range.
SEOM Interactive has a great list of all of the U.S. college websites, which conveniently includes a version for Google Sheets.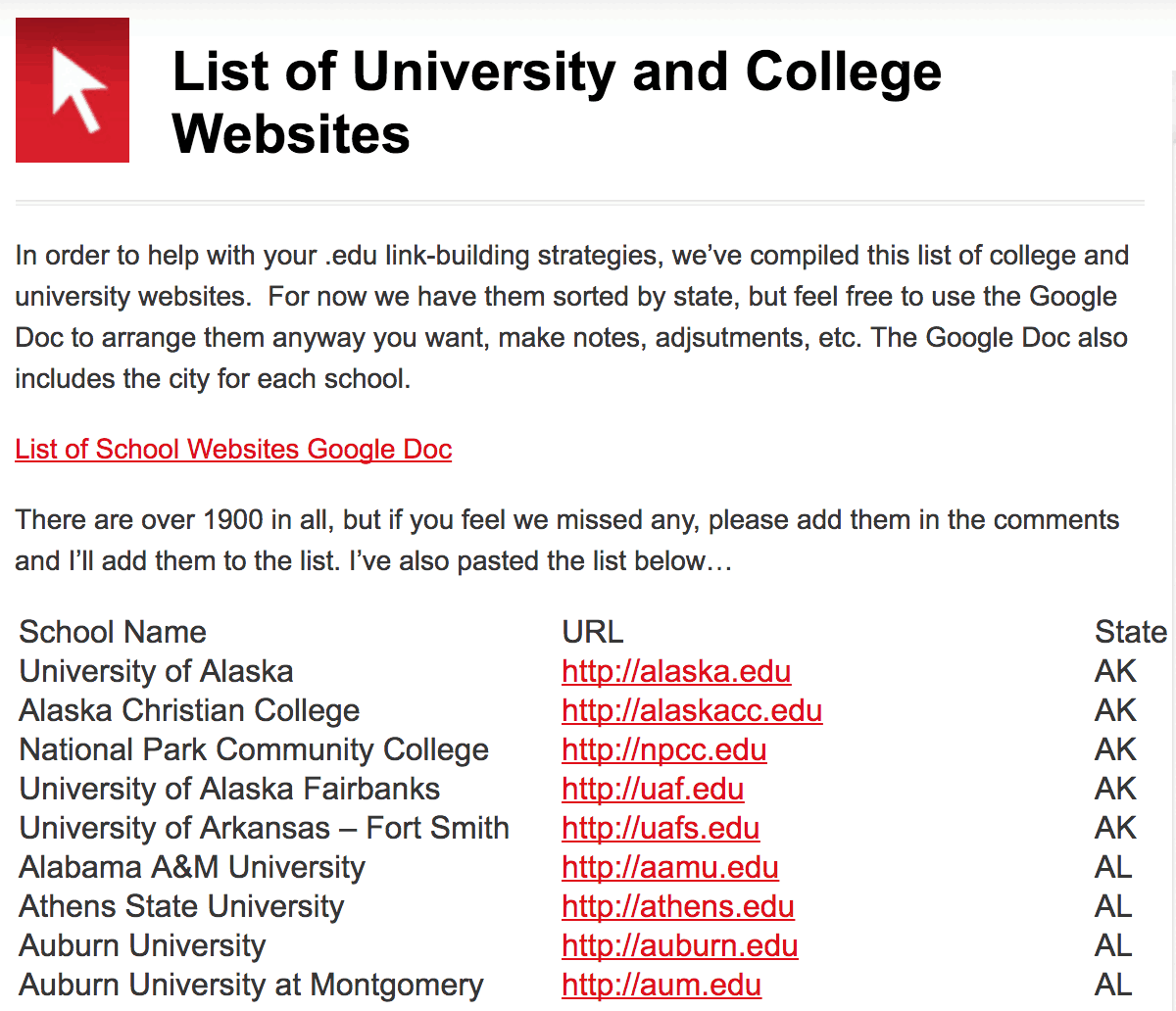 Download their list and remove any schools you won't be reaching out to, if you chose to limit your scholarship to certain states, locations, or majors.
Besides the universities themselves, you'll also want to reach out to general scholarship websites like Fastweb.com and Scholarships.com.
Step 4: Prepare Your Outreach Email
This is another area where scholarship link building shines. Everyone agrees the most successful outreach is personalized, but in the case of scholarships, the message is fairly transactional: schools either post scholarship information or they don't, and there's not much you can do to persuade them otherwise. That means you can sit back, relax, and use a template.
When financial aid offices read your email, they're looking for a few things that make them decide whether to post your scholarship:
Are you courteous?
Is the scholarship information easy to find and complete?
Do you seem legitimate and trustworthy? (Sadly, many companies post scholarships for backlink purposes without the intent of ever paying them out. I heard this from several financial aid folks over the years as a reason for why they changed their policy and stopped posting outside scholarships.)
Your job is to make your email as short and as clear as possible while presenting all the required information they need to post your scholarship. Here's a sample template you can use:
Dear [School] Financial Aid (or refer to the person by name),

We are excited to announce our company's annual [$$ AMOUNT] scholarship, which is available to college students of all majors who … [BASIC DESCRIPTION OF SCHOLARSHIP, such as "answer the essay question, submit a video, etc"]

For your convenience, here is the link to the application page on our website: [URL TO SCHOLARSHIP LANDING PAGE]

Would you please share this with your students? Eligibility and application details are included below.

Applicants must be currently enrolled at an accredited 2-year college or 4-year university during the 20XX-20XX academic year. Students of all majors are encouraged to apply.
One student will be selected to receive [$$ AMOUNT] in scholarship funds based on [BRIEFLY DESCRIBE SELECTION PROCESS HERE, such as "their winning essay responses/video submission/etc"]

Scholarship funds must be used to pay for qualified expenses, including tuition, books and on-campus room and board for the 20XX-20XX academic year.

To enter, applicants are encouraged to send their submission to [company email or submission form], along with their name, college/university, expected year of graduation, and intended major.

The deadline for submissions is [DATE]. The winner will be notified individually and announced on or around [DATE].

I hope that you will include our scholarship on your website and make it available to your students. Again, here is a link to the application page: [URL TO SCHOLARSHIP LANDING PAGE]

Thank you!
This email gives all the essential information, so the recipient can either simply copy and paste your landing page URL, or all of the basic requirements plus your URL, depending on how they format their scholarship page.
Step 5: Perform Outreach
Now it's time to actually build links!
Return to the outreach document you built in step 2. You'll use this to track your outreach efforts and link acquisitions.
Add more columns for:
School information (name, domain, and financial aid URL)
Contact information (financial aid person's name and email)
Outreach notes (dates of outreach as well as status: linked/declined/other)
Link metrics (backlink URL, DA, date link acquired, and anchor text)
Here's an example I created using the SEOM sheet:

I recommend performing three rounds of outreach. After the first outreach, you can shorten your message by cutting it off before the bulleted list of eligibility information.
Once a school links to you, make a note and stop sending outreach. Do not rely on the school to tell you when they've linked, as financial aid offices are often overbooked and understaffed. Instead, do your own monthly check before each subsequent round of outreach to see who's linked.
Step 6: Select Your Winner(s)
Once the links start coming in, the submissions will start soon after.
You should expect them to come in at a steady clip right up until the last week before the deadline, at which point you'll receive an avalanche, so prepare and schedule your team accordingly.
In my own experience, we've received between 30 to 50 percent of our submissions in the last week. Procrastination at its best!
To stay organized, I recommend creating a folder in Google Drive to house all of your submissions, as well as a separate Google Sheets to keep track of them as they come in and list key information about the students, such as:
Name
School
Major
Form of submission (i.e., if you offer multiple essay questions)
Other requirements (e.g., a school transcript)
If your team will be judging the responses, add additional rating columns to help you fairly score and choose a winner.
For example, if you required videos, you might judge them on relevancy of the content, quality of the video, and originality. You'd create separate columns for each of these and assign a rating system, like 1 to 5, and then average those out to find your winners.
After you select your winners, it's time to share the good news! I've personally enjoyed doing this as a phone call because you get the chance to hear how happy the student is to have won. Then I follow up with an email to document things and organize the payout.
Step 7: Promote for a Few More Links
Finally, celebrate the winning student(s) via your blog, social media, and press release.
Scholarships are a perfect press opportunity for brands. You're giving back to students in need.
Plus, it's yet another way to earn more links from local news stations in your area, as well as the hometowns and college locations of the students.
Besides sharing the story of the winners themselves, you might have interesting metrics to present, such as how many different applications were received and from how many schools and majors (thanks to those additional fields in your submission tracker from step 6).
Then, you can reference this press release in next year's outreach email to further solidify the legitimacy of your scholarship and earn links from more schools.
Conclusion
Scholarships offer you an opportunity to garner .edu referring domains, obtain original content for your website, and provide a real value to students who need help paying for their education. They're great for SEO, and for your brand.
More Link Building Resources Here:
---
Image Credits
Featured Image:Wokandapix/Pixabay.com
Screenshots by Amelia Willson. Taken December 2017.