This is a sponsored post written by SEMrush. The opinions expressed in this article are the sponsor's own.
SEMrush is well known by over a million users for its vast amount of data and powerful SEO toolkit. To help digital marketing specialists grow their businesses, SEMrush is taking another big step by launching a beta version of its brand new Lead Generation Tool, which allows digital marketing agencies to generate and embed on their website a free SEO audit widget to attract more potential customers and generate more leads.
Brand New SEMrush Functionality
Created especially for digital marketing agencies and independent SEO consultants, this brand new SEMrush feature automates the lead-generation process. The tool allows you to create and embed a customized site audit widget offering visitors a free SEO audit report in exchange for their email.
This SEO audit report will be created using the SEMrush Site Audit — a powerful site auditor that checks websites for over 40 on-page and technical SEO issues. The report shows information about website's Health Score (a metric that takes into account the number of issues found during the crawl compared to the number of performed checks), the number of crawled pages and a quick overview of the most common issues found on the website.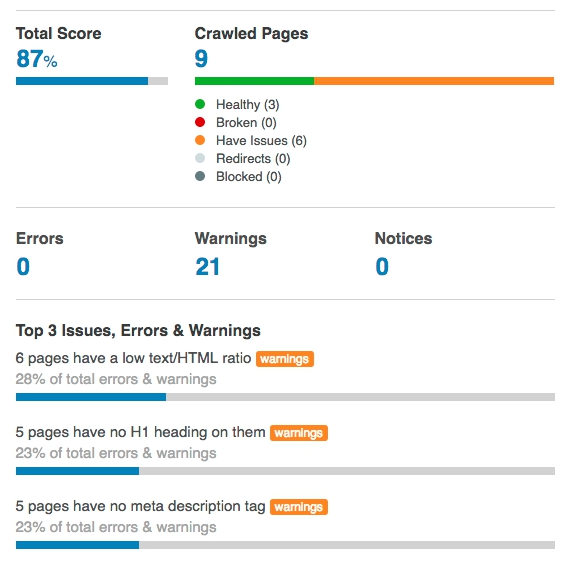 The widget generation process is quite simple and can be configured in minutes. All of the widget's text elements can be customized; you also have the ability to choose the color of each element. Whenever a website's visitor fills out the form, information about the new lead will be emailed to the specified address and will also be available in SEMrush Lead Generation Tool report.
For years as SEMrush was developing, billing policy has remained the same — there is no extra charge for any newly released reports and tools, and the Lead Generation tool will also be available to all existing paid users. While the tool is in beta, all users with paid accounts have an unlimited number of site audit reports available.
Join the SEMrush User Advisory Board
The SEMrush Lead Generation tool is now in beta, which means that the functionality of the widget, as well as the provided SEO audit report, may change, and all SEO community members are welcome to share their requests for the future tool's improvement.
Maria Belkina, Product Owner at SEMrush:
"All of SEMrush's tools and reports are created with great support from the SEO community. We always try to be flexible and open-minded — our goal is not to build a "perfect" tool, but one that will be useful to our users. At SEMrush we love to experiment and explore new horizons, and the Lead Generation tool is one step towards a new direction. We are now launching a beta version of the tool for all users and, as usual, we are expecting to develop another great tool for the SEMrush suite together with the help of our community — one that will meet all the requirements of digital marketing specialists. We want to hear new ideas about how we at SEMrush can help our audience with lead generation and business growth."
Feedback and tool development requests can be sent to this address – leadgen-feedback@semrush.com.
Image Credits
Featured Image: Image by SEMrush. Used with permission.
In-post Photo #1: Image by SEMrush. Used with permission.