Editor's note: "Ask an SEO" is a weekly column by technical SEO expert Jenny Halasz. Come up with your hardest SEO question and fill out our form. You might see your answer in the next #AskanSEO post!
---
Today's Ask an SEO question comes from Kristen in White Plains, NY. She asks:
When we talk about links and it being one of the top 3 most important ranking factors – is this more about external links to your website or internal linking?

Would a Related Articles module satisfy Google's requirement for an internal linking strategy? Or would this need to be more about deep linking content within the body of an article to other articles?
When we talk about links as a ranking factor, we're primarily talking about external links. However, internal links can be valuable, too.
The internal links on a site help the search engines to understand:
How the site is laid out.
What the topic areas are.
What the depth and breadth of the content offered is.
Related articles are a nice way to help internal link signals if the articles are actually related.
I recently worked with a client that had a system that pulled in the most recent articles in the category – which, for the type of product it was, were not at all relevant. This doesn't help.
I have also seen sites where every other word in a blog post is linked off to another post or page. Also not helpful.
Blog posts that don't answer the question they purport to answer – and try to sell the user something instead – are not helpful.
Know what else isn't helpful?
Related articles that have a large amount of snippet text. Unless you're offering one sentence that summarizes the article, the snippet text is more likely to detract from the thematic relevance of the page it's on, or be confusing like this: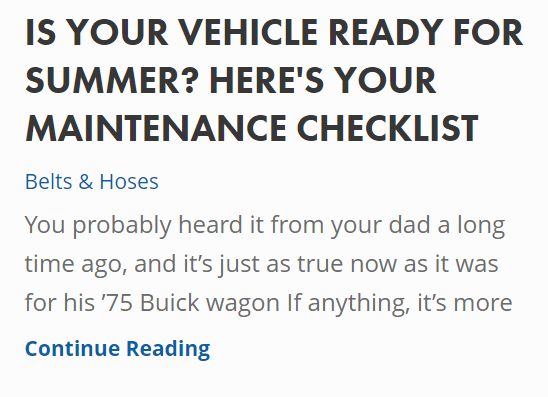 Is this a checklist for maintenance, or a retrospective of the '70s?
See a pattern?
Be helpful.
Provide related links on a page or within the context of an article that are going to help a user better understand what they've set out to do.
Otherwise, you're just doing it for search engines, and it will be obvious that the related links modules provide no value.
Have a question about SEO for Jenny? Fill out this form or use #AskAnSEO on social media.
---
Image Credits
Featured Image: Image by Paulo Bobita