Businesses use social media for many different purposes. Perhaps the most important reason is that it gives brands the opportunity to put a human touch in their messaging and reach their target audience on a more personal level.
Generally speaking, people don't go on social media to hear a sales pitch or a corporate jargon. Sounding like a one-dimensional robot on social media is one of the fastest ways to turn followers off. Adding authenticity to your presence requires a human touch. The problem with this is that humans make mistakes.
The beauty of social media is that it gives everyone a voice that can be heard across the world. On the other hand, with over 2 billion active users and an extremely public landscape, there is a very high risk factor and blunders are practically inevitable.
The truth of the matter is that social media mistakes happen on a daily — or even hourly — basis. You never know when a seemingly harmless update might strike the wrong chord with the audience and damage your brand's image.
Therefore, a good part of social media management involves how to respond appropriately to these types of errors and perform damage control. It can be incredibly nerve-racking when a post is met with widespread backlash. Here are three important things to keep in mind to make the recovery process go much smoother.
Monitor Social Media Mentions
"Blackfish" is a 2013 documentary about the controversy of captive killer whales. In 2015, SeaWorld took to Twitter to start what would become their infamous #AskSeaWorld campaign. The campaign quickly backfired and proceeded to add fuel to the fire as users were quick to respond negatively to the hashtag.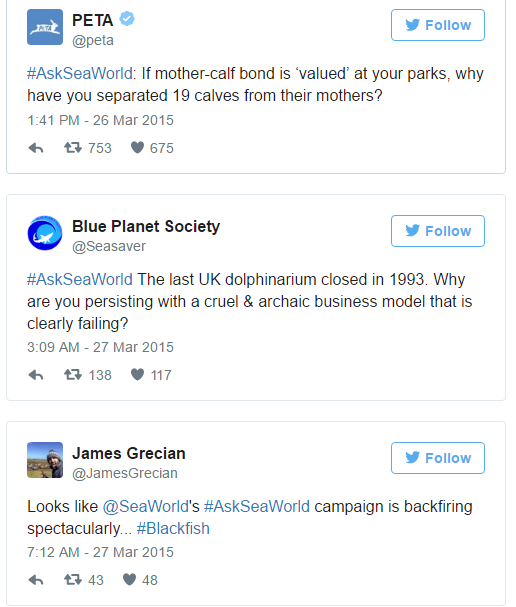 In the event of a blunder this severe, you will need a strong plan of attack on how to properly deal with massive amounts of negative interactions.
While monitoring brand mentions and conversations relating to your industry on social media is important, it is absolutely essential in times of crisis. If you've made a big blunder, chances are, a lot of people in the community are buzzing about it. Social media has ramped up the speed in which news travels to the extreme.
For brands of any size using a social listening and monitoring tool — Brandwatch is an excellent option (disclosure: no relationship) — you can keep tabs on multiple social media channels by analyzing large amounts of action-driven data and respond to outraged followers accordingly.
Comprehensive social monitoring is the key to picking up on real-time consumer sentiments. More importantly, you can pinpoint potential issues and attend to them before they explode and get out of hand.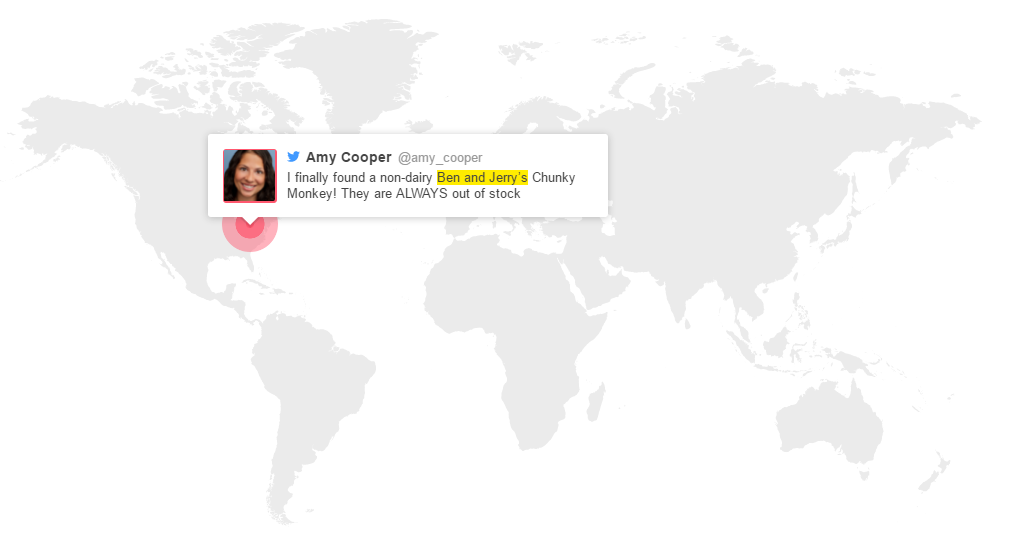 Start by choosing your keywords. If you already have a monitoring system in place for brand mentions, try to brainstorm some more potential trends or issues (hashtags) that might arise within your industry. Also, search for things like common slang terms or misspellings. To track potential crises early on, you want to approach social monitoring from as many angles as possible.
Then, set up alerts so you are constantly up to speed. There are four major types to consider:
Real-time alerts: These are set to send you an email every time a mention is posted on social media channels matching your query.
Digest alerts: Depending on the size of your brand, it can be very difficult to read each and every mention. Therefore, you can set these alerts to determine a limit. For example, you could make the system notify you every few hundred mentions or after a certain time frame. Basically, this means you receive alerts at a more manageable rate and mentions are grouped together.
Threshold alerts: These can be set so mentions must meet a certain criterion in order to receive an alert. For example, if mentions have surged by 500% in the last hour, chances are, something is fishy.
Custom alerts: This is where you can really get to the root of the problem. Using filters, you can combine each type of alert to see the big picture. Then, you are able to set certain criteria that the data must match before an alert is issued to you. For instance, you can focus on purely negative sentiment or set restrictions to find the most influential mentions.
Take Responsibility and Respond Quickly
If you have committed a PR mistake, you need to own up and take full responsibility. Pointing fingers or passing blame will not work. We all know how this approach worked out for BP back in 2010.
In this scenario, speed and humility is the name of the game. For example, in 2012 during a United States presidential debate, KitchenAid produced a wildly insensitive tweet poking fun at President Barack Obama's late grandmother.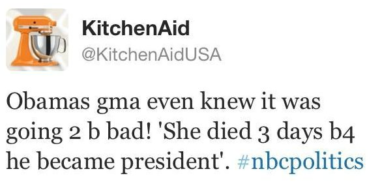 This tweet was posted just before 9 pm and plunged KitchenAid into a full-blown social media disaster.
The tweet was promptly deleted and Cynthia Soledad, head of branding for KitchenAid, posted several follow-up tweets apologizing within minutes.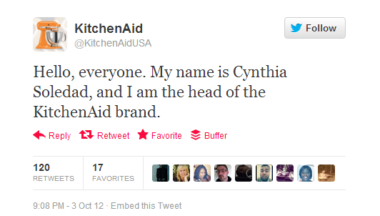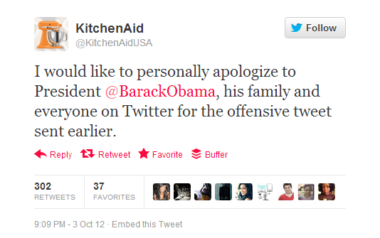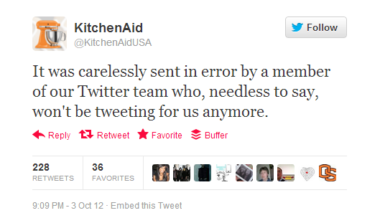 By jumping on the issue immediately, many felt that the company handled the situation with grace.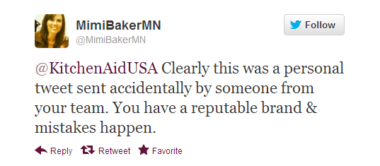 Remember, disasters can strike at any time. Social media can do wonders to put out fires. But, it can also pour gas on it. The way you react to these issues says a lot more about your brand than the crisis itself.
Keep Moving Forward
Again, a social media crisis doesn't define your brand. Your approach to handling it now and in the future does. Social media is a world with almost no guarantees. All you can do is learn from failures and victories to shape your future.
Once you've gotten your current situation under control, it's time to go back to the drawing board and put a new and improved system into play where similar mistakes will not happen again. A costly blunder on social media can be a great wake-up call necessary to put a stronger focus on social media management. Let your team know what topics to avoid in brand messaging and brainstorm potential negative interpretations that a user might come away with from each post.
Most importantly, you can't let a single mistake scare you to a point where you heavily scale back — or abolish — your social media efforts. The biggest thing to remember about social media is that it's a constant stream of updates and fresh content. Eventually, your sentiment will recover. Stay consistent.
Back in 2015, Target was faced with an epic backlash after the release of Lilly Pulitzer for Target. Although Target downplayed the event, fans on social media were not impressed:


Target sent out a string of tweets addressing the problem following the backlash.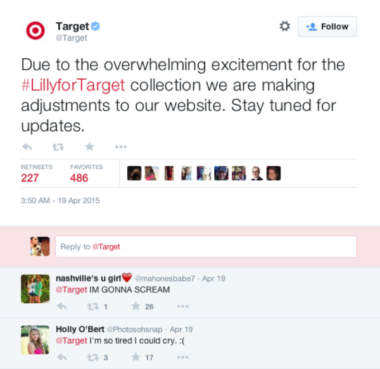 However, after the collection had sold out and the dust had settled, Target's twitter feed went dead silent for two days. Once they started back up posting friendly, engaging content, a lot of the previous warmth the brand had worked so hard to establish within their social community was noticeably compromised.
Following up a crisis with a long, awkward silence can say a lot about your brand and how they handle issues with the community. The best way to recover is to keep moving without skipping a beat.
Parting Words
Businesses big or small are always making efforts to reach out to their always-online audience through social media. However, as convenient and cost-effective as these efforts seem, a single mistake can cost you a major chunk of your business.
With the fast-moving stream of updates, crises can spread within seconds. Most companies do not post with the intentions of offending people or to argue with trolls and dissatisfied customers. But, accidents happen. Whether it be a rogue employee, a hacker, or just a poorly thought-out message, you will need to have a firm plan in place to handle these problems quickly to avoid destroying your social presence. Educate your social media team as much as you can. They are the first line of defense when disaster strikes.
Do you have any interesting stories about your brand to share? Please let us know on social media!
Image Credits
Featured image: Pixabay
In post Images: Screenshots taken by author February 2017