If you're anything like me, you're constantly on the lookout for new AdWords features and ways to get ahead the competition.
Even if you don't geek-out on PPC marketing on a daily basis, it's always important to keep up to date with what's new and understand any significant changes so you can make the necessary changes to optimize the performance of your AdWords accounts.
Let's look at two new and important AdWords features, as well as one existing (but underused) strategy you need to know about.
1. Changes to the Daily Budget
Google announced a major AdWords campaign change on October 4 to the way daily budgets are spent in keyword search campaigns. Previously Google allowed the daily spend overages of as much as 20 percent of the set budget daily.
The new budget setting allows for as much as double the daily setting to accommodate and take advantage of the variances in daily search traffic.
While the daily budget can be exceeded, the monthly spend – basically 30x daily budget – won't be exceeded.
What to Look For
Days/times in analytics that show you receive poor quality traffic. For example, if you receive poorer performance on the weekend, but still want to keep a presence, you may not want to run those days. You can also choose to use a bid adjustment to reduction.
If you had trouble getting traffic in the past, and have over-set the daily budgets, this could be a problem if there is a influx of activity or even a slow gradual daily overage, that impacts the bottom line at the end of the month (based on the over-set budget). Watch daily spending closely to ensure it is consistent and in-line with your goals.
2. Ad Suggestions Beta
The Ads Suggestion Beta is the second iteration of the Google test of Ads Added by AdWords, which began earlier this year.
Since then, I've stumbled across some new ad suggestions from the Auto Ads Beta in several accounts.
Rolled out to limited test accounts in the new AdWords interface only, AdWords takes the existing ad copy and creates a new version of ad copy that it predicts will convert better.
The suggested new ad versions appear in the Opportunities section of the new AdWords experience. I have also received notifications in the platform and once an email notification.
The AdWords help file details the how the ads are produced:
To help improve performance, a combination of human review and machine learning is used to create high-quality ad suggestions. Relevant content from your account used to create ad suggestions include your existing ads, extensions, and landing page. Google also uses additional signals such as keywords and targeting in order to optimize the ad copy.
Pay attention to the notifications because the suggested ad copy automatically goes live 14 days after notice.
In this beta, you have the option to apply or dismiss the suggestions.
In one of the suggested ads I received, the description ad copy began with "check out our product" – which is not very professional or persuasive.
Reviewing the AdWords suggestions will be critical to preserve quality and consistency.
For advertisers with strict messaging or compliance guidelines, this feature could become an issue.
Individual accounts can opt-out of an ad automatically launching, although AdWords may still make future suggestions. This can be done in: Settings > Account Settings > Don't automatically apply ad suggestions.
MCCs can complete an opt-out form, which actually lists a few good reasons to do so: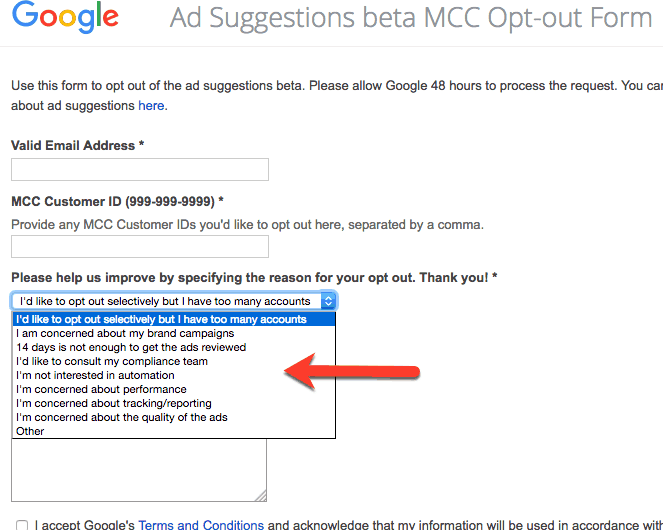 What to Look For
Proactively monitor notifications for new suggested ad copy and be sure to accept or dismiss before the 14-day window.
If there is any reason ad suggestions are not appropriate for your account, opt out. This only opts out of the suggestions being automatically applied in 14 days, so you can continue to review suggestions and monitor this AdWords feature.
3. Bid to Outrank Competitors
This one isn't new, but it's a fabulous portfolio bid strategy to test anew considering the recent changes to AdWords.
Does this oldie but goodie have a little more life in it once the changes to daily budget allow better utilization of search volume? Possibly.
This automated bid strategy allows AdWords to set bids to outrank your Adwords competition based on your criteria:
Choose a domain you want to beat in paid search results.
How often (percentage of time) you want to outrank it.
Maximum bid you're willing to pay.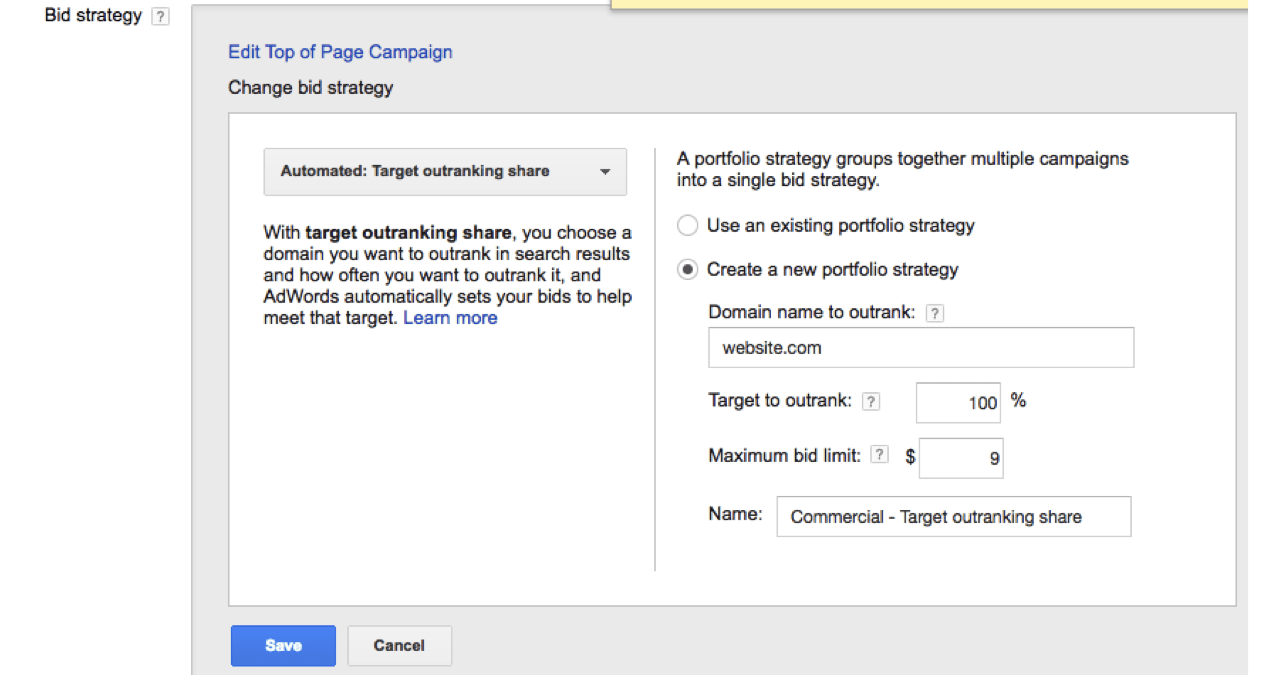 How do you know what competitor to outbid?
While an industry competitor may be so by product offering and market share, they may not be a PPC competitor.
The best way to determine your competition is to view the Auction Insights. This tool will show what domain's ads are appearing along with yours, including some helpful metrics:
Overlap rate: Shows percentage time you and competitor received impressions at same time.
Position above rate: Percentage of time competitor's ad was served higher on page.
Top of page rate: Percentage of time competitor is shown in top spots.
The bid strategy only allows to you outrank one website per campaign.
This is a bit difficult to find in AdWords. So here's where to find it in the new AdWords:
Settings > Bid Strategy
Change bid strategy
Expand drop down
Select Target outranking share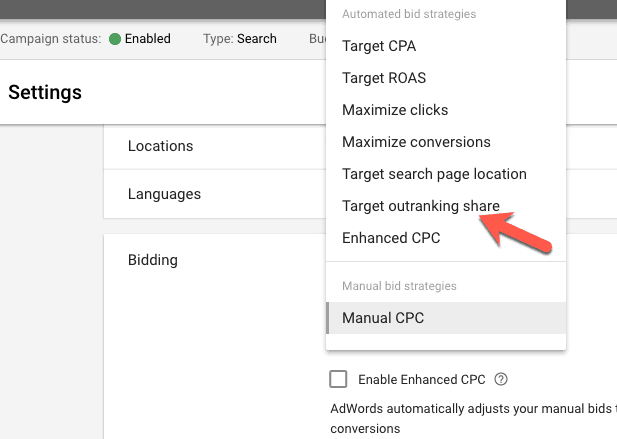 What to Look For
Review Auction Insights and other relevant analytics to determine the competitors in PPC, not just in market share, etc.
As this runs, the Auction Insights reporting may change to indicate other competitors are now outranking you. Is it time for a strategy shift?
Final Thoughts
PPC is always evolving due to the steady release and complexity of AdWords features. Keep up-to-date on the basics of the new releases and explore how settings and optimizations can impact results in a positive – or negative – way.
More Google AdWords Resources Here:
---
Image Credits
Screenshots taken by Lisa Raehsler, October 2017