So, we've been thinking about integration of our tools with Google Analytics for quite a time and now the integration process has started, with Rank Tracker and SEO SpyGlass as pioneers. We've added ability to see real traffic numbers coming from Google Analytics – right inside out tools.
What's new in Rank Tracker:
(See SEJ review of Rank Tracker)

1. Visits from Google Analytics
Now users can see their real visitor count next to each keyword (if the 'Visits' column doesn't show up by default, you can add it by editing the workspace). This way, users can assess how fruitful their high (or low…) Google positions are.
2. Estimated Visits (based on Google Adwords search volume)
In addition to that, now they have one more metric to help choose keywords to optimize for: "Estimated Visits"(see P.S. for details) (presumably showing how much traffic one may get, if ranked #1 in Google for a given keyword).
Altogether, here're just a few key benefits these two columns bring to the users of Rank Tracker: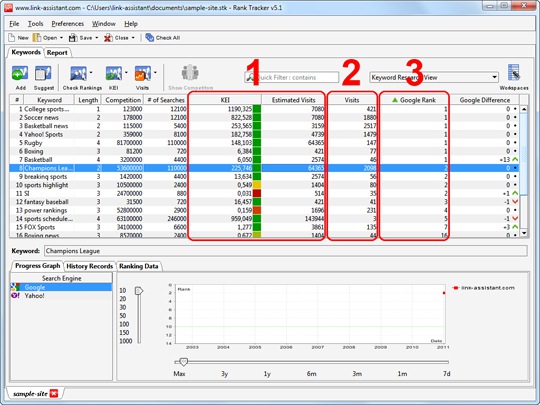 1) Using estimated visits and KEI analysis to pick the keywords that promise the biggest traffic returns
2) Analyzing Visits to see the actual traffic the keywords bring to a site
3) Evaluating the traffic-to-ranking ratio to see which words are worth SEO efforts. This lets the user drop the words that don't cut the mustard.
One of the non-traditional benefits of this feature is when a user sees how some lower-ranking keywords bring more traffic than higher-ranking ones. (Example: see rt-google-analytics-1.png)
What's new in SEO SpyGlass
(See SEJ review of SEO SpyGlass)
The new SEO SpyGlass lets you evaluate a website's existing link sources according to the most objective factor: the actual number of visits the backlinks send.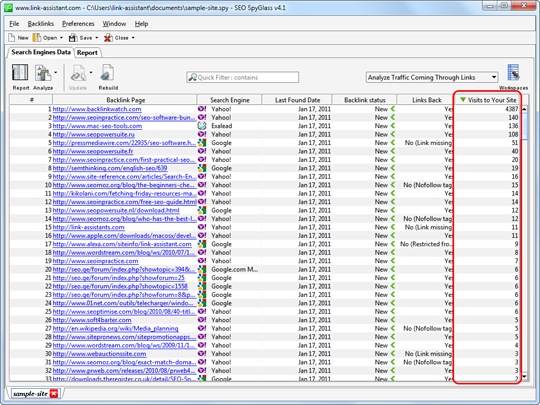 This way you can see what link sources work best for your site, relying not on hypotheses and approximate general values, but on the exact amount of visitors that come to your site through each link.
You can then decide to… well… buy, beg or steal more links from a good domain. And never stir a finger to preserve the links sitting on useless sites.
As I mentioned, these are just the first steps on the way of integrating our tools with Google's services. A deeper integration with Google Analytics, as well as Google Webmaster Tools and AdWords are coming soon.
You can find some more info (though mainly marketing stuff) on this page
P.S.
Let's discuss! We'd love your thoughts about the new improvements!