French search engine Qwant has ambitious plans to one day beat Google at its own game. Founded just 4 years ago in 2013, Qwant has since grown to serve 21 million monthly users across 30 countries.
Qwant's user base has grown substantially over the past year, boasting a 70% year-over-year growth in monthly users. With its recent integration with Firefox, and impending launch of a mobile app, that momentum is expected to continue.
Like search engine DuckDuckGo, Qwant's competitive advantage is privacy. It protects users' privacy by not tracking what they're doing or searching for online. Qwant doesn't use cookies, collect browsing data, or do any kind of data profiling.
So, other than privacy, what does Qwant do that sets itself apart from Google? Or even DuckDuckGo for that matter?
For one, it currently has over 31 different search categories. In addition to the standard news, images, and video categories, Qwant offers categories such as: social media, music, jobs, cars, health, and more.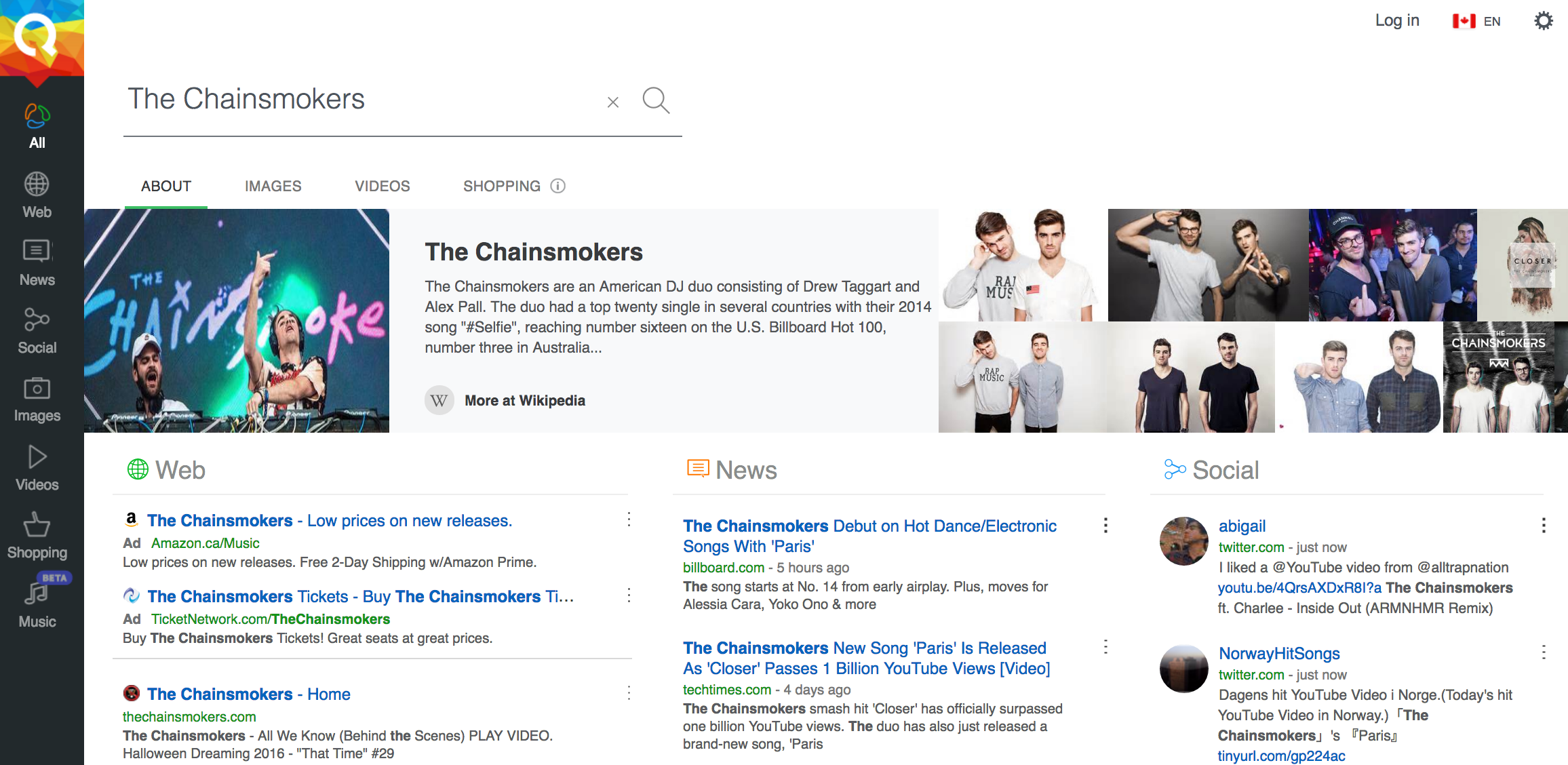 The company also has a unique philosophy that artificial intelligence and digital assistants can be educated without having to collect data on users. That's a completely different philosophy than what is shared by Google, which collects every bit of information it can about users to fuel things like Google Home and Google Allo.
Make no mistake about it, Qwant is still out to make a profit, which it does through pay-per-click advertising. Partnerships with TripAdvisor and eBay are also in the works. However, the company vows to balance turning a profit with protecting users' privacy.
"We won't try and lead you to a specific service instead of a better one because we would have business interests in doing so, or filter out results based on some political or commercial agenda… Our promise to the users and to the whole web community is that we are fair with everyone."
Qwant also has measures in place to ensure it stays accountable for its promises. It has made its source code available to third-party data protection agencies so they can continually verify Qwant is not collecting data on its users.
Is all of this enough to go head to head with the reigning search giant? That's impossible for anyone to predict at this point, but it sure has a long way to go. Qwant has quite a few hurdles to overcome. First, it needs to get more of its users to engage with the search engine on mobile. Currently, only 12% of its users search Qwant via smartphones.
Second, it needs to expand beyond Firefox. Currently, Firefox is the only browser with which you can select Qwant as your default search engine. In order to become more competitive, it has to work on being listed as a default search engine for Chrome and Safari as well, which it sounds like Qwant is working on. Big things could be in the works for this French search engine in 2017.