Conversions.
Traffic.
Everybody wants them, but not everybody knows the little ways they can improve their content marketing to get them.
According to The Goal Pyramid by Matthew Michaelwicz, breaking down your big goals (like more traffic, more conversions, more leads, more sales) into smaller, achievable tasks is the way to smash them.
It's true: The little things add up to Big Things.
In that spirit, here's a list of 21 quick, dirty, actionable tips that can help you get more traffic and conversions from your content marketing today.
Try one, try a handful, or try them all – each will help you reach your content marketing goals.
---
Headline Hacks
Your headline is your content's first impression, but it's also a key piece for encouraging clicks and further engagement.
That's why we're starting our quick and dirty content marketing tips with ways to hack your headlines.
1. Be More Specific
Headlines that directly talk to a certain reader, that state a specific benefit, or tell you exactly what you're in for tend to perform better.
Here's a great example of specificity:
2. Use Strong Adjectives and Action Verbs
For the non-English grammar nerds out there, this just means digging into your word bank and coming up with better ways to say what you want to say in your headlines.
Example: "10 Ways to Be a Better Surfer" is not nearly as compelling as "10 Ways to Improve Your Surfing Game."
3. When in Doubt, Weed Out Versions of the Verb 'To Be'
Replace it with an action verb (words that connote doing something – i.e. swim, run, grow, discover, learn, jump, try, etc.)
4. Mention the Reader
When you can, directly talk to your audience by inserting words like "you" and "your."
5. Add a Number
It's the oldest trick in the book – adding numbers to your headlines has been proven to increase click-throughs, because most readers prefer them.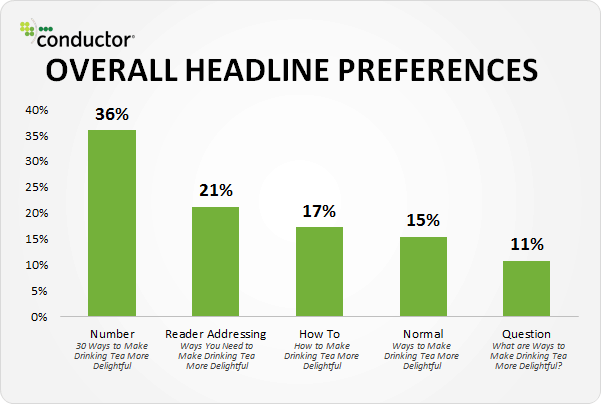 Example: Instead of "How to Stand Out Online," try "15 Easy Ways to Stand Out and Get Noticed Online."
6. Ask a Question
This piques your reader's curiosity and makes them want to learn the answer.
Here's an example of a question headline from Copy Hackers:

7. Don't Go It Alone
There are free tools out there that can help you craft headlines that are infinitely better than the ones you can reel off the top of your head.
Use them. Your headlines will be better.
Two favorites: CoSchedule's Headline Analyzer and Advanced Marketing Institute's Headline Analyzer.
8. Use Proven Phrases to Begin Your Headline
Refer to this list – BuzzSumo found these headline openers got the most engagements when used on Facebook:
9. Draft Your Headline to Get It Right
If the headline is important (it is), give it the attention it deserves.
Open up a blank Word doc, grab paper and a pen, or use the Notes app on your phone. Start writing drafts of your headline. Begin with your first try, then hit "enter" and write another one underneath that tweaks #1.
Keep going, making small tweaks each time in phrasing, word choice, etc., until you hit one that sounds good.
10. If Nothing Is Working, Try Rephrasing Your Headline as a Question
Vice-versa works, too.
11. Make Sure It Accurately Reflects Your Content, Sets Realistic Expectations
Don't promise your readers the stars in the headline if you're only going to show them the moon.
---
Conversion Techniques
Your headline can bring in extra traffic and clicks, but what about the rest of your content?
Our list continues with some conversion techniques you can use across your copy and your site to bring in more leads.
12. Reveal the Most Valuable Information First
If you want to get the conversion, you need to keep your reader on the page.
Start your content off strong and write for the average internet user's attention span (hint: It's not very long).
Hit them with your best shot (your main point/the good stuff), then follow up with supporting information in the body.
13. Use 'Bucket Brigades' to Keep Your Readers Interested & Moving Down the Page
Once you get their attention, you have to hold it. A great copywriting technique is to use bucket brigades to keep the reader interested.
How does it work?
End a paragraph with a question, and answer that question on the next line (as you see here).
Or, introduce your next line with a short phrase and a colon:
Then continue on a new line.
It works a treat.
14. In Your CTAs, Don't Forget the 'Action' Bit
A call-to-action is what it sounds like.
You're calling your readers to do something.
Use those action words to get them to move, combined with the benefit they'll receive if they act (i.e. "Sign up for your free trial now," "Download the ultimate guide today," "Get your freebie right now," etc.).
Here's a CTA that gets it right from Optinmonster: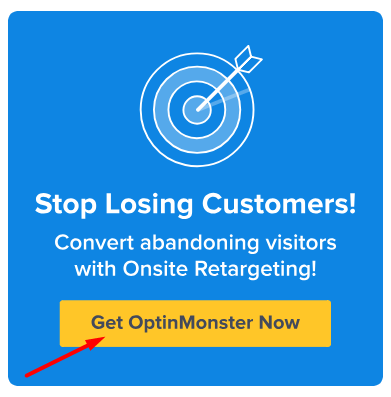 15. Avoid Using These Lifeless Words in Your CTAs
Submit
Enter
Continue
Click here
These are action-oriented, but they don't give the reader a motivating reason to follow through. Also: They're boring.
16. Use Hemingway Editor to Avoid Passive Voice
Sometimes passive voice is warranted, but most of the time, it makes your sentences muddled and less urgent.
Use a tool to weed it out so your readers won't want to bounce after wading through it.

Hemingway Editor will also help you simplify your writing if you're getting too long-winded, like in the above example (never a good idea for conversion copy).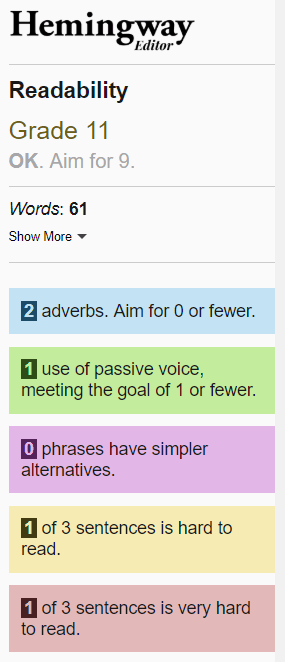 17. Tap Into Your Readers' Anxiety
Push your readers toward the conversion (making them click, opt-in, sign up, or whatever your desired action is) by tapping into their anxieties and fears.
Example: Write about a problem they have, but don't scratch the surface. Get emotional with them. Then provide a solution.
18. Add Live Chat to Your Website
Do this, and your customers will be able to talk to customer service the instant they have a problem or question.
Then, your sales team can help lead them to that conversion.
19. Whip up a New Killer Lead Magnet
A lead magnet that packs tons of value can be a conversion machine.
Think of writing a short ebook guide, doing a case study, or writing a cheat sheet to a common problem people run across.
Don't have time? Hire a skilled copywriter.
20. Use Heat Maps for Conversion Insights
Are you hurting for conversions, but lack insights about your website users/audience?
Mouse-tracking heatmaps will literally track users' mouse movements on your pages, showing you where their attention goes (where they click, how far they scroll) and for how long.
This lets you visualize how users are engaging with your page (or not). In turn, the information you glean can help you make your site more conversion-friendly.
For instance, this heat map shows where users are clicking on a page (those areas are warmer-colored):

21. Pull in New Customers/Leads by Writing up a Quick Email Sequence
Engage them with an auto-responder that launches right after your subscribers hand over their deets.
Use the space to:
Warmly welcome them to your list.
Offer a couple free tips.
Tell a personal story.
Get them anticipating more emails from you.
If you need a guide, this one on email sequence writing from copywriter Henneke Duistermaat is a winner.
Conclusion
Bonus: Keep trying, keep learning.
Your content marketing won't get better, and you won't learn anything, without some work in the trenches.
Get in there, get your hands dirty, and go for it. Each step you take is another step toward better content!
More Content Marketing Resources:
---
Image Credits
All screenshots taken by author, May 2018