You may want to argue that one-page all-in-one SEO analysis tools giving a quick one-page analysis are useful at all (and I may agree to some extent) but the one I want to share today is really cool to my mind.
I have actually mentioned this one previously but thought it was well worth a separate review as I found it quite useful.
This tool is QuarkBase. Why I like it (you are welcome to argue my opinion in the comments) is that it provides very useful data in a short, well-compiled way without extra clutter or noise.
It first starts with a screenshot and a short summary:
Site traffic change (per Alexa);
Domain owner;
Domain Digg and Delicious mentions (numbers);
Relevant tags.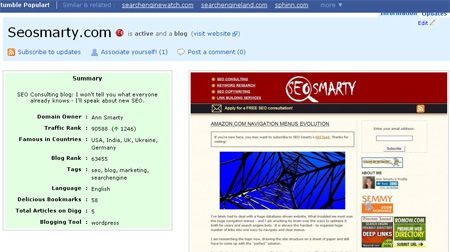 Then it will go into useful details:
Domain popularity on social media;
Page meta tags;
Site most popular pages (based on social media popularity of each) – I really like this feature by the way;
Traffic details according to Alexa;
Associated peole;
Recent blog and Twitter mentions;
Hosting details.
The site also offers a browser bookmarkelt for quicker access.
I wish they also provided some comparison tools also but in any case, this tool is a well worth a check, I guess.
This tool was reviewed under SEJ tool review policy.